Baytex Energy Corp. (NYSE:BTE) has run over 300% from its January low as the increasing oil price has made its Eagle Ford operations viable once again and amendments to its bank credit facilities have calmed shareholder fears over the liquidity issues that faced the company. With production and capital expenditures focused on Texas, BTE may be able to break even with oil trading in the $40's per barrel.
Unfortunately for longs on the equity, noteholders do not appear to share this level of enthusiasm on Baytex. The stock plunged 4% in the last few minutes of trading on Tuesday, leaving some shareholders to wonder what happened: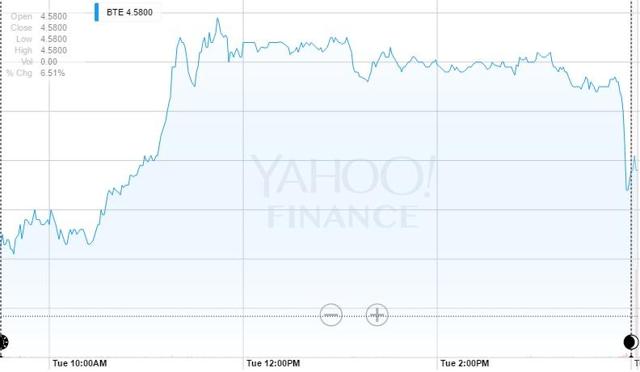 I believe that this drop was related to $2 million par value of 2024 senior notes being sold at day's end on Tuesday. Someone either dumped bonds and stock or dumped the bonds while equity investors privy to this transaction decided to dump the stock as well based on this information: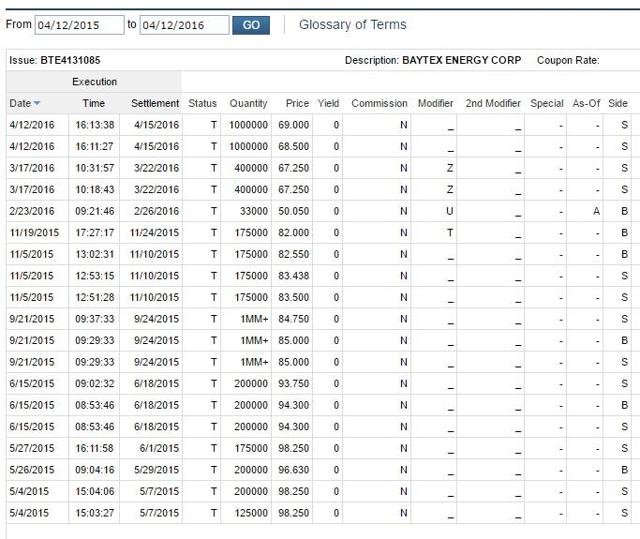 The "S" marker in the final column of the above chart denotes that the transaction was initiated by the seller. Outside of $33,000 par value of notes being bought at $50 per $100 par value in February, the last four transactions have all been sells that have taken place at historical lows for the notes. BTE was roughly the same stock price now as it was back in November. Meanwhile, the notes have dropped from the $83 range to $69 during the same time frame while Moody's downgraded the company's senior unsecured notes to Caa2 from Caa1 as part of the amended deal with the bank lender involves giving it security over the company's assets.
So while equity investors have pushed the stock to prices last seen when oil was trading at over $50 a barrel, noteholders continue to push the notes deeper into junk territory. There are $400 million worth of 2024 notes so the few million worth being traded might not seem like much. But if BTE's prospects are so far improved, why aren't there more buyers of the company's debt?
In contrast, Encana Corporation's (NYSE:ECA) 6.5% coupon 08/15/2034 senior unsecured notes trade millions in par value a day and currently sit in the high $80's, yielding less than 8%. Those bonds traded at less than $60 in February at a time when oil was treading $30 a barrel and the stock price was in the $3's but have quickly recovered back to lower yields. Encana's stock and bond prices appear to be in sync and bondholders are reasonably at ease with the company's finances to be trading them so close to par.
The one-year price chart on Encana's 2034 notes
A lack of liquidity or interest in Baytex bonds cannot be attributed to weakness in Canadian oil and gas sector debt. The issues are company-specific with two downgrades by Moody's in the last couple of months. The amended credit facility, the hedges, the recovering oil price and the focus on Eagle Ford while limiting capital expenditures has not impressed the bond market as much as it has the stock market. If you believe in the mantra of "following the smart money" and believe that on average bond investors consisting primarily of institutions and other professionals are more sophisticated, selling BTE equity after it has bounced 300% off of its low made three months ago may be a good idea.
I believe that BTE's move has much more to do with short term speculators than investors buying on improved investment prospects. BTE is essentially trading like a leveraged ETF on oil without the rebalancing risk. I think once oil cools off, the stock will underperform its peers as the short term speculators move on to the next hot play.
Even though I am short this stock at this time, I believe that the company made the right move in diversifying out of Canada even though the high debt load was the biggest factor in the stock price taking such a severe dive. BTE is one of a handful of mid-tier oil producers that I would consider a long position at the right price and it's only because of Eagle Ford. The key phrase however is the "right price". BTE's equity has moved too fast too soon according to the bond markets and I happen to agree with that stance. I expect a major pullback on any oil price weakness and underperformance relative to its sector should oil prices stabilize around $40.
Disclosure: I am/we are short BTE.
I wrote this article myself, and it expresses my own opinions. I am not receiving compensation for it (other than from Seeking Alpha). I have no business relationship with any company whose stock is mentioned in this article.