In an article on Freeport-McMoRan (NYSE:FCX) earlier this week, I had told investors why they should be buying the weakness in the company's stock due to strong prospects in the copper market. I had written that article because Freeport shares were sliding on the stock market at the beginning of April, but it looks like recent developments have brought about an improvement in the company's performance on the market.
For instance, copper prices have started moving up once again, driven by strength in Chinese imports that increased 36% in March as against February, hitting record highs of 570,000 tons. But, apart from the improvement in copper prices, another key reason why Freeport shares could be improving is because of the recovery in oil.
Now, a recovery in oil prices will have a positive impact on the EBITDA profile of Freeport, and given the developments in the oil market of late, I won't be surprised if the company receives a boost from this segment as the year progresses. Let's see why.
Why an oil recovery is good news for Freeport
Oil is expected to play an important role in improving Freeport-McMoRan's EBITDA performance in 2016. In fact, as the current scenario in the commodity market stands, Freeport is on track to deliver a robust EBITDA performance this year along with strong cash flow. To understand this better, take a look at the following chart: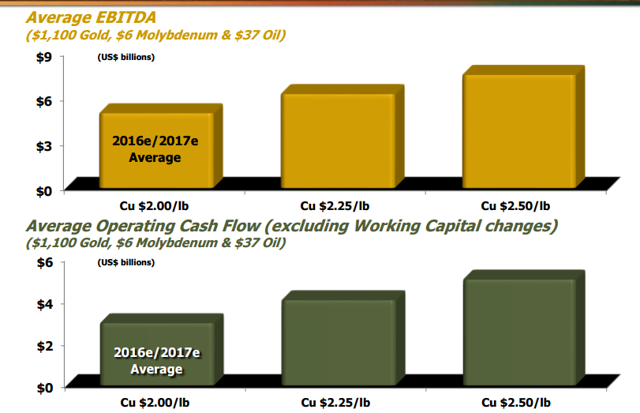 Source: Freeport-McMoRan
As we can see above, at a gold price of $1,100 an ounce, molybdenum pricing of $6 per pound, copper pricing of $2 per pound, and an oil price of $37 per barrel, Freeport is anticipated to deliver just under $6 billion in EBITDA in 2016 and 2017, along with operating cash flow of just under $4 billion.
Now, the good news is that the prices of these commodities are above Freeport's forecasted levels. For instance, gold prices currently trade at over $1,230 an ounce, while copper is above $2.17 per pound. Molybdenum, though, is slightly lower than Freeport's benchmark at $5.58 per pound and WTI oil trades at over $41 a barrel.
Thus, higher prices of gold and oil, which are way above Freeport's forecasts this year, will help the company move its EBITDA north of $6 billion, while increasing the operating cash flow to over $4 billion. This is because for a change of $50 an ounce in gold prices, Freeport's EBITDA increases by $110 million and operating cash flow increases by $65 million. Meanwhile, for a $5 change in oil prices, Freeport sees an addition of $175 million to its EBITDA and $140 million in operating cash flow.
Thus, an improvement in oil prices will have a greater impact on Freeport's EBITDA and cash flow profile as compared to gold. Now, it is likely that oil prices will continue to improve going forward, as a result of which Freeport will continue to see an improvement in its EBITDA and cash flow.
Further improvement in oil prices cannot be ruled out
The recent improvement in oil prices is a result of the emergence of positive demand and supply actions in the industry. For instance, Russia and Saudi Arabia, the two biggest oil producers globally, decided to freeze their output earlier this week. What's more, further actions to reduce the oversupply in the industry might be taken on April 17 when 16 oil producing nations gather in Doha to cap production.
Moreover, oil production is also declining in non-OPEC countries and it is likely that the trend will continue. In fact, it is estimated that production from non-OPEC countries will decline by 730,000 barrels per day this year, up from the earlier forecast of 700,000 barrels per day. The majority of the decline in non-OPEC production is a result of lower oil production in the U.S. In fact, oil production in the U.S. has now dropped below 9 million barrels per day for the first time in almost a year and a half, driven by cuts in capital spending.
On the other hand, the consumption of oil is anticipated to improve this year. As compared to consumption of 92.98 million bpd last year, oil consumption is expected to increase to 94.18 million bpd in 2016. This increase in consumption is being driven by strong demand from countries such as China, where oil imports are really strong.
In fact, in the first three months of 2016, China has imported an average of 7.34 million barrels per day, an increase of 13% from last year. Looking ahead, it is estimated that China will increase crude oil imports to 7.5 million barrels per day this year, becoming the largest crude oil importer. Thus, due to higher demand and lower supply, the demand-supply situation in the oil market should improve and improve pricing in the long run.
Conclusion
Hence, apart from copper, oil will also prove to be a tailwind for Freeport-McMoRan going forward. The prices of the commodities that will drive Freeport's EBITDA and cash flow are already at strong levels and they will improve further due to positive demand-supply dynamics. As such, investors should continue to remain invested in Freeport since the stock can deliver more upside even after rising almost 60% this year.
Disclosure: I/we have no positions in any stocks mentioned, and no plans to initiate any positions within the next 72 hours.
I wrote this article myself, and it expresses my own opinions. I am not receiving compensation for it (other than from Seeking Alpha). I have no business relationship with any company whose stock is mentioned in this article.