Very recently the IMF said it was forced to downgrade the world's growth forecast this year by 0.2 percentage points to 3.2% despite having issued projections back in January. It seems like the world economy is increasingly at the risk of stalling as a slowdown in China and weak commodity prices are taking a toll across the globe. Even developed nations are finding it difficult to shake off the aftereffects of the financial meltdown of 2008.
How serious is this threat? Well it's just slightly above last year's 3.1% growth rate and dangerously close to the 3% benchmark which the IMF considered a technical global recession.
In times like these investors need to look for opportunities where profits are derived from chaos (for the lack of a better word). Look no further than Lockheed Martin (NYSE:LMT).

A Steady Stream of Green
Let's talk about the obvious first. As a company which specializes in defense and aerospace technologies Lockheed has no shortage of business in today's world. Just as things seemed to be cooling down across the world a string of violent attacks in a number of countries, including the US, Belgium, and Pakistan, reminded everyone of the ever-present threat of terrorism. Even though ISIS and other terrorist organizations aren't as strong as they used to be, their threat has not eroded completely. Growth in spending on defense is no longer a debatable issue across the world, it has become a necessity. In other words, Lockheed Martin's revenue stream seems to have a healthy future ahead of itself.
I can delve into the numerous complex projects the Bethesda, Maryland-based company has to prove why Lockheed is poised for taking advantage of the world's instability, but I don't need to. A mere mention of the F-35 Joint Strike Fighter shall suffice.
While the US armed forces are expected to spend more than $47 billion on the fighter jet alone, the company also expects to deliver as many as 5,100 units over the next 60 years. Countries such as Australia, Canada, Turkey, United Kingdom and Israel are all in line for deliveries of their F-35 units. With 45 deliveries made in 2015, it might seem like the company will struggle to keep up with demand for the fighter jet, but plans to increase production of the F-35 are in full swing with 53 units set to be delivered in 2016, 60 units in 2017, and 100 units per year by 2018.
In an effort to further solidify its revenue generating capabilities, the company closed its acquisition of Sikorsky Aircraft Corporation for $9 billion last year. The whole purpose of the takeover was to diversify its product portfolio by dipping its fingers into a well-established company which brought in its $15.6 billion backlog and immediately contributed $400 million to the income statement. With tensions in the Middle East showing no signs of subsiding it is more than likely that demand for popular helicopters such as the legendary Black Hawk and the SH-3 Sea King helicopters will continue.
Institutional Support
While the forecasted income stream is fairly robust, another aspect which protects the company stock from wild fluctuations in the market is the fact that institutions hold about 84% of the company's shares. In the graphs below you can see that State Street Corporation holds the heftiest chunk with a 16.86% stake in the company, which at today's stock price of $226.38 per share would be valued at more than $11.6 billion.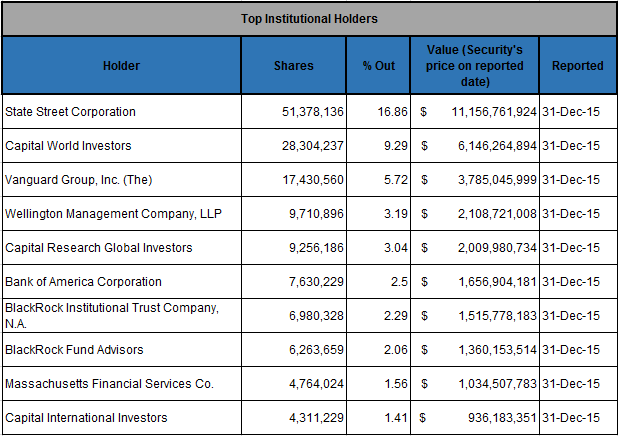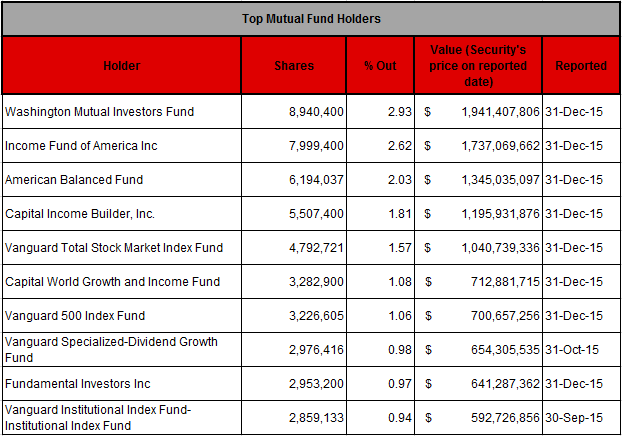 Even as the company stock hovers near an all-time high it offers a healthy dividend yield of 2.92% at a P/E ratio of 19.72, which when compared to Northrop Grumman Corp's (NYSE:NOC) dividend yield of 1.59% and P/E ratio of 19.36 makes it a bargain.
There are those investors who will point out the possibility of a short run strategy citing the last 25 quarters, out of which the stock price has moved down after 13 earnings releases. Even during the last quarterly report in January, the stock dropped 0.51% the day following the earnings release. Playing with odds like that would be as close to gambling as it gets. We are looking at LMT because it offers us the sturdiness we so desperately seek in equities. Stock up on LMT for the long run, because that is where the real prospect lies.
Disclosure: I/we have no positions in any stocks mentioned, and no plans to initiate any positions within the next 72 hours.
I wrote this article myself, and it expresses my own opinions. I am not receiving compensation for it (other than from Seeking Alpha). I have no business relationship with any company whose stock is mentioned in this article.