BATS Global Markets (PENDING: BATS) is another exchange operator that is competing in a commodity space crowded with larger competitors. BATS differentiates itself in its "world-class" technology: high speed, low latency, and superior trade execution. Though, in 2012, BATS had to abandon its IPO due to a technological glitch. Now, the market seems to have stabilized somewhat with S&P in the green year-to-date, BATS is re-launching its public offering between $17 and $19 apiece (11.2 million secondary shares before over-allotment). Latest Bloomberg article indicates that the offering is facing tremendous demand, about 5x oversubscribed. My article will examine the IPO pricing, business and financials in more details, and some key strengths and risks that investors should bear in mind.
Reasonable IPO Pricing / Valuation
I personally think the bookrunners on this IPO did its homework and set the bar right in terms of pricing the shares. With $17-$19 a share, it implies roughly 10.2x-11.1x reported 2015 EBITDA or about 9.6x-10.3x pro forma normalized EBITDA in 2015 (data below).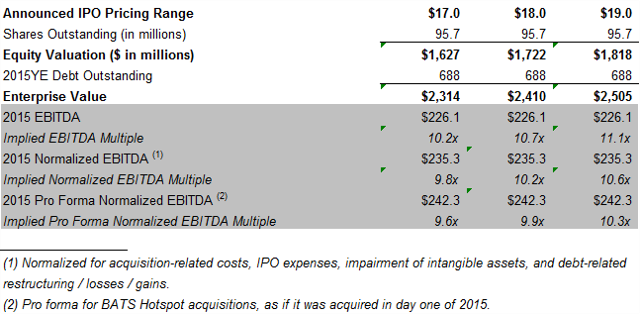 If we look at peers' trading comparables below, BATS' IPO pricing seems to be at a discount, with peers trading around 11-14x forward EBITDA on average. This discount effectively compensates institutional orders, pumping up demand, setting the stage for the first day pop in share price.

Solid Financials and Margins
Another determinant used to judge whether the discount is justified or not is looking at its margins. Taking a much closer look at BATS' financials that I have compiled, we can see 1) growth has been impressive, 2) margins have mostly caught up with topline growth, holding steady around average 60% on a normalized basis, excluding legitimate one-time expenses.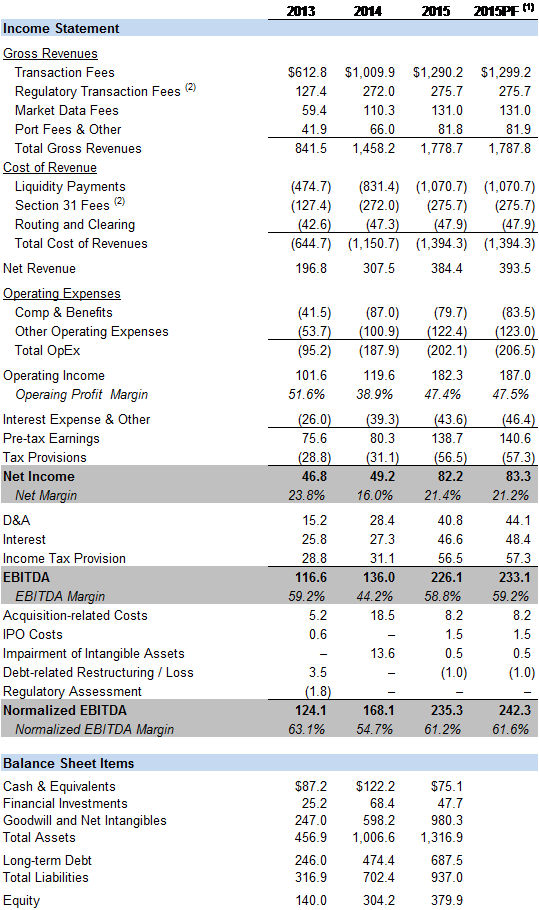 If we make a rightful comparison to its peers, mostly use margins over net revenue concept, which is what BATS and peers use (i.e. after transaction related expenses). On that basis, BATS' EBITDA margins have been impressive, especially when compared to Nasdaq (NASDAQ: NDAQ), a closer comparable, given its size and business profile. Nasdaq ended 2015 with a 45% EBITDA margin over net revenue, while ICE (NYSE: ICE) finished the year with about 59% margin. In other words, BATS should command over 12.5x EBITDA, like ICE.
Member Banks Support and Ownership
But, I personally believe, investors should be cautious when the current ownership structure is largely member banks (which is how exchange works historically). Historically, large chunks of BATS' revenue came from them. For example,
In 2015, 45.1% of transaction fees or $582mm came from principal investors / banks
2014, 43.2% of transaction fees, or $436mm
2014, 36.3% of transaction fees, or $222mm
This reliance on member banks for volume can be worrisome for some investors, especially the timing of their exit can be tricky. Another reason I think bookrunners are doing their job well is most of the member banks are not selling their shares in the IPO. I've compiled the following before- and post-IPO cap tables for reference. As we can see, Knight, Deutsche Borse, Citi, CS, MS, JPM, GS are largely still in the game post IPO. So, for the near-term, investors can have the comfort knowing those banks still have skin in the game. When they decide to sell, that's when we need to examine BATS again closely on whether or not BATS can stand on its own completely. Although, proper credit needs to be given to the company for its rapid expansion in Europe and other product lines through acquisitions. Company seems to be aware of this concern and is in active mode to diversify its topline revenue, such as FX and ETFs.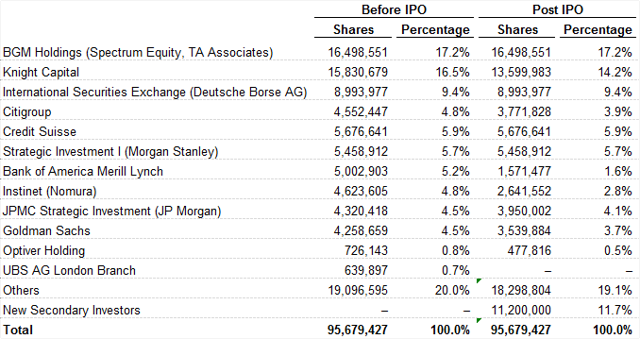 Strong Market Share
Another mitigating factor of BATS' dependence on member banks is its strong market share, especially in the U.S. This allows strong growth in market data and infrastructure revenue, providing another level of diversification. Obviously, this revenue stream relies on continuous market share capture.
21.1% of overall U.S. equity market for U.S. listed cash equities, ranked second
22.4% market share in trading U.S. ETPs (ETFs and ETNs), currently the largest player
24.4% European listed equities, largest player
11.1% market share of the publicly reported institutional spot FX market
Valuation Upside / Summary
It is clear that IPO price range is at a discount to its peers, given its strong financial margins and key member banks are not selling in the near term. At 12x 2015 EBITDA, this would imply $21-$23 per share (depends on adjusted or pro-forma), equivalent to 11%-22% upside. My personal belief is the market would likely welcome the IPO and on the first day of trading, one should see a double digit gain. Given there is still large reliance on the member banks, a discount to market is still expected.
Disclosure: I/we have no positions in any stocks mentioned, and no plans to initiate any positions within the next 72 hours.
I wrote this article myself, and it expresses my own opinions. I am not receiving compensation for it (other than from Seeking Alpha). I have no business relationship with any company whose stock is mentioned in this article.
Additional disclosure: Readers are advised that the material contained herein should be used solely for informational purposes. Readers should conduct their own research and due diligence and obtain professional advice before making investment decision. We will not be liable for any loss or damage caused by information obtained in our materials. Readers are solely responsible for their own investment decisions.