Last week was a great one for energy investors. The crude oil index (NYSEARCA:OIL) ETF returned 7.4% in a week. A recent report by Energy Information Agency suggests that retail gasoline prices jumped almost 10% in the last 2 months. The average retail price of $3.65 is the highest price that customers paid for gasoline in the last 8 months. The retail supply chain is doing business as usual, but Iran's threat over the Hurmuz Strait blockage caused a spike in the wholesale market. Crude oil reached almost $110 in the last week.
Naturally, commodity-related stocks showed the best performance among the equities. Basic material stocks returned an average of 1.5% in the last 5 trading days. In fact, the increase in crude oil prices pushed several commodity stocks to overbought levels.
A stock is usually considered overbought when the relative strength index reaches above 70. That does not mean that these stocks are expensive stocks. I would rather consider them as momentum stocks, supported by short-term catalysts. Nevertheless, overbought stocks signals a red flag for contrarian investors. The following is a brief analysis of 5 stocks in the overbought territory. Let's see, what is driving these stocks, and whether they are still worth considering after making significant gains recently.
ConocoPhillips (NYSE:COP)
ConocoPhillips is among my favorite large-cap dividend stocks. In the last 10 years, shareholders enjoyed double-digit capital gains along with increasing dividends. Currently, it offers a quarterly dividend of 66 cents, which translates into a yield of 3.62%.
Large cap oil giants tend to trade at a discount, and ConocoPhillips is no exception. Even after returning 17% in the last 6 months, it is still trading a trailing P/E ratio of 8.46 and forward P/E ratio of 8.68. In the last year, COP was able to create a net income of $12.44 billion from revenues of $251.2 billion.
Fellow SA contributor Alex Shadunsky suggests that ConocoPhillips is not attractive at these prices, however, I do not agree with him. Based on an annualized EPS growth estimate of 11%, my FED+ valuation model suggests that COP is undervalued by at least 78%. The spin-off of Phillips 66 from ConocoPhillips is expected to be finalized in 2012. As COP's CEO, Mr. Mulva states, the refining business (which will soon be separated from the exploration and production arm) generated a quarter of the profits in the last year. I think both COP and the Phillips 66 spin-off will keep generating strong cash flows and continue outperforming their peers.
Suncor Energy (NYSE:SU)
Established in 1953, Calgary, Canada-headquartered Suncor is an integrated energy company that primarily operates in North America. It is also a significant player in the natural gas business. Since reaching its dip of $24 in late October, the stock returned almost 55%.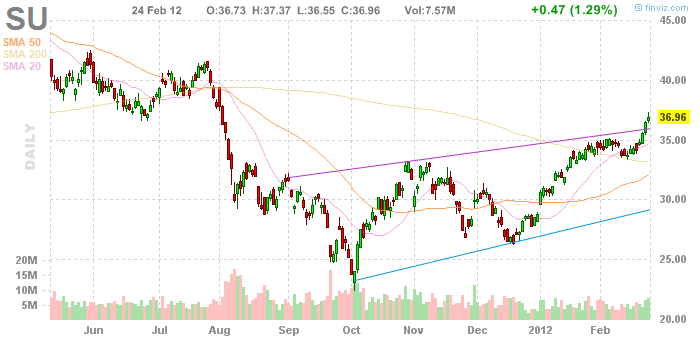 While the trailing P/E ratio is 13.4, the forward P/E ratio falls to a single-digit level of 9.8. Analysts expect an annualized EPS growth estimate of 15% for the next 5 years. Based on this estimate, Suncor has almost 60% upside potential. Even after making significant returns this year, I think Suncor is on its way to make new highs. It is also trading below fair value. Canada has vast amounts of natural resources which are yet to be explored. The country is rich in oil and natural gas reserves, as well as precious and essential commodities. Thus, the outlook for Canadian energy companies is very positive. Therefore, I rate Suncor as a buy with a target price of $58.
Apache (NYSE:APA)
Established in 1954, Houston, Texas-headquartered Apache is an integrated energy companies with diversified interests in natural gas, crude oil, and natural gas liquids. The stock has made a marvelous entry into this year, returning 24% since January.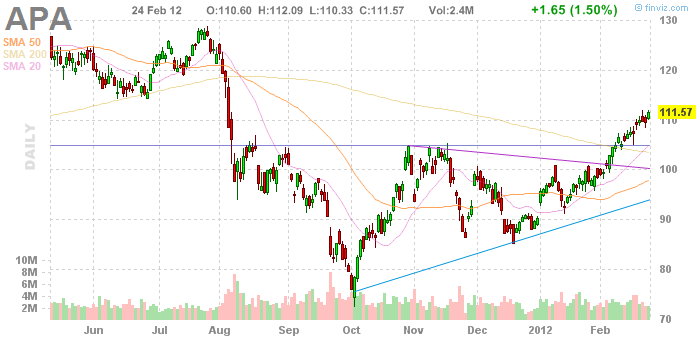 While analysts expect double-digit growth in earnings, the stock is trading at single-digit P/E ratios. Apache is a highly profitable company that was able to generate a net income of $4.5 billion from revenues of $16.9 billion. Based on an EPS growth estimate of 12%, my FED valuation for the company suggests a fair value of $200. Although, the stock is in significantly overvalued territory, I think it still offers a great value.
Marathon Oil (NYSE:MRO)
Marathon Oil is another top performer among its peers. Marathon Oil was subject to a massive sell-off in the 2011 third quarter. Between July and October, the stock literally crashed from $35 to $19, losing near 45% of its market cap. Since then, there has been a strong recovery, and the stock is steadily moving in its upward trend. After gaining 20% in this year alone, the stock already made it to new highs.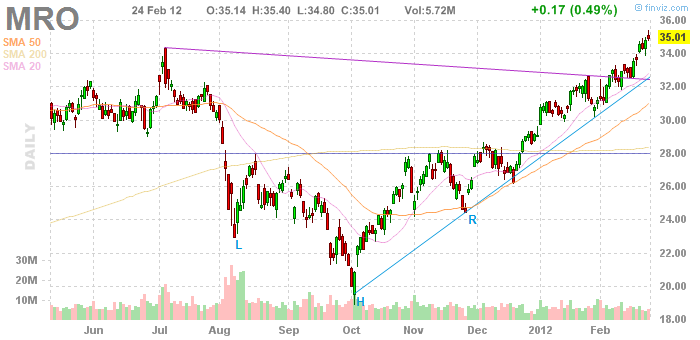 Marathon Oil operates through exploration and production, oil sands mining, and integrated gas segments. Morningstar gives a 4-star rating company, claiming that the U.S. liquids-rich shale resources can be a good catalyst for future growth. Based on a conservative earnings growth estimate of 4.5%, my FED+ valuation suggests a fair value of $40.4. MRO still has some potential left, but I think a pullback might create a better entry point,
Kinder Morgan Energy Partners (NYSE:KMP)
Kinder Morgan Energy Partners operates primarily as a pipeline owner. Founded in 1992, Houston, Texas - headquartered KMP also serves several terminals, rail trans loading and material handling service facilities. The stock is in experiencing pretty high momentum as it returned almost 38% in the last 6 months.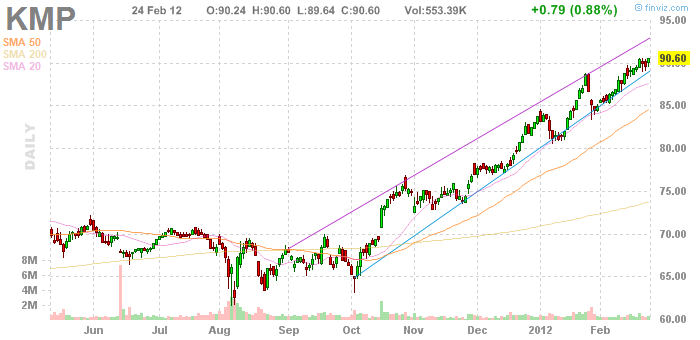 KMP is a master limited partnership, which offers significant "distributions" for income oriented investors. As investopedia suggests, "MLPs are unique investments that combine the tax benefits of a limited partnership with the liquidity of common stocks". While most other dividend-paying stocks have to pay corporate taxes, MLPs can avoid double-taxation by means of "depreciation charges/capital cost deductions".
Most MLPs offer yields (cash distribution rates) of above 5%, and KMP is no exception. Although, the stock is trading near its 52-week highs, the yield of 5.12% is still appetizing.
KMP was able to boost its dividends by 40% in the last 5 years. Can it keep paying dividends at this rate? Yes, it can-- but maybe it should not. KMP is issuing more debt than it can handle. In the last year alone, it issued $7.5 billion of debt, while paying near $6.4 billion of existing debt. It distributed $2.244 billion of cash to unit holders, while creating a free-cash-flow of only $1.674 billion. Thus, it is offering more payout than it can. Besides, the balance sheet shows $16.6 billion of liabilities, which has to be paid sooner or later.
While fellow SA contributor, Sol Palha, claims Kinder Morgan is a magnificent oil and gas play, I think there are other companies with relatively safer yields. KMP raised near $955 million through stock offerings in the last year alone. This year, it plans to sell $1.18 billion in common units. Thus, the share (unit) dilution is going on at an increasing rate. I still think that Kinder Morgan could be a good bond substitute, but expect a distribution cut on the horizon.
Disclosure: I have no positions in any stocks mentioned, and no plans to initiate any positions within the next 72 hours.