March Madness - there really is no other competition like it. The theory of evolution is, the strong will survive. As dedicated investors, I am sure we can all relate to this. However, the strong do not necessarily survive in this tournament. It is always interesting to see the "Goliaths" fall, which is the most entertaining part. Michigan State, a huge favorite to win the whole thing, lost to mid-major Middle Tennessee in the first round. To add to the madness, we saw a 12-point comeback with less than a minute left in the Sweet 16: Texas A&M vs. Northern Iowa. To wrap up the tournament in the championship, we saw the ugliest three-pointer from North Carolina's Marcus Paige to tie the score against Villanova. Just when we think that game is going to overtime, Villanova shows the nation that they just need 4 short seconds to drive the court and flash their greatness. Whether you watched attentively or casually this year, you may have noticed a ton of advertising from Buffalo Wild Wings (NASDAQ: BWLD). On February 10, 2016, I wrote a thesis on the this company's stock and believed that it would make a great short-term investment through this tournament. My suggestion was that potential investors should pick up shares of Buffalo Wild Wings on February 10 and hold it until April 3 (the day after the national championship). This article will first address the performance of my theory through that month-and-a-half time frame. Then, I will talk about this year's trends and how I can make my short-term investment for the 2017 tournament better.

Source: Amigo Bull
The above graph displays the price of Buffalo Wild Wings for the past 3 months. When I wrote my thesis on February 10, the shares were priced at $142.81. If investors took my advice and held through the national championship game, they would have sold shares at $147.88. This is roughly 3% growth through the tournament. Interestingly enough, we see that the shares showed their greatest potential on March 4. Here, we found the shares grew just over 18% in less than a month. I suspect this is because of all the anticipation that surrounds this tournament as well as better news with their norovirus case.
When researching current events about this tournament today, I came across an interesting article about television rights. The article makes the point that television programs found an opportunity with live sports. Important games bring in a lot of viewers, and therefore, the rights to televise these events are a premium. The below chart displays sports organizations and what they charge for these rights: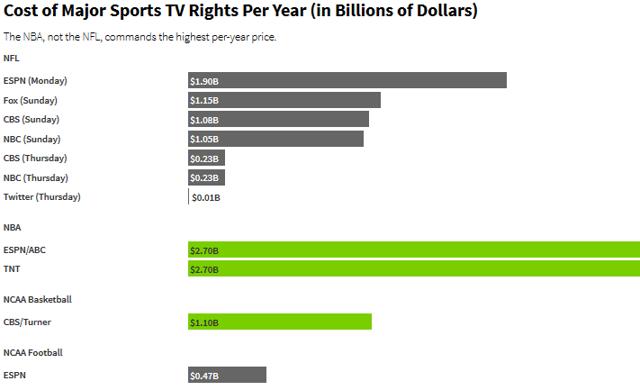 Source: IB Times
I think it is really interesting to note that CBS Sports (NYSE:CBS) and Turner (NYSE:TWX) paid more for the rights of NCAA Basketball than a majority of the NFL rights. PricewaterhouseCoopers predicts that by 2019, sports media rights will bring in $20 billion to the organizations listed above. Even though numbers were down 37% from last year's championship, CBS and Turner extended their contract through 2032. The two companies paid $8.8 billion to extend this deal. It is also interesting to note that the previous contract was not even up yet. When considering all of this, obviously this helps Buffalo Wild Wings' business model, as it is a sports bar. When looking at the long term of these television programs' contracts with sports organizations, we observe the following: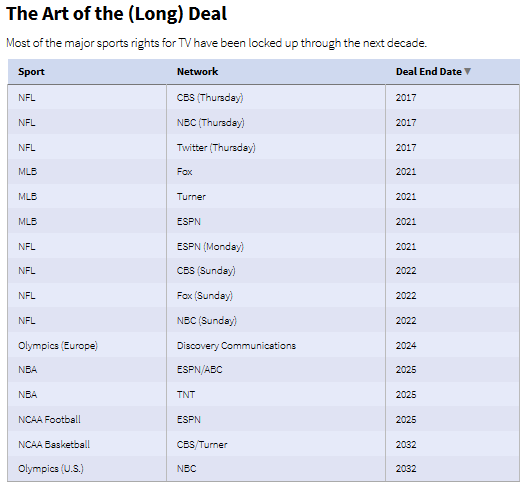 Source: IB Times
As you can see, television programs truly believe in a lot of these sports organizations. A significant portion of them are in it for the long run. I believe the price they pay, mixed with these contract extensions have created great opportunity for Buffalo Wild Wings. NCAA Basketball currently holds the longest extension for an annual championship. If CBS and Turner are confident enough to extend their contract to the same length as the Olympics, I think we should continue to observe this March Madness trend in the future.




Source: MarketWatch
The above figures display the basic accounting formula: A = L + SE. As you can see, the balance sheet of Buffalo Wild Wings displays healthy figures. Less debt is always very favorable when investing in a company. With less debt, the company can identify less risk in its growth strategy. Even though there is a great foundation on Buffalo Wild Wings' balance sheet, its current performance in accordance with the S&P 500 is keeping me from holding long:

Source: Amigo Bull
Ever since I discovered this March Madness trend, the shares have been underperforming. Buffalo Wild Wings has a beta of 1.14. This figure shows it is 14% more volatile compared to the market, which signifies a higher risk or higher reward. Since I have only been tracking this stock since February 2016 and have only seen underperformance, I will continue to avoid a long-term investment in Buffalo Wild Wings. The company does offer a great foundation that I would usually find comfort in, but I would like to see the high-reward performance before investing for the long term. As of now, I have only seen the high risk.
This year, for the basketball tournament, Buffalo Wild Wings partnered with Uber (UBER). The restaurant offered a free Uber ride (up to $10) to or from a participating Buffalo Wild Wings location. Buffalo Wild Wings specifically looks good in this scenario. The company is showing good morals through combating drunk driving, as well as driving more alcohol sales, because consumers do not have to worry about driving. Given this, the CBS and Turner contract extension with the tournament, and the $5 short-term capital gain investors would have seen per share, I will continue to observe this March Madness trend with Buffalo Wild Wings.
Disclosure: I/we have no positions in any stocks mentioned, and no plans to initiate any positions within the next 72 hours.
I wrote this article myself, and it expresses my own opinions. I am not receiving compensation for it (other than from Seeking Alpha). I have no business relationship with any company whose stock is mentioned in this article.