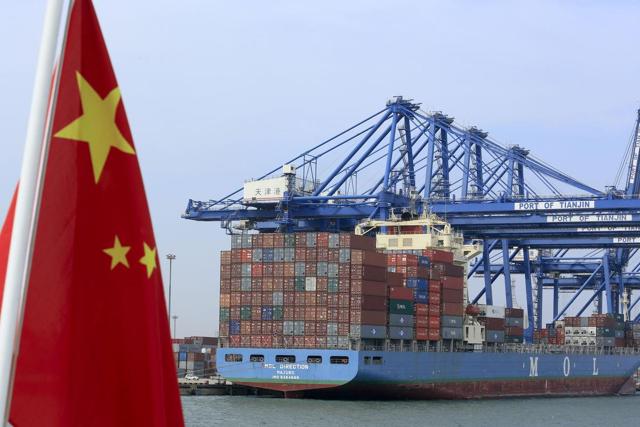 China's slowing economy has been a cause for concern ever since it devalued its currency last August. But its exports surged 11.5% in March, offering a temporary respite to those worries:
Exports surged 18.7 per cent in renminbi terms in March over the same month last year, after declines in both January and February. Imports also stabilised, dropping just 1.7 per cent compared with an 8 per cent fall in February.

In dollar terms, exports rose 11.5 per cent while imports fell 7.6 per cent for the period, reflecting the renminbi's recent rise. The currency has gained 1.9 per cent against the dollar over the past two months.
March results followed disappointing data in February, when exports and imports declined Y/Y by 25.4% and 13.8%, respectively. Always the skeptic, I find it hard to believe trade data made such a dramatic about-face in only a month. China took a week off in February to celebrate the Lunar New Year. Some of the shipments that would have happened in February likely took place in March, boosting March's results and making February's results look less favorable. Below are the following implications of the positive trade data:
Positive Impact On Financial Markets
The positive trade data helped buoy financial markets. The Dow Jones industrial average (NYSEARCA:DIA) rose 1% to 17,908. Financial markets have traded based more on oil prices and expected actions of the Federal Reserve than on earnings fundamentals. Corporate profits are expected to fall again this quarter, yet the Dow is still only 3% from its 52-week high. China is the biggest buyer of oil and other commodities; as China goes, so goes global growth.
In particular, the economies of emerging countries like Brazil, South Africa, and Venezuela are dependent upon China for exports. As their economies have contracted so have their currencies. The earnings of U.S. multinationals with operations in these countries have also declined once their earnings have been converted into U.S. dollars. Over half of Venezuela's exports are related to oil. The oil rout has caused a cash crunch, making it difficult for Venezuela to pay for oilfield services and equipment from Schlumberger (NYSE:SLB), Halliburton (NYSE:HAL) and Weatherford (NYSE:WFT). China's export data is encouraging, but until its rising imports help reverse the economic contraction of emerging countries global profits might not benefit.
It Could Change The Fed's Tone On Rates
As long as U.S. economic growth does not trigger inflation the Fed might keep rates low. Low rates and bombastic news of central bank stimulus have fueled the financial markets despite falling corporate profits. Last month Fed Chairwoman Janet Yellen stated that global economic and financial developments pose risks to the U.S. She intimated that China and the fragile global economy could be additional data the Fed considers before raising rates. In that vein, good news of China's trade data could be bad news if it changes the Fed's tone on rates.
In no way am I suggesting that China has turned the corner. However, if China's trade data is consistently positive over the new few months, financial markets could trade down in advance of a rate hike or a change in the Fed's stance on rates. I would prefer to focus on earnings fundamentals, but the reality is that the Fed is the market. New analysis from economist Brian Barnier suggests the Fed is responsible for over 90% of the market growth since the start of quantitative easing. If China's trade data removes another reason for the Fed not to raise rates then look for a major pull back in the financial markets.
Disclosure: I am/we are short WFT, SLB.
I wrote this article myself, and it expresses my own opinions. I am not receiving compensation for it. I have no business relationship with any company whose stock is mentioned in this article.