PRA Group (NYSE: PRAA) is an established debt collector operating on a global basis. In the past twelve months, its stock has been hammered, currently trading at 46% of its 52-week high. This was partially explained by the regulatory assessment in September 2015 and key concerns around growth. But, current trading levels seem to overly discount the underlying intrinsic value of the company, given a strong franchise coupled with credible track record. We will examine its financial performance in detail followed by our attempt to address those concerns.
Overview
PRA is a global debt collector, buying nonperforming loans, generally from large consumer banks, both in the U.S. and in Europe. With still benign credit performance in the U.S. and lower inventory of charged-offs, the Company is primarily growing inorganically through acquisitions in most recent years, primarily outside of the U.S., including:
Aktiv Kaptial in 2014, a Norway-based leader in acquiring and servicing nonperforming consumer debt through Europe and Canada, purchased for $861 million at roughly 6x earnings
RCB Investimentos S.A. in August 2015, 55% equity interest for $55.2 million (valuing the company at ~$100 million)
DTP S.A share tender in February 2016 for PLN 4.9/share ($1.23/share) for an aggregate purchase price of PLN 175 million or $44 million, roughly 5.7x EBITDA
Key Market Stats (4/12/16)
Share price: $30.08
Market cap: $1.4 billion
Price/2016 EPS: 7.8x
EV/2016 EBITDA: 8.8x
Price/BV: 1.7x
Price/TBV: 4.9x
Financial Performance: Underwriting/Pricing
PRA's business model is relatively simple, purchasing deeply discounted consumer receivables and maximizing recovery as efficiently as possible. This is easier said than done. It requires disciplined underwriting and tremendous expense management to achieve optimal profitability. The best way to assess underwriting capability is through examination of its vintage data. On average, PRA collected about 2.6x of what it paid for, excluding most recent vintage years given they have not been fully developed, which is quite impressive. Data provided below.

It helps when the management team has been in the business for over 20 years. Plus, the founders of the business still hold key management roles (Chairman & CEO and President & interim CFO) at the company. Secondly, 20 years of operational history provides tremendous consumer data capture for more accurate pricing. In addition, PRA prefers to hold onto portfolios, rather than buy and flip in a couple years when market conditions improve. One, this requires discipline which forces the company to maintain sharp underwriting. Two, this leads to a more robust data set, which positions the company to price its portfolios better.
Financial Performance: Collection Efficiency/Expenses
20-years worth of data also tells you what collection strategy works and what doesn't for consumers, which translates to cost efficiency. The most important metric we ought to look at is employee costs over collection, which is the largest expense item. We see from the data below, 29% of cash collections were spent on employee costs in 2009, compared to today's 17%, i.e. much higher productivity. Another major expense item is legal and agency collection expenses, which we see has stabilized around 15%, which is also substantially lower compared to 2008. In translation, for every dollar collected, contribution margin stands at about 68 cents, which is impressively high.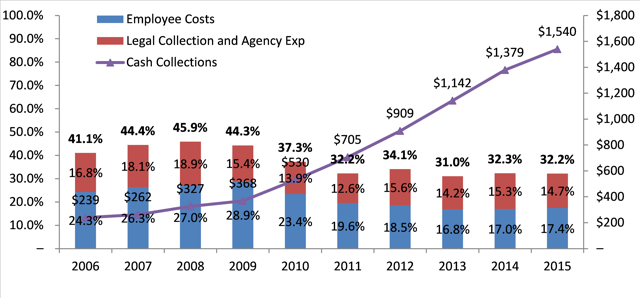 Another metric that management provides to us is cash collections per collector hour paid. As the chart indicates below, collection per hour has increased over 5x since 2000 and 2.4x since 2009, which tells the same story as above.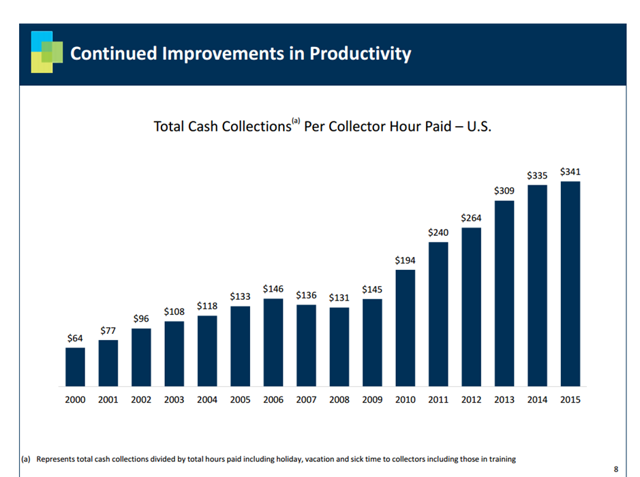 One of the key contributors to cost efficiency is management's decision to move collection in house (vertically integrated). So, the company has greater control over collection strategies and can better tailor the collection effort to different customer segments. At the end of the day, this means better margins and returns for shareholders. See below for historical net margins. Note that for 2015, excluding one-time items (CFPB settlement, merger integration, and legal provision on TCPA lawsuit), net margin actually hovers around 21% assuming 35% tax rate.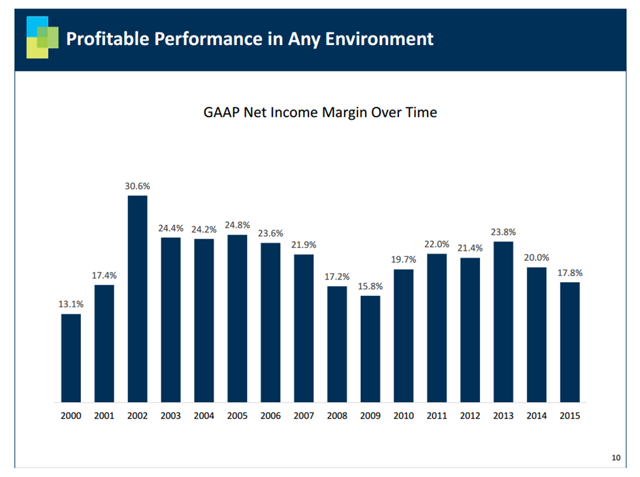 Growth/Supply of Volume
Financial performance is indisputably stellar for PRA. One of the reasons for the sell-off in the past twelve months is growth concerns. Debt collection is a counter-cyclical business, when economic growth is strong and credit performance is benign, charged-off volume tends to be slower and harder to find. This is an inherent risk to the business model. In today's environment, Europe seems to be a bright spot, given the sustained economic turmoil over there. Looking at Arrow Global, the company has recorded some strong growth. Also, there's a lot of consolidation happening in the industry, taking out competition should also be a plus for the sector.
As mentioned earlier, PRA has been active in terms of expanding its European business through acquisitions. These acquisitions have been done at attractive multiples, which lead to direct accretion to earnings and shareholder values. PRA also plays the strategy well by acquiring the entire franchise with local expertise intact. If we look at those European peers (Arrow Global and Cabot), their success can be replicated, given direct franchise purchase and decentralized operations allowing for customization for market differences in those regions/countries.
Regulatory/Legal Penalties
On September 9, 2015, The Consumer Financial Protection Bureau ("CFPB") took action against PRA and Encore (NASDAQ: ECPG), another major competitor in the U.S., for improper collection practices, citing that they bought debts that were potentially inaccurate, lacking documentation or simply unenforceable. Under the consent order, PRA had to pay $19 million in consumer refunds and $8 million penalty and stop collection on about $3 million worth of debt, which is immaterial to operations at the end of the day. In contrast, Encore faced a much bigger assessment: fined $10 million, had to pay back $42 million to consumers and stop collecting over $125 million worth of debts. This large differential speaks to PRA management's decision over its in-house collection, which allows for better control and compliance measures.
Separately, PRA reached a settlement on a class action case alleging that the Company violated the Telephone Consumer Protection Act ("TCPA") by calling customers' cell phones without prior consent. The initial case was filed in December 2011 and now ultimately settled in January 2016. PRA took a $13.8 million legal provision associated with this case.
At the end of the day, PRA operates in a regulatory and legally intensive environment, which requires immense oversight in compliance effort and collection conduct. Management seems confident that their collection practice is industry-leading and no material changes would come from the CFPB and TCPA settlements, especially when collections are done in-house, which allows for control and flexibility at the same time.
Leverage
As of 2015YE, PRA has about $1.7 billion in debt, which is about 4.9x of 2016 estimated EBITDA, which seems to be relatively quite levered. Partly, it is due to recent acquisitions. A better way to look at leverage for debt collectors is probably benchmarking it against its estimated remaining collections ("ERC"). Management quoted over $5 billion in ERC, so roughly 34% being debt.
There is another concern in the market about potential dilution to equity shareholders from its $288 million convertible debt. To put it in perspective, the conversion share price is $65.72 per share, compared to today's stock price of $30.08 apiece. In other words, for new investors at current levels, it needs the stock to more than double in order for the debt to have any dilutive impact.
Valuation
Today's valuation does not seem to give much credit to the growth of the underlying business at all. Management indicated that the estimated remaining cash collection is about $5.1 billion. First, that number seems to suggest the current remaining books would yield about a bit higher than 2.2x for the most recent vintages. Using a crude calculation by discounting that remaining cash flow at 10% cost of equity over the next five years, assumes 35% tax rate and 62% contribution margin after interest, I derive to roughly $1.28 billion of value. In other words, the market gives very little or nearly zero value to new purchases. Assuming management can integrate new acquisitions successfully and realize growth opportunities successfully in Europe, there should be no question that management can maintain current level of purchases (i.e. roughly $900-$1 billion 2015 level). In perspective, every $1 billion purchase at 10% cost of equity should result in a present value accretion of roughly $250 million to shareholders (discounted over 7 years assuming management can underwrite at 2.2x as indicated historically and 35% tax rate).
Summary
PRA has a strong management team that successfully navigated the company through multiple credit cycles and managed to produce significant earnings and values to shareholders over time. In today's environment, which is more benign from the credit cost perspective, investing in PRA is almost a natural hedge (i.e. lower valuation with large upside potential, especially when the credit cycle turns). Even if that credit event takes a while to play out, management's decision to expand in Europe should be fruitful in the near term assuming successful integration.
Disclosure: I/we have no positions in any stocks mentioned, and no plans to initiate any positions within the next 72 hours.
I wrote this article myself, and it expresses my own opinions. I am not receiving compensation for it (other than from Seeking Alpha). I have no business relationship with any company whose stock is mentioned in this article.
Additional disclosure: Readers are advised that the material contained herein should be used solely for informational purposes. Readers should conduct their own research and due diligence and obtain professional advice before making investment decision. We will not be liable for any loss or damage caused by information obtained in our materials. Readers are solely responsible for their own investment decisions.