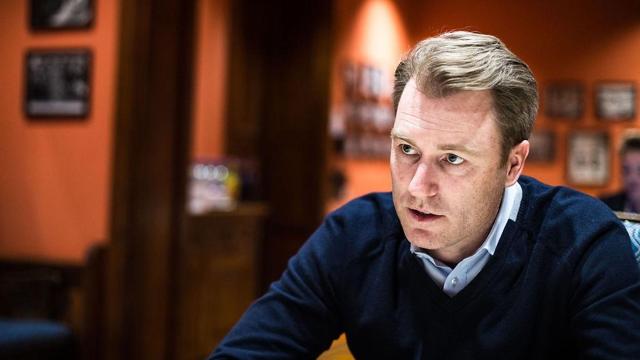 Schlumberger CEO Paal Kibsgaard
The oilfield services space has been hard-hit by declining oil prices and oil & gas E&P. Several shale plays have gone belly up; now entire countries are having problems paying for equipment. Schlumberger (NYSE:SLB) announced it was curtailing operations in Venezuela due to slow payments:
Oilfield services provider Schlumberger Ltd said it would reduce its operations in Venezuela due to payment problems, a further sign of the cash crunch facing the OPEC nation because of weak oil markets. Venezuelan state oil company PDVSA, the exclusive operator of the country's oilfields, has built up billions of dollars in unpaid bills to service providers as a result of cash-flow problems.

"Schlumberger appreciates the efforts of its main customer in the country to find alternative payment solutions and remains fully committed to supporting the Venezuelan exploration and production industry ... However, Schlumberger is unable to increase its accounts receivable balances beyond their current level."
Schlumberger provided PDVSA with a $1 billion credit line in 2013 to allow the oil giant to continue paying for services. Over the past two years Schlumberger has taken over $500 million in losses due to Venezuela's currency devaluation(s).
The Situation
Schlumberger has a pristine balance sheet. At year-end it had cash and short-term investments of $13.0 billion and accounts receivable of $8.8 billion. It could sustain a hit to its balance sheet; however, the loss of future revenue and earnings from Venezuela could be problematic.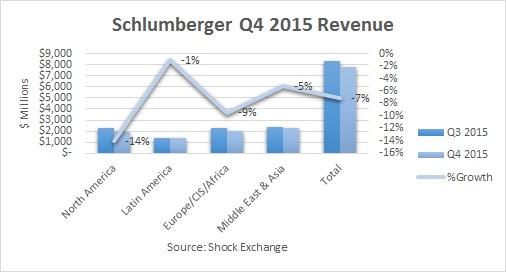 Q4 2015 revenue was off 7% Q/Q. CEO Paal Kibsgaard expects Q1 revenue to fall by 15% versus the $7.7 billion reported in Q4. Kibsgaard described the declines in industry E&P as a crisis for the oilfield services industry. Venezuela represents about 3% of Schlumberger's total revenue and over 10% of accounts receivable. The pull back would likely have an impact in Q2 2016 and beyond.
Schlumberger has hefty EBITDA margins of 28%, despite the consistent quarter declines in revenue. A large revenue loss could hurt margins going forward. Secondly, it receives 17% of total revenue from Latin America. If Venezuela is having trouble paying then it doesn't rule out the possibility that another Latin American country could cut its equipment spending as well. Once the loss of Venezuela revenue is factored in, 2016 could be a tough year for Schlumberger.
The Cameron Deal Won't Help
Schlumberger recently consummated its $13 billion acquisition of Cameron International. I always suspected that the deal was meant to help Schlumberger generate top line growth it couldn't garner on its own. About $2.8 billion of the purchase price will be financed with cash and the rest with SLB stock. Based on Q4 results, Schlumberger and Cameron would have run-rate EBITDA of $9.8 billion and net debt of $9.8 billion.
Cameron has been living off of an backlog built up over the past few years when oil prices were above $100. The subsea technology space now appears vulnerable as new contracts have dried up. Cameron's Q4 revenue was off 6% Q/Q and Q1 2016 revenue is expected to fall another 15%. Cameron's EBITDA margins have held steady at 18%, but I anticipate they will break support amid [i] double-digit declines in revenue and [ii] a dearth of new orders.
While Schlumberger and Cameron's revenue and EBITDA are expected to decline further, their combined net debt of $9.8 billion will likely remain constant. Add in additional interest expense on the debt borrowed to fund the Cameron deal and that portends a sharp decline in SLB's earnings per share. SLB is down 12% over the past year, versus a flat return for the S&P 500 (NYSEARCA:SPY). The market is currently driven by sentiment over Fed actions and/or oil movements. If investors focus again on earnings fundamentals SLB could fall further. Investors should avoid the stock.
Disclosure: I am/we are short SLB.
I wrote this article myself, and it expresses my own opinions. I am not receiving compensation for it. I have no business relationship with any company whose stock is mentioned in this article.