On September 30 2015 the share price of The Gap (NYSE:NYSE:GPS) took a dive following an announcement by the company. It wasn't anything to do with slowing sales, not this time, nor was it any changes to guidance. It was the announcement that its Old Navy brand had lost its global president Stefan Larsson to rival Ralph Lauren (NYSE:RL).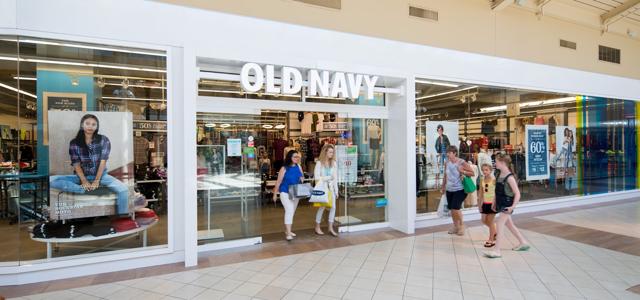 That sell-off will have come as little surprise to many shareholders who recognize Larsson as being the genius that helped the company get its act together. He turned Old Navy into a force to be reckoned with and made it the company's number one brand. Presently the Old Navy brand is contributing 42.2% of total revenue, compared to the Gap brand which is just 36.4% of total sales.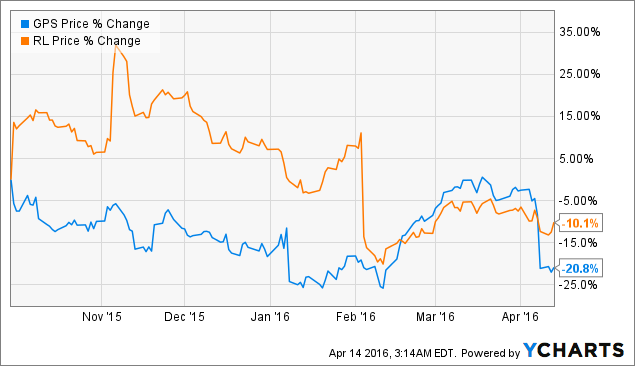 The chart above shows the market reaction to Mr Larsson's departure, or arrival depending on your view. Although neither company has performed to expectations since then, they are slowly navigating through the difficult retail environment they are faced with. We expect Ralph Lauren to produce the goods in the next few years with Larsson at the helm.
Until yesterday the company had been operating without a replacement for Stefan Larsson and it was clear to see. The brand appeared to lack direction and things were coming away at the seam. Although the Old Navy segment was the only segment to post an increase in sales in the last fiscal year, its momentum has slowed drastically. Old Navy's year over year sales grew by just 1%, compared to a 6% increase the previous year.
Yesterday the company announced a successor at long last in long-time executive Sonia Syngal. Most recently Syngal was in charge of Gap's global supply chain and product operations, but has been heavily involved with Old Navy in the past. She was senior vice president of its international unit, working closely with Mr Larsson. We are very hopeful that she will be able to pick up where Larsson left off.
It is incredibly important that she does, because as far as we are concerned, right now an investment in The Gap is an investment in Old Navy. Its growth is what attracts us to the company and the way it has embraced fast-fashion is fantastic. Larsson's 15 years' experience as part of the team responsible for the growth of fast-fashion behemoth H&M (HNMMY), was a big win for the company and set it up for success.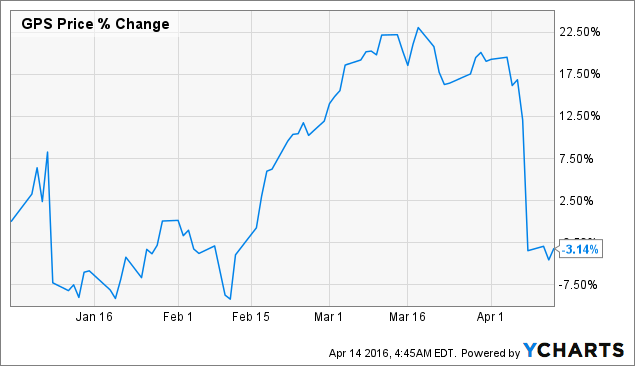 So far this year the company has thoroughly underperformed, which caused the sell-off shown in the chart above. Just a week ago the company reported that net sales for the five-week period which ended on April 2 were down 6.5% to $1.43 billion compared with $1.53 billion the previous year.
Sadly, it gets worse. March comps were down 6% compared to a 2% increase last year, with all of its brands misfiring. Gap was -3% versus -7% last year, Banana Republic was -14% versus -3% last year, and Old Navy was -6% versus +14% a year earlier.
This disastrous performance has led to the company entering April with rising levels of inventory which it is now going to have to markdown at the expense of its margins. We are not entirely sure whether this is mismanagement or just the weather's fault. The unseasonable weather that the US has experienced has troubled apparel retailers. Consumers definitely have the money to spend, the problem appears to be with retailers not having the right product assortment and lower traffic.
The Gap's CFO Sabrina Simmons has acknowledged that March was a challenging month, but remains focused on getting things right. She advised that the company is taking the necessary steps to improve all of its brands results throughout the year.
The first quarter will not be pretty. But thankfully the market has now factored in the underperformance leaving the shares at a very attractive entry price. At 10.7 times earnings we class the shares as a buy now, having had them as a hold around a month ago.
We have reduced our outlook for the company though. Previously we felt earnings per share of $2.24 was achievable, but following its first quarter troubles we have revised this down to $2.19. Which at 12 times earnings gives us a one-year price target of $26.28. This would be a return of 9.8% from the current share price.
The performance of Sonia Syngal and Old Navy will be key to the company's growth in the future. If they can get this right, then the company will have a very bright future. We have a lot of faith in Syngal and hope that her time working closely with Stefan Larsson will have prepared her for the task ahead.