Apple (NASDAQ:AAPL) enjoys a very high customer retention rate. Or does it?
2014 data show that Apple users who upgraded chose another iPhone 76% of the time, comparing favorably to Samsung smartphone users who chose another Samsung 58% of the time. Case closed?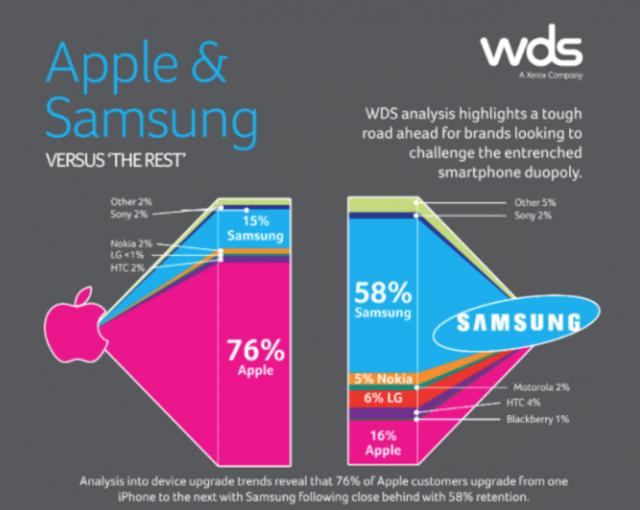 Source: WDS (a Xerox company) as posted on Computerworld
The problem with the conclusion is that it is the wrong comparison. Instead of comparing Apple vs. Samsung (OTC:SSNLF), investors should compare iOS (which is only Apple) with Android (comprising many suppliers). The Xerox data show that 83% of Samsung users chose another Android smartphone, with 16% buying an iPhone and 1% a BlackBerry (NASDAQ:BBRY). Based on Samsung's experience, my conclusion is that Android has a higher customer retention than iOS. That conclusion is bolstered by the indisputable fact that Android now commands well over 80% of the smartphone market while Apple has a share in the 15% range.
In late 2015, Business Insider reported a November 2015 Ericsson study that took a look at the platform retention rate rather than the brand and found that, except for the short period following an iPhone release, Android had the better retention rate. A clip from the Business Insider article is set out below:
"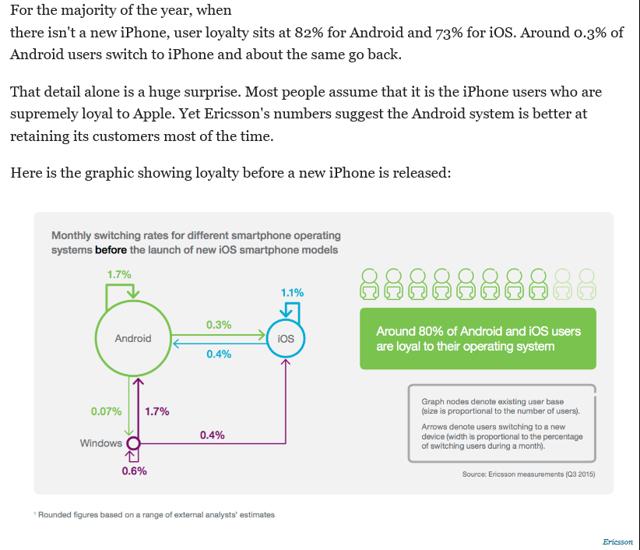 Source: Business Insider
The installed base of smartphones by operating system was reported by Statista for 2015 as 1.8 billion Android and 463 million iOS devices.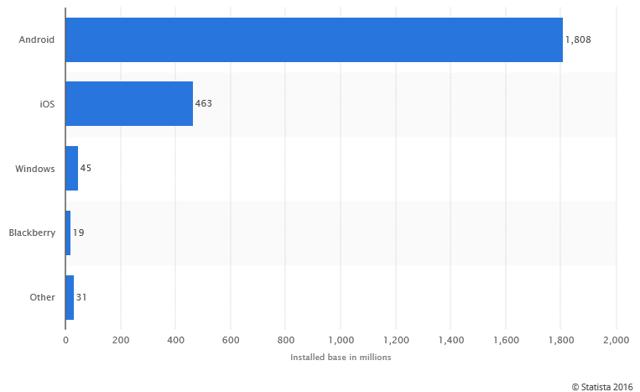 Source: Statista
One interesting tidbit from the Ericsson data is that the monthly defection from iOS is about 0.4% of users or about 1.85 million persons based on an assumed installed base of 463 million. At the same time, about 1.1% of iPhone users bought a new iPhone adding 5.1 million to monthly sales. The big number for Apple is the 0.3% of Android users moving to iOS. With some 1.8 billion Android smartphones in use, those switching to iOS add about 5.4 million to monthly iPhone sales.
Gartner forecasts 1.5 billion smartphones will be sold in 2016. I'm assuming about 30 million of those would be Windows or BlackBerry leaving 1.47 billion divided between iOS and Android.
If we apply the Ericsson switching estimates to the installed base from Statista, we can model how 2016 might unfold. To do so, I will use estimated iPhone shipments of 220 million which I believe is representative.

With Apple shipping about 220 million iPhones a year, the implication is that 93.8 million new users are added from non-Android upgrades and feature phones or are first time smartphone users. Subtract the 22 million iPhone defections and you arrive at growth in the iPhone user base of 72 million users in 2016 to 535 million units.
Even with those gains, the iOS share of the smartphone installed base drops from 20.4% to 16.4% with iPhones garnering less than 8.7% of new users in the smartphone space.
The data are by no means perfect. Retention and switching rates shift markedly at the time of a new phone launch skewing the results and emphasizing the importance of new device launches.
In any event, the Ericsson data support my long-standing thesis that the best days of the iPhone are behind Apple with Android gobbling up over 90% of the new entrants into the market. Over time, that massive shift to Android will leave iOS developers little choice but to at a minimum develop for both iOS and Android if not abandon iOS altogether.
I am short Apple through puts.
Supporting Documents
Disclosure: I am/we are short AAPL.
I wrote this article myself, and it expresses my own opinions. I am not receiving compensation for it (other than from Seeking Alpha). I have no business relationship with any company whose stock is mentioned in this article.