This article reviews the factors that influence and the likely result these factors will have on crude oil prices.
Factors that influence crude oil price
Crude oil prices are influenced by many different factors and the relative importance of these factors changes over time. The main factors that influence crude oil prices can be grouped into three broad categories:
Inventories of global crude oil and petroleum products
Common expectations of future crude oil supply and consumption
Potential for actual crude oil supply and consumption to differ from common expectations
The first two factors have remained fairly consistent over the last year, as inventories have grown and expectations for further inventory builds continue. The third factor has recently come into play as OPEC, with the help of Russia, has managed to talk up the possibility that future supply may be reduced from that of common expectations.
Historical crude oil prices
Before looking at the factors that influence crude oil prices, reviewing historical prices and the reasons for historical price movements puts the current price and outlook in perspective.
Crude Oil WTI NYMEX - 2 years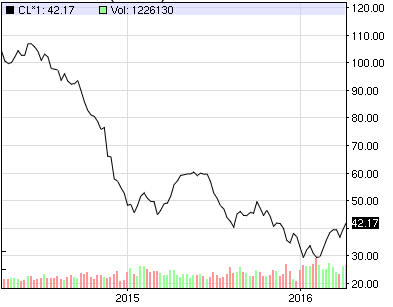 In 2014, US shale oil production was growing rapidly and the Organization of the Petroleum Exporting Countries (OPEC) surprised the market by announcing that they would not cut production to balance supply with demand. This resulted in the immediate expectation of crude oil inventory builds, followed shortly thereafter with actual crude oil inventory builds, putting downward pressure on prices.
Prices fell below $40 in the fourth quarter of 2016 and bottomed at under $30 per barrel on 11 February, then on 16 February it was reported that Saudi Arabia and Russia had agreed to an oil output freeze and prices have increased since that point. As prices fall below $40 per barrel, there is a growing amount of production that becomes uneconomic to produce. It is generally thought that crude oil prices will not stay below $40 for long as, if this price level is sustained, crude oil production will begin to fall significantly and supply and consumption will fairly quickly rebalance.
Crude oil inventories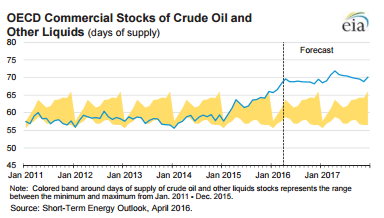 The EIA (U.S. Energy Information Administration) publishes their Short Term Energy Outlook monthly which includes the Organization for Economic Co-operation and Development (OECD) commercial inventory figures shown in the chart above. As can be seen from this chart, OECD commercial inventories began to increase sharply in 2015. The shaded areas indicate the minimum to maximum inventories in the prior 5 years. These have been updated with 2015 data that extends the range much higher than in previous years. Prior to 2015, the peak in days forward supply was right at 60, compared to approximately 70 days today and forecast to increase above 70 days in early-2017.
High crude oil inventories in the OECD will continue to exert downward pressure on crude oil prices.
Expectations of future crude oil production and consumption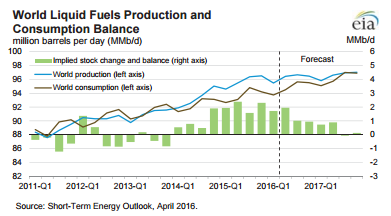 As the chart above displays, world liquid fuel inventories are forecast to grow further in 2016 and through the first two quarters of 2017 as production continues to exceed consumption.
The crude oil market tends to focus on the individual elements, within this overall production and consumption outlook, which are changing or driving the markets. Recently the market has been concerned about the bearish effect of Iran's return to the export market but the focus has been shifting towards the declining US shale oil production and expectations for further declines as prices remain below the level required to bring on new production economically.
Overall the common expectation is, as shown in the chart above, that supply will continue to exceed demand through the second quarter of 2017. What has changed most, is that OPEC and Russia have managed to introduce some uncertainty regarding this expectation.
The common expectation is for further inventory builds in 2016 and the first half of 2017. This will continue to put downward pressure on crude oil prices until the market shifts its focus out to expectations for a more balanced market in the second half of 2017.
Potential for actual production and consumption to differ from expectations
While crude oil prices have rebounded from their lows, below $30 per barrel set in early February 2016, they remain pressured to the downside by high inventories and the common expectation that supply will continue to exceed consumption through mid-2017.
The announcement made on 16 February 2016 that Russia had agreed with Saudi Arabia on an oil output freeze, which other members of OPEC were backing, introduced uncertainty to the common expectation that crude oil supply would continue to exceed consumption through mid-2017. Crude oil prices have continued to climb since this announcement, although from levels below what many considered a sustainable low, back to a more sustainable price near $40.
All eyes are now focused on the producer meeting scheduled for 17 April 2016 in Doha, where bulls are hoping for an agreement to at least freeze production or even better cut production levels, while the bears are hoping that the meeting will end without any concrete results.
Prices are currently near a sustainable bottom. If the producer meeting does not result in any positive announcement, prices are likely to give back part of their recent gains. If the producers are able to announce something positive, the markets will likely gain further. It seems unlikely that OPEC/non-OPEC producer action will result in any significant reduction of supply to the market. While there may be a short term reaction to the Doha meeting, actual supply to the market is unlikely to be affected and the markets will likely go back to looking at the fundamentals fairly quickly.
Conclusion
Crude oil prices will likely stay predominantly in the $35-$50 per barrel range until supply and consumption get back in balance. This balance is expected to occur in mid-2017, as we get close to a balance, prices will need to increase enough to make it economic for US shale oil producers to bring on additional production. This price has been reported in the $50-60 per barrel range.
Addendum
Sectors and stocks impacted
The United States Oil Fund (NYSEARCA:USO), iPath S&P GSCI Crude Oil TR ETN (NYSEARCA:OIL)
Major oil companies - Exxon Mobile (NYSE:XOM), Chevron (NYSE:CVX), ConocoPhillips (NYSE:COP), Royal Dutch Shell (RDS-A), Total (NYSE:TOT), BP (NYSE:BP)
Oil service companies - Schlumberger (NYSE:SLB), Halliburton (NYSE:HAL), Baker Hughes (NYSE:BHI), Fluor (NYSE:FLR), Weatherford International (NYSE:WFT)
US shale oil producers - Marathon Oil (NYSE:MRO), Continental Resources (NYSE:CLR), Southwestern Energy (NYSE:SWN), EOG Resources (NYSE:EOG)
A look back at previous crude oil price forecasts
Similar crude oil price analyses were published in February 2015, September 2015 and February 2016. Those analyses have been correctly consistently bearish. As additional data have become available, the period of downward pressure has been extended further out. Here are links to those articles:
Other Considerations
The use of EIA data. There are a number of sources of crude oil fundamental data including JODI, OPEC, and the IEA. Each source has advantages and disadvantages, the EIA data was used in this analysis because of its availability in the public domain.
Disclosure: I/we have no positions in any stocks mentioned, and no plans to initiate any positions within the next 72 hours.
I wrote this article myself, and it expresses my own opinions. I am not receiving compensation for it (other than from Seeking Alpha). I have no business relationship with any company whose stock is mentioned in this article.