Overview
The 2016 consumer staples series is going to provide a review of varying companies within this sector. Many investors are very familiar with the products and histories of these companies so these assessments will look to focus on company fundamentals and valuation, and long-term potential for investor returns.
As an investor myself, I have built and managed individual portfolios over the past years. My primary focus for investing is to manage long positions in my holdings with a long-term investment horizon out to 25 years. Therefore, in addition to looking out the next couple of years, the perspectives and review will consider 10-year scenarios for expectations of potential returns for investors. This will include both stock price appreciation and dividend payouts.
The objectives of this process are to identify different investors with different needs, provide a high-level review of each companies' products, consider the company's fundamentals and valuation, and ultimately, to consider growth prospects for investor returns. Ideally, this will allow different investor needs and/or preferences to better understand how to set expectations for their future investment decisions.
Investor Approaches
The majority of companies within the food and beverages industries offer investors the potential for both capital appreciation and a dividend payout. This allows investors to take risk with an equity position, but also benefit from realizing gains, typically on a quarterly payout basis, from a company's dividend distributions.
This fact allows for investors at different stages in life and with different risk tolerances to consider these industries. There are three primary classifications of investors based upon the consumer staples sector and their preferences including:
Interest Rate Seekers: Defined as investors who are looking to find a dividend yield which provides them with a certain rate of return. These investors typically are comfortable to a degree with investing in equities and are looking for a return which is above more traditional options, such as savings accounts, money market funds or certificates on deposit.
Dividend Investors: Defined as investors who are looking to maximize their rate of return based upon a company's ability to increase its dividend at levels faster than its peers.
Total Return Seekers: Defined as investors who are interested in both capital appreciation and dividend performance over time. These investors may or may not value the rate of dividend payout as highly as the previous two investor types.
All three of these investor types may have different comfort levels related to risk. For example, an Interest Rate Seeker may like the idea of investing in a consumer staple paying a 2 to 3 percent dividend, but not be comfortable holding during a recession cycle and potential risk of losing 30-50 percent of the principal.
But Dividend Investors and Total Return Seekers, who are comfortable with market cycles, may view this as an opportunity to increase their positions for both objectives of increasing dividend rates of return and total return.
When a sector like consumer staples is at an overvalued level, this reduces the dividend yield and inversely increases the stock price, which reduces long-term capital appreciation potential. This occurrence is explicitly negative for all three primary investor types. However, for Interest Rate Seekers, the dividend payout rate may still seem like a much better opportunity versus traditional fixed income options.
Investors should always be thinking about the prospects for how a company will consider its future dividend increases as well as how the current valuation based upon the company's stock price sets the stage for future capital appreciation.
Product Overview
Campbell Soup (NYSE:CPB) has a product mix that includes the Campbell Soup core brand as well as a diverse assortment of other brands added over the years. As a result, the company's intangible asset ratio is near 45 percent. Recent acquisitions have included contributions to the company's Campbell Fresh segment including Garden Fresh Gourmet, Plum and Bolthouse Farms.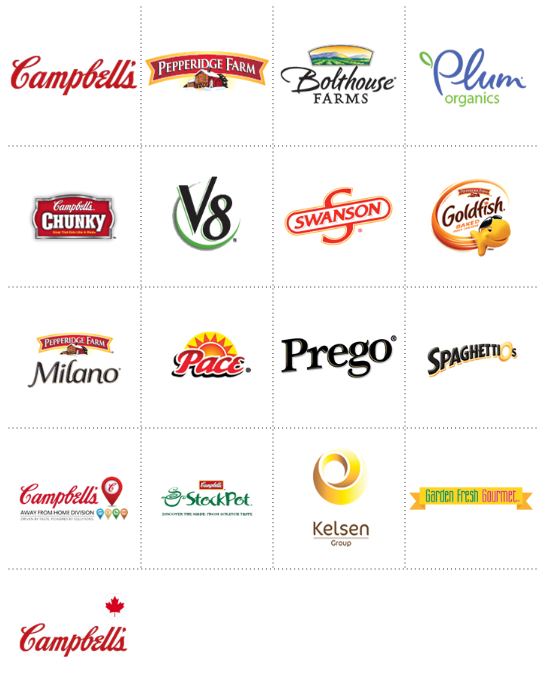 There is a fundamental divergence in the food and beverages industries where new coming companies including The WhiteWave Foods Company (NYSE:WWAV) and Sprouts Farmers Market (NASDAQ:SFM), among others, are strictly focused on healthy and organic products. Through the first half of Campbell Soup's fiscal year 2016, roughly 12 percent of the company's revenue has been generated from the Campbell Fresh segment.
To this point, investors seeking total returns as a long-term priority should be considering higher growth companies, despite even higher valuation multiples versus their traditional peers. Over time, and from today's stock price levels, newer companies may end up being better values over time if the food and beverages industries' overvaluation trends continue. But for Interest Rate Seekers and Dividend Investors, the focus will remain on the dividend paying company options.
Company Fundamentals
The company fundamentals for Campbell Soup that I tend to focus on include the company's revenue and earnings growth, profit and EBITDA margin, ROA and ROE, debt/capital and debt/EBITDA, free cash flow yield and dividend yield. Investors should realize that the company utilizes adjusted earnings and diluted EPS. These adjusted non-GAAP numbers should be used in order to compare them with analyst estimates, but investors should consider the differences between GAAP numbers.
Revenue growth has been lackluster for Campbell Soup with growth near 3 percent during 2014, but down over 2 percent in 2015. Based on estimates through 2017, the company will basically have recorded flat revenue growth. Earnings have been a better side to the story with the only down year over this same time period being 2015. Estimates over the next couple of years are for total growth near 22 percent, or an average of 11 percent per year.
Part of the driver of this is improving profit and EBITDA margins. The company is estimated to improve its profit margin close to 12 percent by 2017 and EBITDA margins should be approaching 20 percent. The company's ROA at 11 percent is respectable, and investors should make sure to not read as much into the company's excessive ROE near 65 percent. The ROE is abnormally high due to the company's high levels of goodwill and intangible assets resulting from the many acquisitions over the years.
Campbell Soup's debt/capital and debt/EBITDA are quite high at nearly 75 and 300 percent respectively. This is not problematic from a debt obligation management perspective, but it does possibly limit the amount of future deals. The company does have an additional $2 billion in credit facility which matures in 2018, with an additional $500 million increase available, so if the company wanted to go after a major deal it potentially could.
For free cash flow, the traditional consideration is to take operating cash flow and subtract the company's capital expenditures and add back any disposal of property and equipment. Since most consumer staple companies pay dividends to investors, I take a more conservative approach and include the dividend payout before calculating the free cash flow yield. To me, this is a fixed expense as investors are taking a stake in the company expecting to receive their dividends, just as much as they are expecting the company to invest capital to grow the business.
Campbell Soup as of April 13, 2016 had a free cash flow yield just below 3 percent. The company's dividend yield was at 2 percent. The free cash flow generated by Campbell Soup is quite strong, but the dividend payment has not increased very much over the past few years.
Overall, Campbell Soup has struggled with its total revenue growth despite witnessing strong growth from the Campbell Fresh segment. The company expects the back-half of its fiscal year 2016 growth to substantially offset the weakness during the first half. Additionally, improving profitability will allow for the company to grow adjusted diluted EPS double digits through 2017.
Valuation and Growth Prospects
For valuation, core metrics I tend to rely upon include the P/E ratio, EV/EBITDA and P/B. Companies with proven earnings over time are great for relying upon the P/E ratio. Investors should make sure they are aware of both GAAP and non-GAAP measures for Campbell Soup as the company's P/E ratio was at 28 and 22 times earnings for GAAP and non-GAAP measures respectively.
The company's EV/EBITDA and P/B ratios were at 15.5 and 14 times. These levels of valuation speak to the headings above regarding overvaluation. Additionally, a dividend yield of 2 percent, while much better than traditional savings options, is not the most exciting yield, especially with growth of 2.5 percent over the past few years.
So our assessment of Campbell Soup today is basically a company that trades at a premium, with flat revenue growth and improving profitability; but has high leverage based on its debt and capital structure. In the event the company was fairly valued, this would reflect a great buying opportunity scenario for the short-term. Companies fairly valued with expectations to grow earnings double digits typically offer similar investment return potential for capital appreciation excluding the dividend.
But the fact is that Campbell Soup is overvalued today, so it is beneficial to look at a 10-year horizon timeframe to get a sense of just how overvalued the company is. Based on the company's recent history of acquisitions, it does not look like a deal between $1-2 billion is something that may occur soon. As a result, I would look to U.S. GDP growth as a proxy for revenue growth for Campbell Soup. The company could grow on average around 2.5 percent per year to 2025, give or take a half percent.
As mentioned, the company is improving profitability, so assuming a non-GAAP profit margin of 12 percent seems feasible. The company has recently increased its share buybacks, but over the long-term a conservative estimate is assumed of a 1 percent purchase per year. Revenue and adjusted net earnings are denoted in millions in the graphic below.

Source: Company filings and personal database
Since these numbers reflect non-GAAP adjustments, the three scenario P/E multiples include 18, 22 and 25 times earnings. Out to 2025, these three multiples reflect compound annual growth rates, or CAGRs of 2, 4 and 5 percent respectively. Combined with today's dividend yield, investors could expect a total return between 4 and 7 percent.
Forecasting Campbell Soup's dividend increase over the same period is not an easy task. The company witnessed a dividend/share CAGR of 9 percent between 2004 and 2010. Since then the company has witnessed a dividend/share CAGR of 2.5 percent.
To get a sense of future dividend performance, the table below provides three scenarios of dividend CAGRs and their respective yield based upon the stock price P/E multiple midpoint of 22 times earnings from the above table.

One interesting highlight here is that in the event Campbell Soup only witnessed a dividend CAGR of 3 percent, the yield based on a stock price appreciation CAGR of 4 percent would lead to a declining dividend yield. One would hope that Campbell Soup will get back to returning 5 to 9 percent growth to its dividend/share. Regardless, from a midpoint P/E ratio scenario, the company could potentially provide a total return between 6 and 7 percent.
Investor Perspectives
These exercises are valuable for investors as they illustrate potential outcomes based upon the company's current growth perspectives. One could argue that these are more conservative as they include non-GAAP earnings. Assuming a non-GAAP P/E ratio of 25 times earnings could easily place the GAAP P/E above 30 times earnings.
I cannot speak for an Interest Rate Seeker who is looking for income greater than traditional savings accounts; as to whether it would be in their best interest to invest in Campbell Soup. I would assume that a Dividend Investor would probably pass on this one, especially until the company has recommitted to growing the dividend. And from a Total Return Seeker perspective, I cannot speak to whether or not a return between 6 to 7 percent is desirable.
What I can speak to is my management goals and objectives for the two portfolios created this year. Both the Lean Long-Term Growth Portfolio and Lean Short-Term Growth Portfolio are attempting to invest in strong companies with solid growth potential, and/or high risk/reward potential. I am very interested in the food and beverages industries, but I am looking for companies with strong product diversification focused on health-based and organic foods and beverages.
Campbell Soup has a diversified product base and is looking to grow its health and organic food and beverages segment, but the company still has some weight from other traditional segments. I find that this is a reoccurring theme in these industries. Other new-coming companies, which may be valued higher today, are generating both top-line and bottom-line performance justifying the future potential. The stock price for Campbell Soup is too rich and overall company growth does not justify consideration for either portfolio.
The bottom line here is that depending upon the type of investor whether an Interest Rate Seeker, Dividend Investor or Total Return Seeker, there could be justification for owning Campbell Soup or not owning the company. But the important thing to consider is each individual investor's goals and objectives versus risk preferences to set the right expectations.
Disclosure: I am/we are long WWAV.
I wrote this article myself, and it expresses my own opinions. I am not receiving compensation for it (other than from Seeking Alpha). I have no business relationship with any company whose stock is mentioned in this article.