Image Credit: LTC Properties
Healthcare real estate investment trusts are one of the best income vehicles for investors over the long haul. The reason: Improvements in medical care and better standards in workplace safety have resulted in increasing life expectancy for citizens in Western countries. As a result, the fragmented senior healthcare market offers attractive opportunities for continued growth and income.
Healthcare REITs invest in senior care-related properties including skilled nursing, assisted living, and medical office properties. Since there will be significantly more older people, defined as people aged 65 and above, in the coming decades than there are today, senior healthcare-related investments are indeed very attractive.
Just look at this chart from the United States Census Bureau: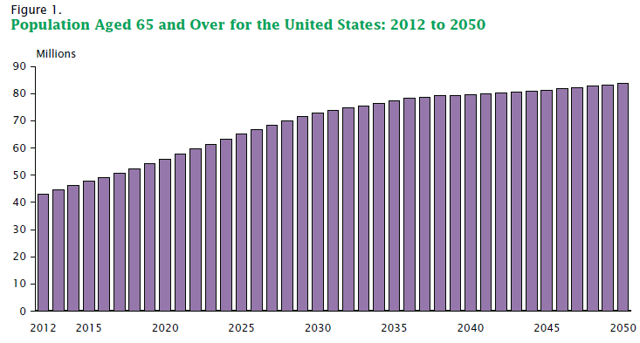 Therefore, healthcare REITs including LTC Properties, Inc. (NYSE:LTC) make compelling investment propositions since they are positioning themselves to profit from this growth opportunity.
LTC Properties invests in skilled nursing, assisted living, and range-of-care properties, and has built an extensive presence in the different senior healthcare markets in the United States.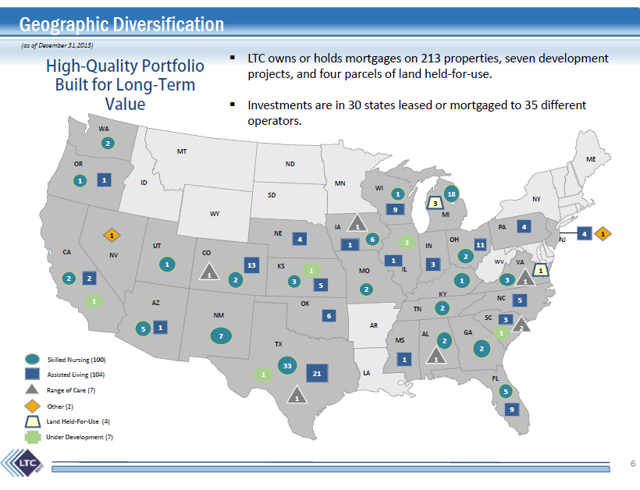 LTC Properties Is Not Cheap, But Quality Has Its Price, Right?
I value healthcare REITs, like all other real estate investment trusts, on the basis of their adjusted funds from operations, or AFFO.
LTC Properties pulled in $0.64/share in normalized adjusted funds from operations in Q4-15, a two cent-per-share improvement over the fourth quarter of 2014. Hence, investors have to pay ~18.2x Q4-15 run-rate normalized AFFO for LTC Properties' shares. This is not exactly a bargain, but the high quality of LTC Properties' real estate portfolio and the high consistency of its dividend justify this high price tag IMO.
Regular, Growing Dividend Income
We dividend investors invest in REITs because of their monthly/quarterly dividend checks. At least, that's why I am investing in real estate investment trusts; they are reliable income vehicles and chances that a dividend payment will be missed are essentially nil.
LTC Properties has grown its dividend over time, and I can see no reason how this growth would come to an end any time soon. LTC Properties' shares throw off a dividend of $0.18 each month. That's right: LTC Properties is part of a group of REITs that pay its dividend on a monthly basis, rather than quarterly, which adds to LTC Properties' appeal as an income vehicle.
LTC Properties' dividend growth is impressive, and has even gained momentum after the last U.S. recession.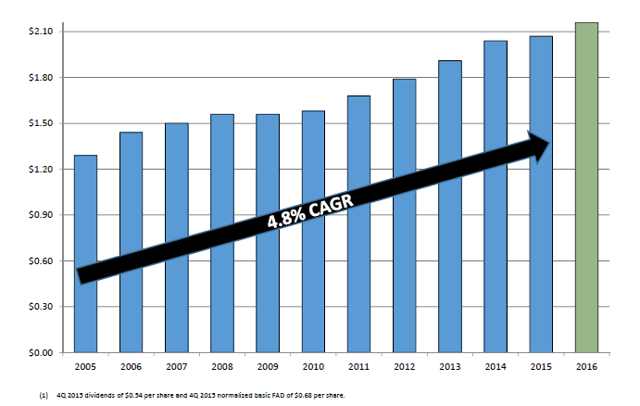 Your Takeaway
If you like a monthly dividend-paying REIT that rides one of the greatest healthcare trends of our time, take a close look at LTC Properties. The REIT is not cheap at ~18.2x run-rate Q4-15 normalized AFFO, but quality has its price. LTC Properties has grown its dividend payout over time, and chances are that the real estate investment trust will continue to do just that in the years ahead. LTC Properties pays a monthly dividend of $0.18/share and yields 4.64 percent at the time of writing. Buy for income.
Disclosure: I/we have no positions in any stocks mentioned, and no plans to initiate any positions within the next 72 hours.
I wrote this article myself, and it expresses my own opinions. I am not receiving compensation for it (other than from Seeking Alpha). I have no business relationship with any company whose stock is mentioned in this article.