The latest ZeroHedge article, cites that US retail sales tumbled into recession territory. We set out to examine if this is true. Retail sales, excluding food services, have declined for the last three months. Is this a sign of a recession? Looking at the Federal Reserve Data, retail sales are a lagging indicator. The biggest three month declines in retail sales since 1991 have occurred on December, 1 2008, November 1, 2008, and October 1, 2008.
We also calculate the average three month change in retail sales. The most current three month decline, March 1, 2016, ranks number 20 in biggest declines since 1991. What about monthly declines that have occurred three months in a row? Since 1991, the U.S. has had eight periods where retail sales have declined three months in a row. There are two things that are notable. One is that it appears there is no relationship between declining retail sales and the beginning of a recession. Two, three of the eight three month declines have occurred in the past thirteen months..
Table 1: One month Decline Over Three Months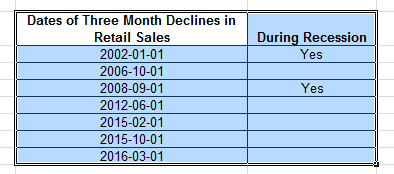 Figure 1 display the annual retail sales year over year change in retail sales relative to its two-year moving average. What is noticeable is that the year over year change has been on the decline since 2012. The average annual retail sales growth from 1996 to 2007 was 5.5%. The average retail sales growth since 2012 to 2015 is 3.37%. The year over year change has declined to levels last seen during recessionary periods. Zerohedge article believes this is an indicator that a recession is coming.
Figure 1: Annual Retail Sales % Change vs. 2 Year Moving Average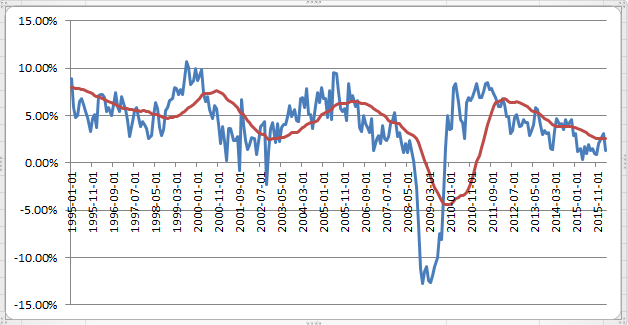 It appear from Figure 1 that retail sales is following the same trend as seen from 2000 to 2002 and 2006 to 2008. However, the current declining trend is not as steep. The trend has been much slower. It is not completely evident that we are in a similar cycle as in 2008. Perhaps this is a new normal where nominal wages are not increasing and consumers taking on less credit card debt leading to slower growth in retail sales.
Next, let us take a look at vehicle sales taken from the Federal Reserve St. Louis website.
Figure 2: Total Vehicle Sales (TOTALSA)
Millions of Units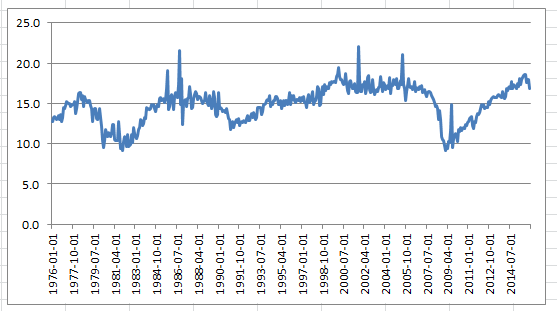 The growth in vehicle sales since 2009 has been unprecedented. We have never seen such growth over such a long period. Total sales have now hit a level that is typically a historical ceiling and it is on the decline. The average since 1976 to 2015 has been 15 millions of units.
In conclusion, retail sales and vehicle sales numbers have always been a poor indicator of a future recession. We would not use them as a single for a US economic recession. However, the slow moving growth of retail sales and the decline in vehicle sales provide some interesting data points that may prove the US economy is entering into a new economic phase. Other data points are needed to obtain a full picture. We would not put too much weight on retail sales and vehicle sales signaling a recession.
Disclosure: I/we have no positions in any stocks mentioned, and no plans to initiate any positions within the next 72 hours.
I wrote this article myself, and it expresses my own opinions. I am not receiving compensation for it (other than from Seeking Alpha). I have no business relationship with any company whose stock is mentioned in this article.