Let's cut right to the chase. This morning, I was asked, and I quote, "is this slowly the death of Bank of America (NYSE:BAC)?" I had to check my calendar. Is this spring 2009? Did I get stuck in a time warp? If I did not know this individual very well, I would have thought this was a joke. But this was a serious inquiry? Was I missing something? I mean, I had just recently described the company's prospects for 2016. I don't recall predicting I would be eulogizing the company. I mean come on, we know it is one of the largest banks in the United States by assets and yes, it truly has recovered from the Great Recession. Is it firing on all cylinders like it was pre-recession? Certainly not. The stock has ebbed and flowed but it has come back from the brink. Barring another recessionary period, the bank is set up to do well in the coming years especially in light of the pending interest rate hike by the Fed. I will say plainly that I am behind Bank of America long-term. I think it is set for growth and in turn, the stock should provide decent returns. But to ensure this is still the case we need to determine where the company may be heading from a performance point of view. Thus, we do have to do two things. First, examine the company's most recent earnings and key metrics. Second, we have to understand the outlook for the bank, honing in on strengths and weaknesses. It is my guess that the original inquiry stems for this morning's earnings announcement.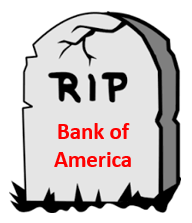 At the risk of sounding like a broken record, I will reiterate that the way I look at a bank may be different from other opinion makers at Seeking Alpha. Let me be clear. I care most about a growing loan and deposit record, a respectable efficiency ratio, as well as of course revenues and earnings. But on top of that, we also need a sense of toxic or non-performing assets. These metrics can give us an indication of where the bank is heading, and can help us separate the best and the worst of the sector. Now look, Bank of America is massive and while it is true that it will benefit from rising rates, slow and steady growth is most desirable from a bank of this size. So with that in mind, just how is the company doing?
Let me be clear, it is not dying. It might not exactly be doing superbly, but let's be realistic. In the most recent quarter, the bank saw a top line miss against analyst estimates. However, it squeezed out a bottom-line number that met analyst estimates. The quarter was pretty 'meh' overall, but versus last year there was pain. Revenue was $19.7 billion, down 8% year-over-year. That hurts, but is not a death blow. I want to point out that if we back out market-related net interest income adjustments, then revenue was $20.9 billion, though this is still down on the same versus the $21.6 billion. Revenue was down year-over-year and it was a miss of $600 million. Now look. The company saw a dip on the earnings front versus last year's comparable quarter seeing net income decline 13% to $2.7 billion or $0.21 per share. Last year, the company saw earnings per share of $0.25. I will point out that this was again in line with expectations. In line. Of course, the headline numbers only tell part of the story, so what drove these results?
The answer lies in the bank's net interest income and non-interest income, two of the biggest sources of cash for the company. Net interest income rose year-over-year, when adjusted. So how much higher was net interest income in Q1 2016 versus Q1 2015? Well on an unadjusted basis, it rose to $9.4 billion last year. However, on an adjusted basis, net interest income was $10.6 billion up nicely from the $10.1 billion in Q1 2015. Non-interest income was down heavily year-over-year. It came in at $10.3 billion. This is down versus the $11.5 billion last year. Sadly, total mortgage production was $16.4 billion down from $16.9 billion last year. On a positive note, another 1.2 million credit cards were issued, which bodes well for future potential interest income as well as fees generated from the card.
One of the most under-appreciated, yet critical metric to look at, is the efficiency ratio. But for whatever reason, still so many opinion makers ignore it. That is a mistake in my opinion. I will remind you that the efficiency ratio measures the costs expended to generate a dollar of revenue. The efficiency ratio has been very weak for the company for the last few years. That said, the company has really started to turn it around. It came in at 73%, which is so-so. The key here is that it has improved from the 77% in Q1 2015. Recall that for all of 2015, it came in at 68.6% compared to 88.3% in 2014. I will be watching this year to see if the ratio creeps down under 68%. The year-over-year move is strong but there is still work to be done. Recall that the stronger banks have an efficiency ratio under 60% with the ideal being around 50%. Why did the efficiency ratio improve? Well, it was due in part to the decline in expenses and a positive impact from its cost savings initiatives that it put into place last year.
Now, any bank worth its salt sees improvements in loan and deposits. That is simple banking. That said, we need to see loan and deposit growth. On this front, the bank is doing well. Loans were up across the board, rising $28.4 billion to $901.1 billion. Total average deposits were up $64.1 billion to $1.2 trillion in Q1 2016. Finally, we need to be aware of non-performing assets. I was pleased to see that non-performing loans decreased to $9.23 billion down from almost $12.1 billion in Q1 2015 and is down almost $600 million from the $9.84 billion in non-performing loans as of Q4 2015.
All things considered, the fundamentals are intact. The company is not dying. I will note that there was new shares issued and that may rub some the wrong way. With interest rates rising, it can only help net interest income longer-term. The largest banks stand to gain. Sure companies short-term are interest rate sensitive. But as rates rise, it helps the banks. Compared to say 5 years ago, the improvement has been quite drastic. But investor memories can be short. This quarter left a lot to be desired. I think the stand out metric is the improving efficiency ratio, which I will be watching very closely this year. Further, both loans and deposits continue to grow. The declining non-performing assets this year is also a key result. Of course, we want to see revenues higher. Consistent revenue misses are not going to work. The reality though is that the bank is coming off of its best year for earnings since the Great Recession. I maintain a buy rating on Bank of America for the long-term.
Note from the author: Christopher F. Davis has been a leading contributor with Seeking Alpha since early 2012. If you like his material and want to see more, scroll to the top of the article and hit "follow." He also writes a lot of "breaking" articles, which are time sensitive, actionable investing ideas. If you would like to be among the first to be updated, be sure to check the box for "Real-time alerts on this author" under "Follow."
Disclosure: I/we have no positions in any stocks mentioned, and no plans to initiate any positions within the next 72 hours.
I wrote this article myself, and it expresses my own opinions. I am not receiving compensation for it (other than from Seeking Alpha). I have no business relationship with any company whose stock is mentioned in this article.