It's that time of the year when AMD (NASDAQ:AMD) and Nvidia (NASDAQ:NVDA) fight tooth and nail to establish a foothold in the VR segment. Both AMD and Nvidia are scheduled to release their respective next-gen DX12-based Polaris and Pascal GPUs in the coming months, almost at the same time, with the primary focus on catering to the VR market.
Fellow SA contributor Mark Hibben analyzed the launches in his recently published article from the perspective of VR adoption and basically arrived at the conclusion that AMD won't stand a chance against Nvidia. I beg to differ.
There is reason to believe AMD's Polaris packs enough juice to knock out Nvidia's Pascal in the VR segment right away.
The Big Advantage
Latency and frames per second (fps) are two extremely important metrics to consider in the VR industry. You can easily get by with 30-40 fps with mild lags and interruptions on computer gaming, but as Mark noted, it could lead to nausea, disorientation and headaches if the same issues arise on your VR headset. You'll also need high fps figures to make the VR world immersive and real.
To address this issue, AMD equipped its Polaris GPUs with asynchronous compute engines on a hardware and software level. I won't go into explaining the technicalities of this technology as it has already been discussed in detail here, but the basic crux of it is that the GPU is now able to handle and process more tasks simultaneously, behaving somewhat like a CPU, which ultimately translates into higher fps. Gauging from the benchmarks shown below, asynchronous computing capability is apparently a big deal.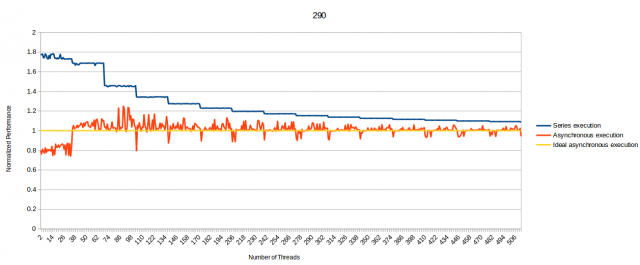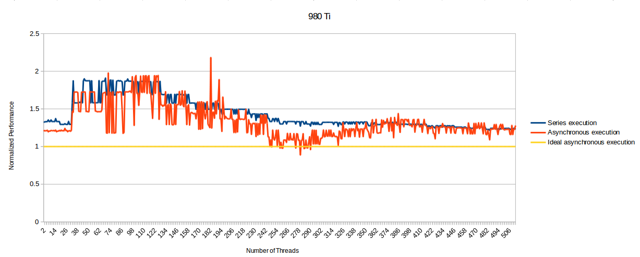 Source: Extreme Tech, AMD's asynchronous performance
The thing worth noting is AMD has had hardware support for this technology since 2011, but didn't find real-world usage until now because DX11 didn't support multitasking at the GPU level. The story is different with the next-gen DX12 since it fully supports multitasking. This is where AMD gets its advantage: Nvidia's Pascal won't have hardware support for async computing. Nvidia tried to emulate asynchronous computing engines on a software level by using drivers. Mark argues that it's the same thing, but it's not.
Emulation of hardware elements at the software level is bound to consume CPU resources. The CPU will now have to organize and lineup multitasking for the GPU in real time while carrying the load of a heavy VR game alongside. I mean just think about it, if you run some drivers on RISC-based ARM chips, would that chip rival CISC-based Intel's chips in both features and performance? If we run a driver on PC and convert a 32GB of the hard disk into virtual RAM, will we still get the same performance that dedicated 32GB DDR4 RAM offers? Can a single core CPU with eight threads outclass a CPU with eight physical cores just using drivers? The answer is no! Virtualized hardware almost always lags dedicated hardware in terms of performance.
I believe this is where Nvidia will fall short. It's Pascal GPUs will still be able to execute asynchronous computing tasks to a small extent but their overall async performance will most certainly lag AMD's Polaris GPUs since the latter's offerings would come equipped with dedicated processing units at hardware level to execute the same tasks. Nvidia hasn't announced any plans to roll out hardware support for async computing, and until it does, I believe AMD will stay on top the VR game.
Demand scenario
Because both AMD and Nvidia have moved to support async computing, I believe almost every major game developer out there would announce support for the technology sooner or later. It's only a matter of time as the performance gains are substantial. PC makers and console manufacturers would also want to join the VR bandwagon by releasing new and upgraded products that support VR-titles. On the other hand, PC gamers might want to simply buy a new DX12-based GPU that supports async and VR. Basically what I'm trying to say is that the new GPU launches would trigger a major refresh cycle across several gaming verticals going forward.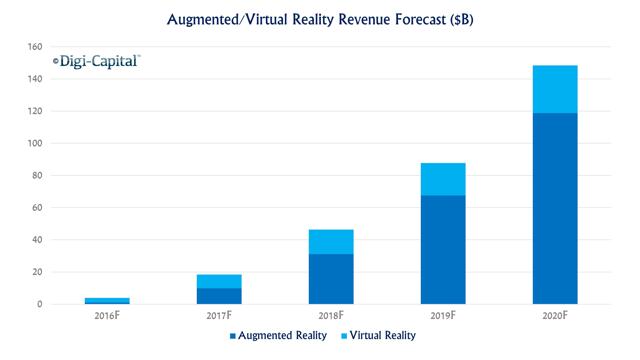 Source: Digi-Capital
The chart attached above adds clarity about how big the VR industry is going to be. The market is expected to explode going forward. I'm of the opinion that until Nvidia supports hardware-based async and actually comes out ahead of AMD offerings in terms of actual benchmarks, AMD would most certainly enjoy a greater share of this major growth.
Mark Hibben argued: "I expect that most PC VR systems will run Nvidia cards, just because they are the most common."
I've addressed this argument above, but let me ask a counter question to further add objectivity: If you're getting an Nvidia card for $200 that plays a game at 40fps, and another AMD card for $200 for 45-50fps, which one are you more likely to buy? Would you buy the inferior one just because it's more common? Obviously most performance-driven consumers would pick AMD. Both Pascal and Polaris will be manufactured using similar 16nm and 14nm nodes respectively, which means the only scenario where Nvidia gets an upper hand over AMD is if the latter botches up its architecture and fails to deliver any meaningful performance gains over its prior generation.
Mark also added: "I believe the money could have been better spent in accelerating the arrival of Polaris ..."

Well, that isn't true. AMD hasn't had to spend a significant amount of R&D over the past year to develop async support on Polaris GPUs. AMD has already had the technology since 2011 and the company just monetized its IP by introducing the technology on a hardware level. I personally think that it's an excellent move by AMD as it gave Polaris a competitive edge over Nvidia's Pascal with minimal capital expenditure.
Investor takeaway
AMD, with the launch of Polaris, appears to be finally coming ahead of Nvidia after a long time, and this is a big positive. AMD has been struggling, and losing, for so long that if it manages to gain an additional 500-1,000 basis points market share in the GPU segment, its shares would start rallying on hopes of continued gains. This certainly appears to be a great phase for AMD's shareholders and enthusiasts.
Disclosure: I/we have no positions in any stocks mentioned, and no plans to initiate any positions within the next 72 hours.
I wrote this article myself, and it expresses my own opinions. I am not receiving compensation for it (other than from Seeking Alpha). I have no business relationship with any company whose stock is mentioned in this article.