After laying out my bullish thesis on Changyou.com (NASDAQ:CYOU) in late March, I decided to do some homework on Sohu.com (NASDAQ:SOHU), Changyou's parent company. As many are already aware, there has been an unprecedented wave of management led buyouts of U.S. listed Chinese companies over the last few years. According to a whitepaper by Heng Ren Partners, 38 Chinese companies have announced their intentions to privatize since 2015 and I believe SOHU will follow in their footsteps sometime in 2016. In fact, the company's CEO, Charles Zhang, has already made his intentions pretty clear in December 2015 when he announced that he would invest $600M in the company via common stock and convertible debt.
So why is Mr. Zhang purchasing common stock in SOHU instead of just announcing a buyout proposal as other U.S. listed Chinese firms did? The answer is actually pretty interesting. Most U.S. listed Chinese companies have dual class share structures where management has the majority of voting control even without owning a majority of the outstanding stock. Companies like Shanda Games (NASDAQ:GAME), Perfect World (NASDAQ:PWRD) and QIHOO 360 (NYSE:QIHU) for example all had/have dual-class share structures where insiders have significantly more voting rights than U.S. shareholders. This allows insiders the ability to control the outcome of every election, which is why buyout premiums for these companies are typically on the low end. SOHU does not have a dual-class share structure and Mr. Zhang only owns ~22% of the company, so he cannot guarantee a successful buyout proposal, which is why we haven't seen one yet. The move by Mr. Zhang to invest $600M into the company is clearly a precursor to a full buyout proposal as the $600M investment would put his ownership stake at a bit over 50%, allowing him to effectively guarantee the outcome of any shareholder vote. I'm not the only one who figured this out. Take a look at what Chinese media has been reporting (Google translated, so excuse the poor grammar):
Sohu former executive Wang Yang (pseudonym) directly to Sina science and technology, said: "This is probably a prelude to privatization." The offer, once implemented, will use $ 600 million. Charles Zhang - Sohu repurchased 30% of stocks and bonds. Zhang is now coupled with a 22% stake held by Charles Zhang, and Sohu shares exceed majority. After obtaining control over the privatization Sohu has become the logical thing.
Source: Tech.Sina.com
Based on the above, it seems pretty clear what the plan is. Once Charles Zhang controls over 50% of the outstanding shares, a buyout proposal should follow. There's no other reason for the $600M share sale to Mr. Zhang as the company is already cash rich with $1.245B in cash and another $800M in other current assets. Chinese media also reported that Mr. Zhang has long criticized Wall Street for undervaluing his company back when privatization rumors first appeared in 2013. Forbes covered the story as well. When an analyst asked Mr. Zhang about his $600M equity investment during the company's Q4 2015 earnings call, Mr. Zhang made no comment. If the company was looking to raise cash to use for acquisitions or other corporate purposes, the company would have disclosed their intentions in the earnings call, but they didn't.
Even if there is no imminent privatization, SOHU is incredibly cheap (~$1.9B market cap). Tencent (OTCPK:TCEHY) purchased 36.5% of SOHU's search engine Sogou for $448M, valuing that business at $1.227B. The company's stake in Changyou (68%) is worth ~$680M based on the subsidiary's net cash and real estate holdings alone. Let's not forget the business generated nearly $200M in net income in 2015 and is expected to continue throwing off cash. The market isn't assigning much value to Changyou though, but even on market cap valuation, the stake is worth the same ~$680M. SOHU also has real estate assets which are held on the books at cost but have since doubled in value. In 2007 the company purchased an office building in Beijing for $35.3 million and a second office building in 2009 for $162 million. Both properties are near the city center and are prime real estate. As seen in the graphic below, these properties have doubled in value, which would translate to ~$200M in hidden value not reflected on the balance sheet.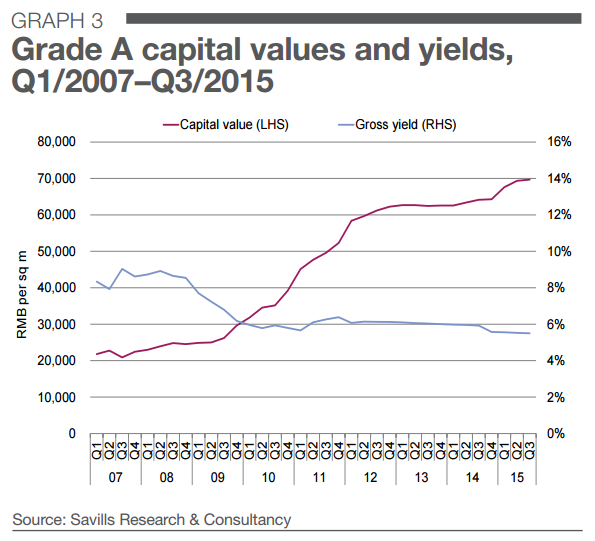 Source: Savills
Conclusion
Sohu is a unique opportunity among U.S.-listed Chinese companies because investors can buy in before a buyout proposal is announced. As with any investment though, there's no such thing as a sure thing. It's possible that the $600M equity investment by the CEO isn't a precursor to a privatization bid, but even in this scenario, investors would be left holding shares in a relatively conservative internet company with excellent assets operating in a booming internet industry in China (search, gaming and video).
Disclosure: I am/we are long SOHU, CYOU.
I wrote this article myself, and it expresses my own opinions. I am not receiving compensation for it (other than from Seeking Alpha). I have no business relationship with any company whose stock is mentioned in this article.