Introduction
On April 4th 2016, Allergan's (NYSE:AGN) share price closed the session at $277.55. As I write this article on April 13th the share price now stands at $220.45 - a humbling 20% fall in less than 10 days. The catalyst for the decline has been the highly publicized collapse of the Pfizer (NYSE:PFE)-Allergan merger. The introduction of new legislation by the US Treasury Department scuppered the deal. The new legislation meant that Pfizer would not be able to re-locate its tax base to Ireland where corporation tax is 12.5% vs. 35% in the US.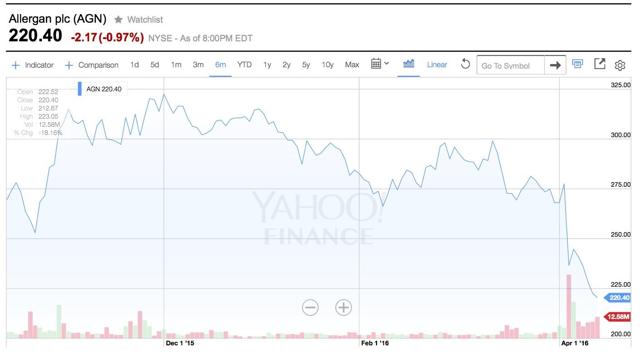 Despite the 20% drop in the stock price, Free Cash Flow [FCF] Yield to Enterprise Value [EV] is still quite low. Here's a list of stocks that I have covered recently. Allergan is an expensive stock still despite the price drop.
| | | | | | |
| --- | --- | --- | --- | --- | --- |
| Name | Ticker | Mkt Cap | EV | FCF | FCF/EV |
| Gilead | | 133.59 | 130.59 | 20.00 | 15.31% |
| Apple | | 629.31 | 497.31 | 63.00 | 12.67% |
| American Express | | 60.45 | 87.60 | 9.50 | 10.84% |
| Boeing | | 86.42 | 84.42 | 8.90 | 10.54% |
| Cisco | | 142.16 | 114.66 | 11.00 | 9.59% |
| Oracle | | 171.56 | 160.56 | 12.50 | 7.79% |
| Intel | | 152.48 | 150.48 | 11.50 | 7.64% |
| IBM | | 145.66 | 177.66 | 13.00 | 7.32% |
| Amgen | | 121.75 | 121.75 | 8.50 | 6.98% |
| Cummins | | 19.65 | 19.45 | 1.25 | 6.43% |
| Qualcomm | | 77.34 | 71.84 | 4.50 | 6.26% |
| Texas Inst | | 60.12 | 61.02 | 3.70 | 6.06% |
| Eaton | | 28.19 | 36.19 | 2.20 | 6.08% |
| Microsoft | | 440.52 | 397.52 | 24.00 | 6.04% |
| Pfizer | | 201.86 | 221.86 | 13.00 | 5.86% |
| Shire | | 36.51 | 37.81 | 2.20 | 5.82% |
| Sanofi | | 100.35 | 107.55 | 6.00 | 5.58% |
| Allergan | AGN | 87.94 | 130.34 | 4.10 | 3.15% |
But scratch the Allergan surface and the company has many merits that make the stock a tempting investment candidate for even value-orientated folk like myself.
Readers might also be interested in my recent piece about Pfizer if interested in the overall Pfizer-Allergan story. In my opinion, Pfizer trades at decent value (6% FCF Yield) and generates an attractive 3.7% dividend yield backed by one of the most diversified revenue streams in the pharma industry.
The Teva Deal
So the Pfizer Deal won't be happening, but the Teva (NYSE:TEVA) deal is still in play and expected to close in June 2016. Under the terms of the deal, Allergan will sell its generics business to Teva for about $40.5 billion: $33.75 billion in cash plus $6.75 bilion in Teva Shares.
The $33.75 billion will greatly enhance the EV of Allergan. The current Enterprise Value of Allergan is $130 billion. The cash injection of nearly $34 billion will see the EV drop down to $95 billion. The FCF Yield will thus improve from 3.15% today to 4.25%, if and when the Teva deal closes.
Regulators have competition concerns about the Teva deal. On March 10, 2016, however, Teva gained regulatory approval from the EU Commission for its takeover of Allergan Generics. Approval is still outstanding from the FTC in the US. See this press release from Teva.
And how much revenues and profits will Allergan give up by selling its Generics business? In a presentation to investors in June 2015, Allergan management claimed that pro-forma 2015 revenues (the sales "as-if" the Generics unit had been removed from Allergan) would be $15.5 billion. Actual overall sales at Allergan (including the Generics business) came in at $15.1 billion for 2015. Allergan is perhaps losing money on its Generics business and the deal may make a great deal of sense for the company.
Diversity in the Revenue Stream
Here's a pie chart showing the break-down of Allergan's $15.1 billion in sales over 2015.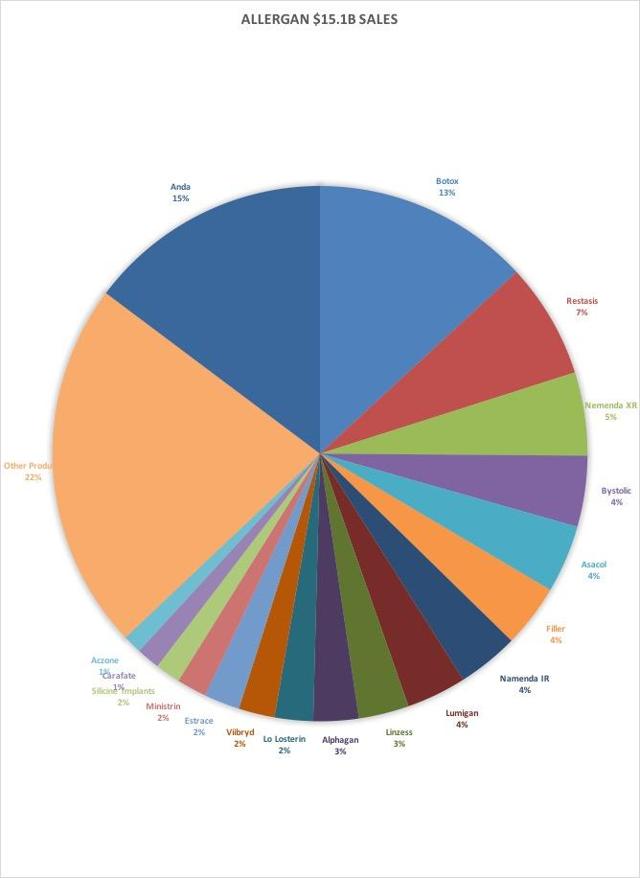 Allergan has a well diversified revenue stream. Its biggest selling franchise, Botox, accounted for 13% of Sales. Anda (15% of the revenue) is the distribution arm of Allergan. It's a logistics business that will not suddenly disappear one day due to patent expiry or a superior competitor product.
Another take-away from the above chart is that 80% of Allergan sales are based on products with less than 5% of total sales each together with the Anda logistics business which is not a product.
Overall, I am impressed by the diversity of the Allergan revenue stream.
Revenue Growth
The following chart graphs sales from 2013-2017. Forecasted sales for 2016 and 2017 are taken from a Reuters Survey of analyst estimates.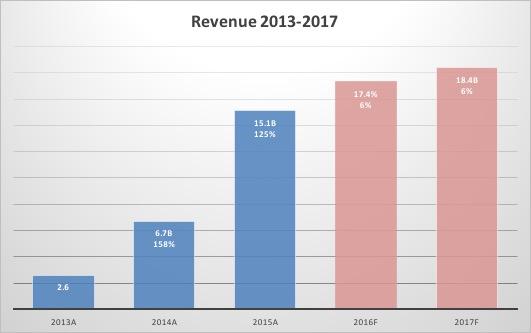 Revenue growth at Allergan has been explosive in recent years but is largely due to acquisitions. Nearly $40 billion was spent acquiring Forest Labs and Allergan itself in 2015. It is no co-incidence that Allergan's debt levels stand at over $40 billion.
Management at Allergan is guiding 10% revenue growth even with the sell-off of the Generics business. The above guidance is backed up by successful product launches in 2015-2017.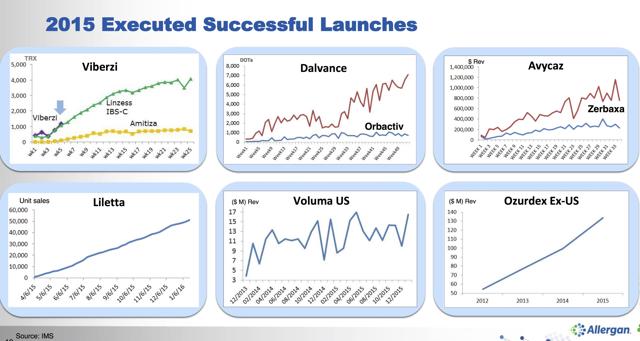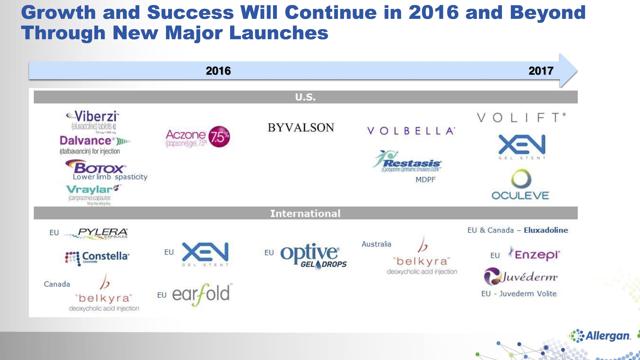 An article in the Financial Times on April 8, 2016, provided guidance on 2017 sales of some of Allergan's top products. I have charted revenue growth in these top-selling Allergan products below.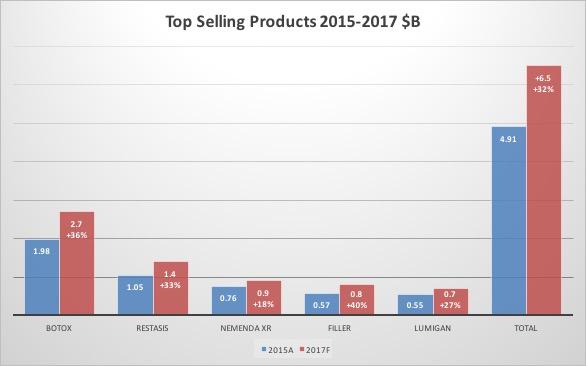 Patent Cliff Risk
Allergan seems to be well protected from the patent cliff. Management provided the following useful helicopter view of patent protection at Allergan in key franchises.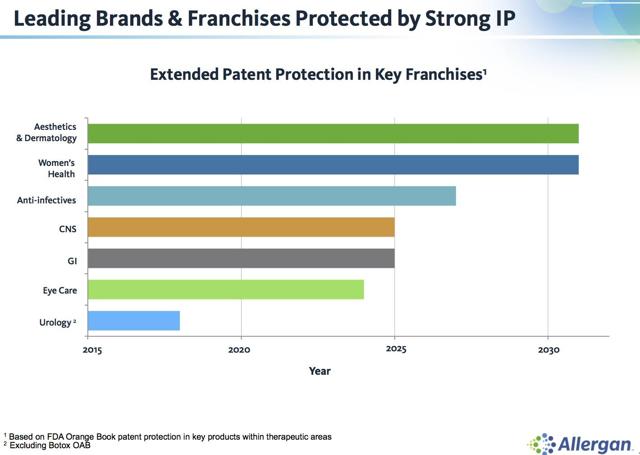 Botox is a lesson in how to beat the Patent Cliff. Botox is no longer just an anti-wrinkle treatment. New applications are being discovered at Allergan for Botox as a treatment for over-active bladders and migraines. These new applications of Botox are patentable.
Also the background of the Latisse product is a fine example of lateral thinking. Latisse is essentially the same product as Lumigan, Allergan's top selling treatment for glaucoma. It was noted that users of Lumigan were getting longer eye lashes. So Lumigan was converted into a treatment for people with short eyelashes: hypotrichosis.
Allergan seems to have an internal capability to re-purpose existing products for new use-cases that protect the long term sales and profit streams of its core products.
Brand Power
Investors can be quick to dismiss the power of branding and customer loyalty in the pharma industry and in many cases this inclination is well justified. If company X comes out with a miracle cure for a life threatening disease then emotional attachment to your old treatment is out the window.
But if you are selling products that are ongoing treatments to enhance one's personal appearance, to treat an ongoing eye condition or ongoing inflammation then I believe that customers will develop an emotional attachment to the treatment. There is a powerful touch of the "L'Oreal" to many of the franchises that Allergan has developed and sells. My own opinion is that these franchises will continue to sell well even if they come off patent.
Here's a list of Allergan's key product brands broken out by franchise. The information was sourced from an Allergan management presentation.
Allergan Eye Care Franchise. I have updated the franchise slides with the contributions of top-selling products to the Overall Sales in 2015 (in Red).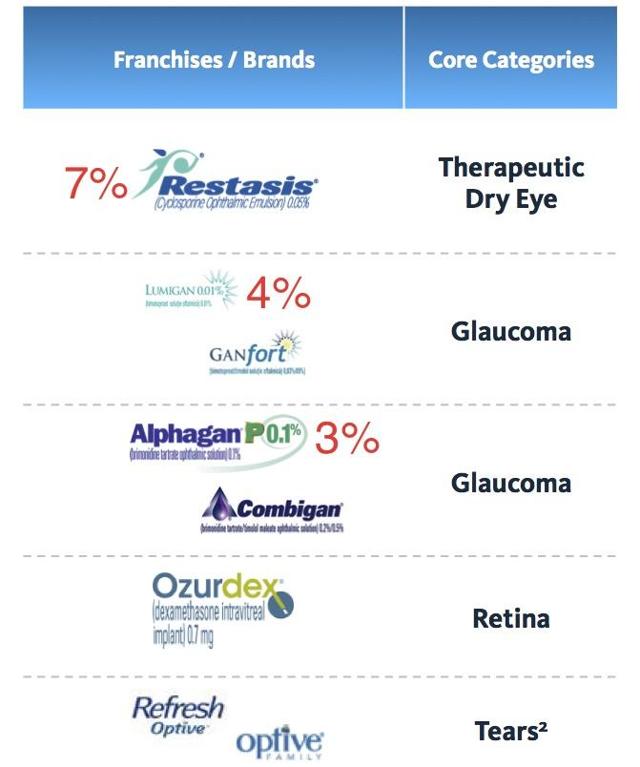 Allergan Personal Appearance Franchise. I have updated the franchise slides with the contributions of top-selling products to the Overall Sales in 2015 (in Red).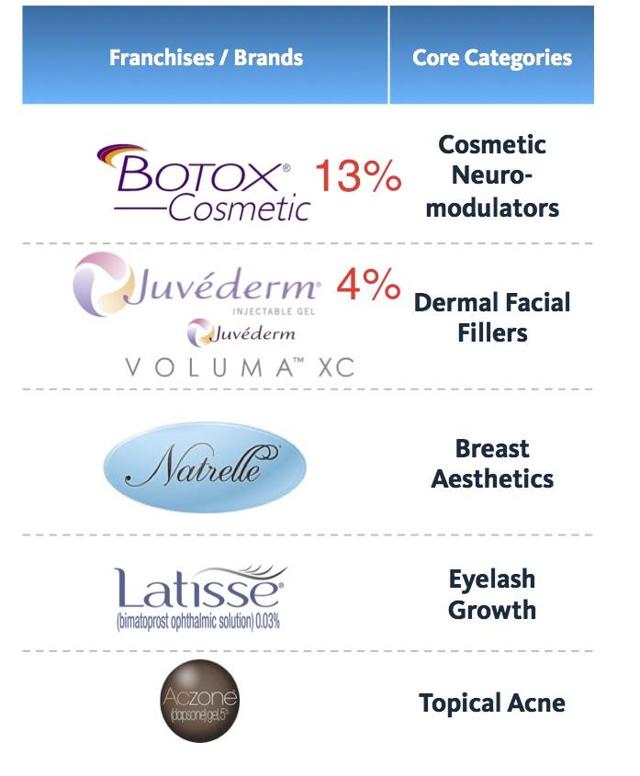 Central Nervous System Franchise. I have updated the franchise slides with the contributions of top-selling products to the Overall Sales in 2015 (in Red).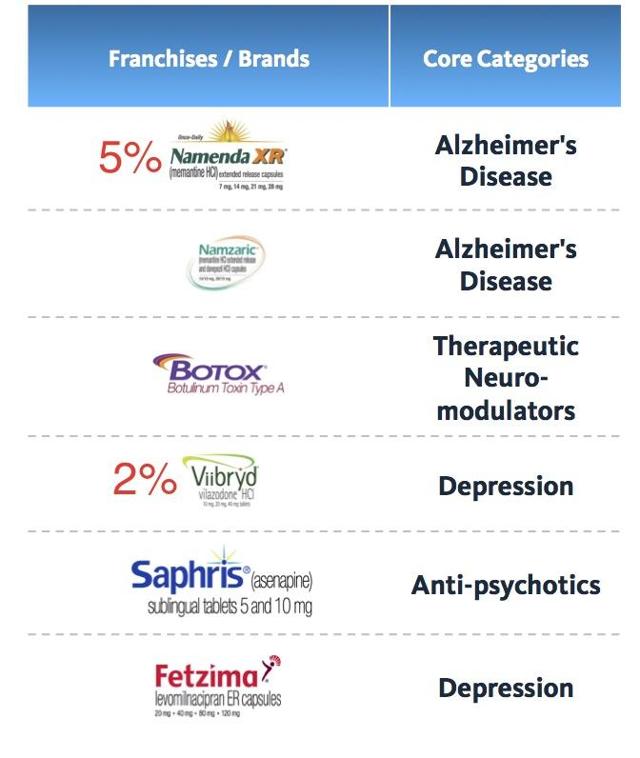 Inflammation Franchise. I have updated the franchise slides with the contributions of top-selling products to the Overall Sales in 2015 (in Red).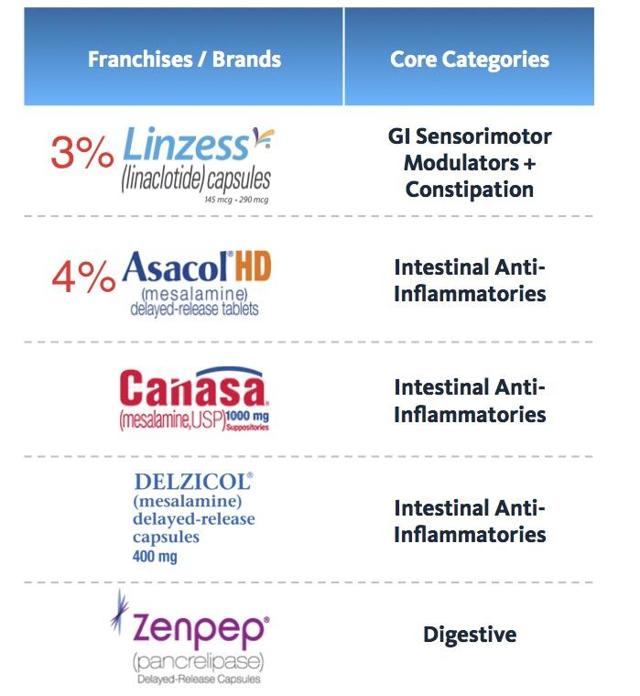 Women's Health Franchise. I have updated the franchise slides with the contributions of top-selling franchises to 2015 Overall Sales (in Red).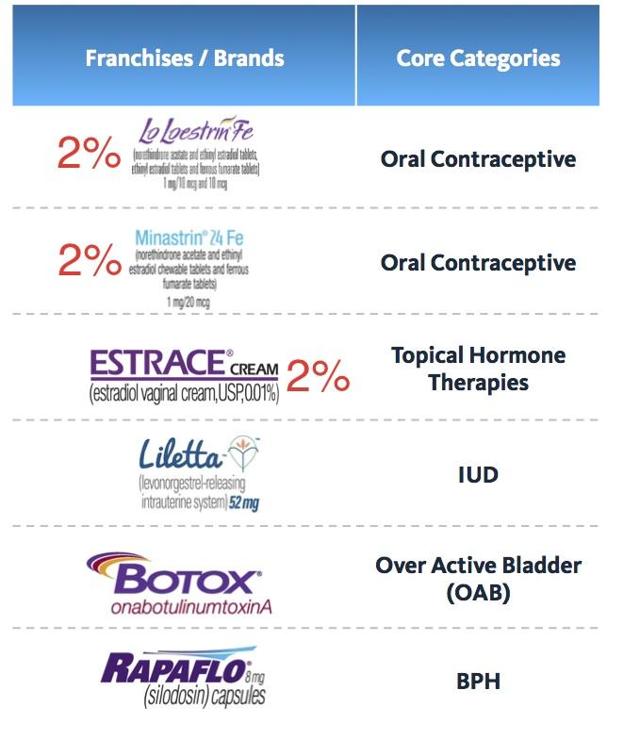 R&D Pipeline
Allergan also has a first-class R&D pipeline. Sustaining the sales of existing franchises and building new ones seems more assured at Allergan compared to other pharma giants that I have covered.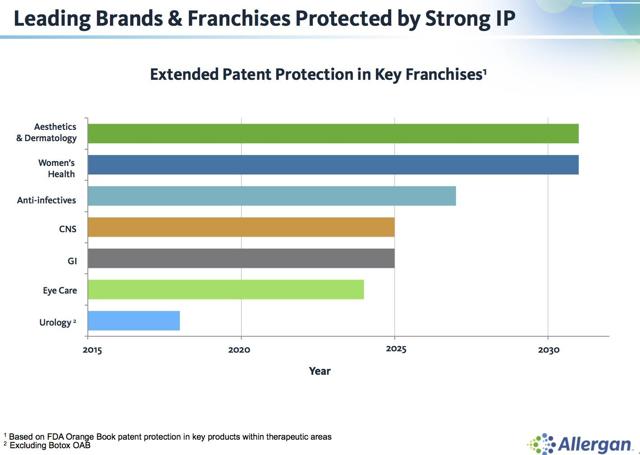 Allergan is in a position where it doesn't have to do any M&A in order to acquire new products. Of course history shows that Allergan seems to be a bit of deal junky. I hope the company can kick its "acquisition habit" but this does not seem to be on the agenda of the Allergan CEO who stated the following in a recent Bloomberg TV interview.
"We will look at anything that is a growth-oriented asset," Allergan Chief Executive Officer Brent Saunders said in a Bloomberg Television interview Wednesday, declining to specify potential targets. "That will include R&D assets and marketed products. Everything is a possibility."
Corporation Tax Rate
Allergan will still have the right to access the Irish Corporation Tax Rate of 12.5%. The new Treasury legislation on tax inversions will not impact existing inverted structures like Allergan, just new inversion structures like Pfizer was planning. The low Irish Corporation Tax is an important asset since it minimizes tax leakage on Earnings. More Earnings will thus be retained in Allergan which can either be re-invested into developing new products, more acquisitions or perhaps a return of capital to shareholders via dividends or buybacks.
Conclusion
I really like the company, its products and, for the most part, how it goes about its business. I am impressed with its Revenue Diversity, its Revenue Growth potential, its Pipeline, its low Patent Cliff exposure, its Stable of Brands and its 12.5% Corporation Tax. I am not such a big fan of its aggressive M&A activity.
Assuming the Teva deal goes through, you are looking at a stock with a 4.25% FCF Yield at today's prices. The stock is valued in the same range as a consumer staples conglomerate.
However Allergan will probably grow a good deal quicker than most consumer staple giants in the next few years. Given forecast Sales of $18.4B in 2017 and today's 28% FCF margin, then we can estimate that FCFs will grow to $5B by 2017. Its Forward FCF Yield relative to the Enterprise Value (post Teva) will be about 5.2%.
For me, this is still quite expensive.
I must admit that I did buy some shares at $236 last week when I saw the big price drop. My heart is happy with this impulsive decision as I finish writing up this article. My head says wait it out to $190 before purchasing again... at which point the FCF Yield will hit 6%.
Disclosure: I am/we are long AGN, SHPG, AAPL, CSCO, MSFT, GILD, BA.
I wrote this article myself, and it expresses my own opinions. I am not receiving compensation for it (other than from Seeking Alpha). I have no business relationship with any company whose stock is mentioned in this article.