The first quarter is now behind us and, funny enough, it has been quite a roller coaster of emotions. If you are like me and got lucky, you had some cash set aside to buy some bargains on the stock market. I personally made 5 purchases between January and February:
Royal Bank (NYSE:RY)
Agrium (NYSE:AGU)
Union Pacific (NYSE:UNP)
3M Co. (NYSE:MMM)
Apple (NASDAQ:AAPL)
As you will see it on the following chart, there were 2 moments (one in January and one in February) where there was a panic feeling all over the stock market: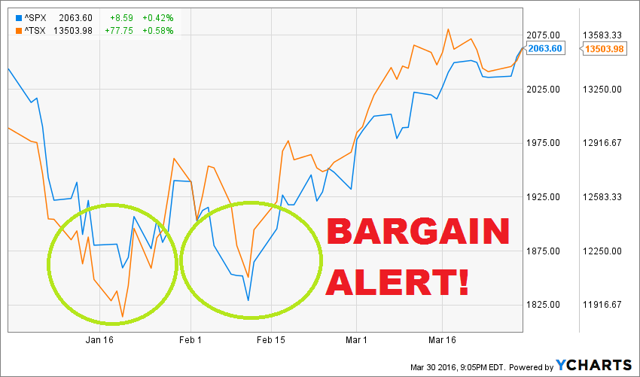 Source: YCharts
But overall, we all woke up on April 1st and this wasn't an April's fool joke; after losing 10% since the beginning of the year, both markets entered positive territory!
So much fear for so little results. I guess the Black Swan fans were highly disappointed to see:
Relatively strong results for the last quarter of 2015
The Fed not hiking rates in March
Net jobs creation being strong in both February and March
New construction rising again
Oil price recovering a part of its loss
Yes… this is not another bump before the big collapse, I truly believe we are about to see another strong year on the market.
But before we know all this, before we were even at January 1st, I had put together a group of 20 US dividend growth stocks and 10 Canadian ones. The goal here is to build a great list of stock picks but that could also make portfolios by themselves.
Creating 2 Strong Dividend Growth Portfolios
Each year, I publish a book called "Best 2016 Dividend Stock Picks." This requires several weeks of hard work, reading and researching financial statements. The purpose of this book is not to make you sell your portfolio and have you switch to this one.
The purpose of this book is to create a portfolio-like list of stocks in various sectors to provide both stock value appreciation and dividend growth perspectives. Each company has been analysed and handpicked according to the DSR investing model.
My investing model includes both parts of my portfolio. A core model with solid (read boring) stocks and an additional growth segment where I pick stocks for a time horizon of 12 to 36 months. The idea is to pick stocks that have greater risk but also greater potential over a short period of time. Mind you, both are possible for some picks.
Taking Additional Risks to Beat our Benchmarks
I'm a man of results and am not afraid to hide when I succeed or when I fail. While I believe in each single company I pick when writing the book, I'm adding additional challenges to the task. The first one is to not make repetitive choices. Some companies repeat for one or two years (the book series exists since 2012), but I'm trying to bring as much "fresh meat" as I can to my readers. The goal is then to help you discover new companies or better understand the ones you already knew.
Then, the second challenge: I'm trying to have my picks be their own benchmark. I've chosen 2 dividend paying ETFs:
Vanguard Dividend Appreciation ETF (NYSEARCA:VIG)
iShares Dow Jns Cnd Slct Dvdnd Indx Fnd (XDV)
Comparing returns over a short period of time is always dangerous. The investment results over 3 months, 6 months or even a year is a combination of both good stock selection and luck. Still, I think it is important to be transparent when you are discussing investments. For fun, I went back in my previous issues and looked at the long-term performance of each portfolio since their inception to March 30th, 2016. This is not a perfect comparison since no transactions are allowed and any investor may have bought or sold some of his holdings. Anyways, here are the results: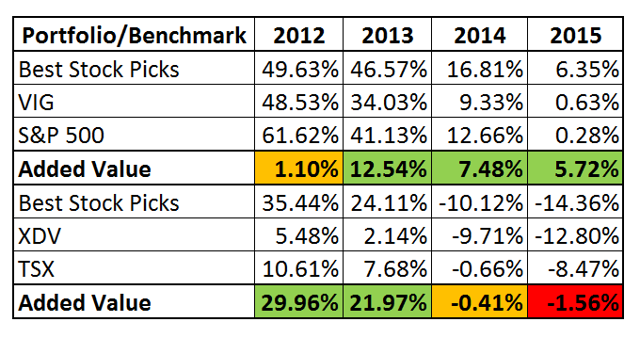 I've included my results against my benchmark and also included the global index to show how dividend stocks performed compared to the global equity market. The "added value" line refers to the performance of my selections compared to my benchmark. I used a simple color code where green means I beat my benchmark, orange means that I'm roughly head-to-head with my benchmark and red for portfolios not beating the benchmark.
My US portfolios show a perfect average beating my benchmark 4 years out of 4. My Canadian selections did very well in 2012 and 2013, but I'm recently trailing behind. Overall, I'm fairly happy with my results and my selections definitely offered value to investors. Now… what about our most recent quarter?
Okay Results (Hey! It happens!)
I'm not showing astonishing in either market, but I'm not trailing by too much either: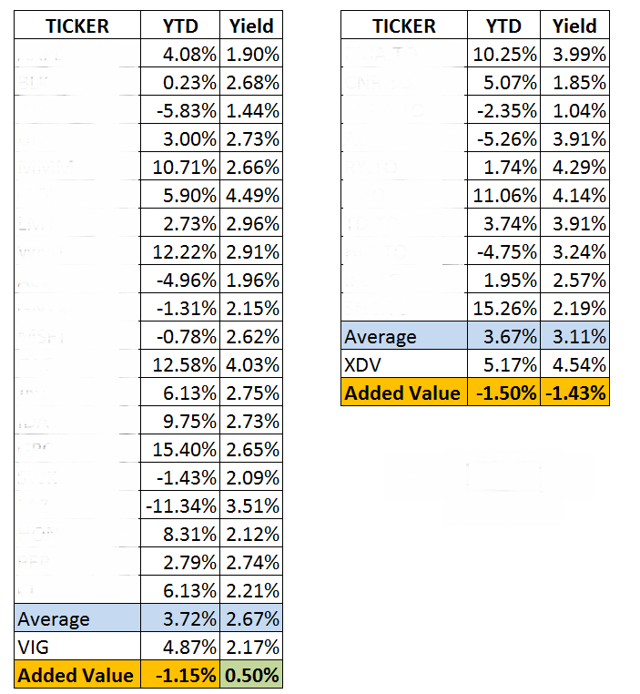 Both the US (the long list) and the Canadian portfolios are roughly 1% behind my benchmark.