After the big $3.3 billion write-off of the Palm/webOS device business, HP (NYSE:HPQ) used MWC 2016 to announce its upcoming high-end Windows 10 Mobile, the Elite x3. This return to selling smartphones is easy to explain. The personal computer market is still in continuous decline. HP is badly in need of expansion products.
After four successive years of dropping PC sales, it is obvious that many people are not interested in upgrading their six-year old laptops and desktop PCs. They prefer to spend more money on smartphones. I also suspect that enterprise customers are of the same line of thought. People faithfully replacing/upgrading their PCs every three or four years is no longer the norm.
HP therefore revived its smartphone business to ensure its survivability. The chart below from Statista is a loud warning that obstinate, PC-only manufacturers are an endangered species.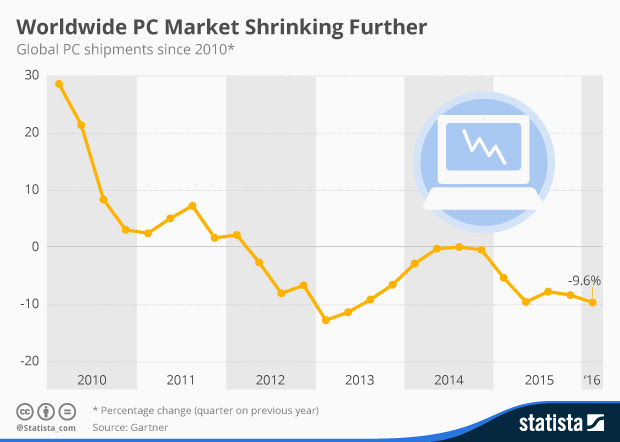 The upcoming 5.96-inch HP phone is a handset with better hardware specs than Microsoft's (NASDAQ:MSFT) Lumia 950 XL. The Elite x3 is an all-in-one hybrid of a phone, tablet, and computer. It should prove a big hit among HP's loyal pool of business customers.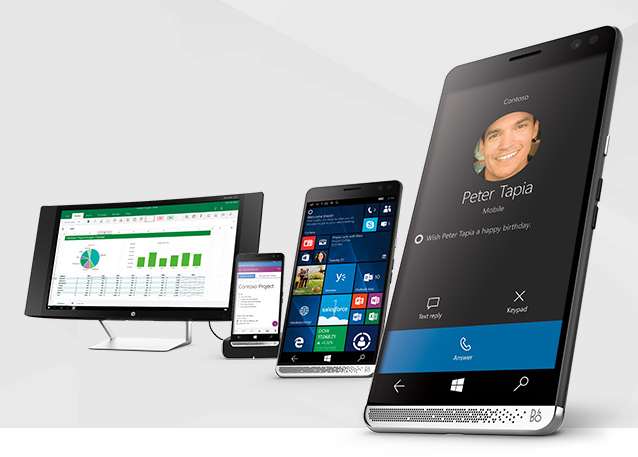 (Image Source: HP)
Android Phones Offer Little Growth Opportunity
Other top PC vendors like Lenovo (OTCPK:LNVGY) and ASUSTeK (OTC:ASUUY) are indeed far ahead than HP on smartphones. However, those two firms focused too much though on low-margin Android phones. The decision to bet on a high-end Windows 10 Mobile phone is the best option for HP.
While Android is the most popular mobile OS, HPQ will have a difficult time making money on Alphabet's (NASDAQ:GOOG) (NASDAQ:GOOGL) cutthroat platform. The average selling price of Android phones is now only $215.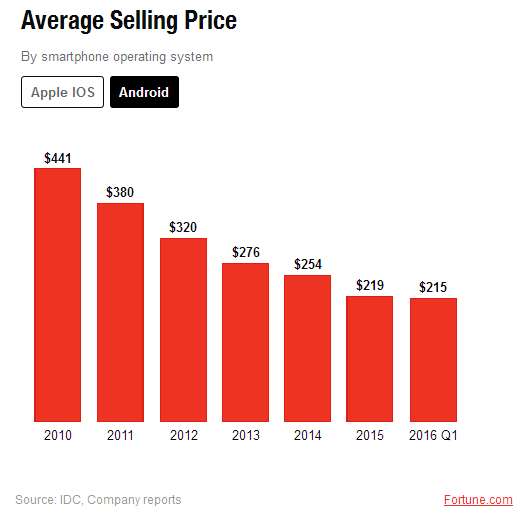 HP has two $220-269 Android phablets that it only currently sells in India. It will never succeed against the deluge of sub-$200 Android phablets. HPQ is better off focusing on high-margin Windows 10 devices. Aside from Microsoft, there are no other major OEMs that sell high-end Windows 10 handsets. Rumor has it that Microsoft has even postponed the launch of its Surface phone to 2017.
The announced commercial release of the Elite x3 is this coming summer. Bundling the Elite x3 with servers, laser printers, workstations, and high-end laptops is a winning strategy for HP. I opine that a two or three-year leasing program for corporate clients would also be great for the Elite x3. Even the mighty Apple (NASDAQ:AAPL) is using a corporate leasing service to boost its iPhone sales in India.
The success of HP's comeback bid to become a smartphone vendor should utilize all available options. The Elite x3 should also be presented to carriers for a possible inclusion to their postpaid plans.
Smartphones As Portable Productivity Computers
The all-in-one package of the Elite x3 demonstrates why the smartphone is the next evolution of computers. Like the Lumia 950, the Elite x3 supports Microsoft's Continuum for Phones feature through a desktop/laptop dock accessory. However, HP went further by offering a dedicated notebook product (just the screen/keyboard form factor), the HP Mobile Extender, to wirelessly connect with the Elite x3.
This level of attention reveals a strong commitment toward making smartphones true pocket computers.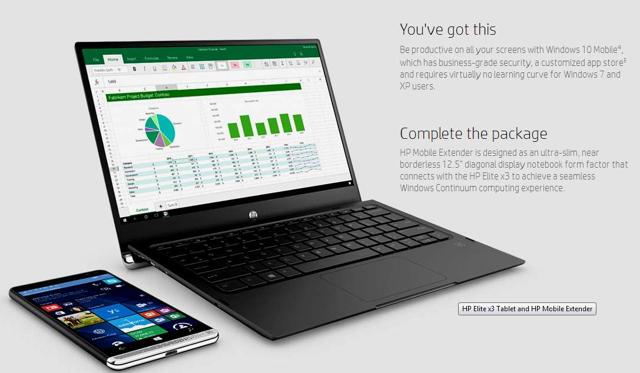 (Image Source: HP)
Instead of buying a combo of a $700 iPhone and a $1,200 MacBook, corporate clients can just buy the Elite x3 and the HP Mobile Extender. Like the iPhone 6s, the HP Elite x3 touts top-of-the-line hardware components.
The 4GB of RAM means the Elite x3 can easily run 16 simultaneous apps without any latency problems. The pocket computer concept is fully achieved when a smartphone can equal the multi-tasking usability of traditional PCs. The non-overheating Snapdragon 820 SoC will also allow HP's Windows 10 phone to be used for long hours of productivity.
Conclusion
I rate HPQ a Buy for long-term investing. Selling phones can help compensate for HP's declining PC hardware business. Focusing on the high-end enterprise market is the company's best chance to build a meaningful smartphone business. HP has not yet made any official price tag for the Elite x3. I presume it will sell for $600-700. Selling 1 million units of this phone every year can add up to a nice figure.
The company should also continue innovating on the pocket PC concept. I already like the wireless HP Mobile Extender concept. But I look forward to HP also coming up with the same phone-inside-a-laptop concept proposed by Samsung (OTC:SSNLF) last year.
Samsung's idea was to make an Android phone dock in a slot above the keyboard of a laptop. After docking in, the phone will boot into Windows OS. Unfortunately, the dual-OS design of this Samsung product will likely face stiff opposition from Alphabet. A Windows 10 Mobile phone/laptop version from HPQ will face no such problem.
The additional revenue from smartphones can also help HP offset the 17% drop in its printer-related sales. It is an open secret that the original HP inkjet and laser printers are beset by ink cartridges/refill alternatives from third-party companies. HP's printing revenue is unlikely to post any future growth.
Disclosure: I am/we are long HPQ, MSFT, INTC.
I wrote this article myself, and it expresses my own opinions. I am not receiving compensation for it (other than from Seeking Alpha). I have no business relationship with any company whose stock is mentioned in this article.