Executive Summary
Academic research shows that closed-end funds (CEFs) with a positive discount to net asset value have historically outperformed the stock market, and that the discount to NAV has statistical properties of mean reversion. Researchers have built long-short strategies underestimating the issues of cost, liquidity, and shorting. I come with a long-only strategy mixing anomalies based on discount to NAV specific of CEFs with classic stock anomalies: dividend and momentum. Simulations on 16 years with realistic trading costs show a significant excess return over the market and a CEF benchmark.
Introduction
A reader asked me a few months ago if I had a quantitative model in closed-end funds. I had none, but things have changed. Here is a summary of the strategy, then a backtest and a discussion on trading costs. Designing a quantitative model in a universe of closed-end funds is quite challenging. Of course, it is always possible to set up a technical model based only on price action, but it is not really what I am used to doing, neither what investors are looking for. Closed-end fund investors are most of the time attracted by dividends and discounts to NAV. The first step of designing a quantitative model is identifying and selecting some market anomalies in the asset class of interest.
Market anomalies in Closed-End Funds
Most academic studies on closed-end funds are trying to explain the discount to NAV. Some of them propose a model, other ones prove that funds with a positive discount to NAV have historically outperformed the stock market, but very few show a real strategy. An academic research document written in 2015 shows that not only a positive discount to NAV is a source of abnormal return, but also that it is mean-reverting. The discount has a tendency to come back to a value of relative and unstable equilibrium. This study is based on data from 1984 to 2011 and proposes a long-short strategy. A shortcoming is that it doesn't take into account transaction, borrowing and margin costs, and doesn't check the quantity of shares available to build and maintain the short side (in fact no historical database can tell this). I start from the same anomaly combined with other ones to build a long-only strategy taking realistic costs into account. Closed-end funds are a subset of the stock universe. Other sources of abnormal returns in stocks may also work, like value, dividend and momentum.
Strategy rules, partly disclosed
To make an exploitable strategy, I reduce the universe to closed-end funds with a share price above $5 and an average daily volume representing more than $1 million. Then I create 4 rankings based on:
Discount to NAV
Mean reversion of discount to NAV
Dividend
Momentum
Then I aggregate them to calculate a final ranking. The 15 best ranks are selected.
Backtest
The next chart and table show a strategy simulation updating and rebalancing the portfolio in equal weight every week on opening from 05/01/2000 to 04/07/2016, reinvesting dividends and without trading costs.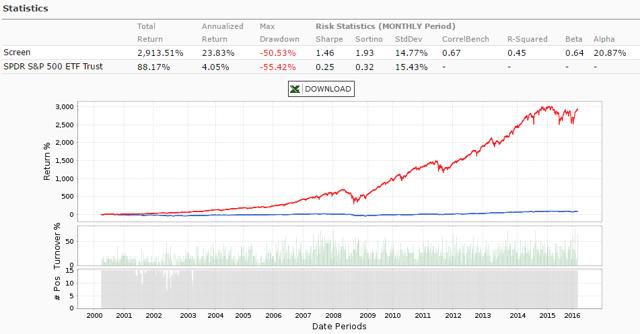 Data and charts by portfolio123.
The CEF universe was much smaller until 2003, and the tickers passing the filters were sometimes less than 15. In this case (which is unlikely now), the position size has been limited to 1/15 of the portfolio value, keeping non-allocated capital in cash.
The chart shows the SPDR S&P 500 Trust ETF (NYSEARCA:SPY) as a benchmark. The equal weighted universe of CEFs passing the price and liquidity filters is a better one. It is plotted on the next chart: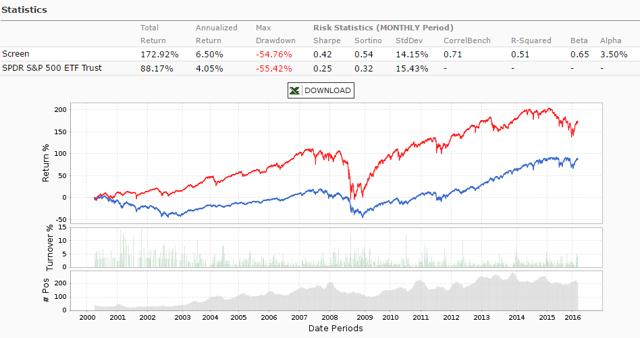 My CEF benchmark: 6.50% annualized.
This universe has significantly outperformed the broad stock index, as expected after reading academic articles.
The "Pos" line (positions) shows the increase in trad-able CEFs from about 30 to more than 200 (for my subjective criteria: above $5 price and $1 million average daily volume).
Managing a portfolio based on this model
I imagine some readers very enthusiastic after looking at the first chart. Their enthusiasm must be tempered: this strategy has a drawback called turnover. On average, 25% of holdings changes every week. It makes the performance sensitive to transaction costs: not only commission, but also bid-ask spread and slippage. With basic trading skills consisting in setting limit orders at market price (or optimized batch orders if your broker does them), slippage can be cut to zero, but the spread cannot. The next table shows the holdings of the strategy with their bid-ask spreads in % when I write this (4/13/2016 in the afternoon). I show it at the same time as an example of portfolio content, and to calculate the average spread.
| | | | |
| --- | --- | --- | --- |
| Ticker | Name | Asset Class | Spread |
| | Alpine Global Premier Properties Fund | Equity | 0.18% |
| | Blackrock Municipal Target Term Trust | Fixed Income | 0.09% |
| | Morgan Stanley China A Share Fund | Equity | 0.11% |
| | Western Asset Emerging Markets Income Fund | Fixed Income | 0.19% |
| | Western Asset Emerging Markets Debt Fund | Fixed Income | 0.21% |
| | Eaton Vance Risk-Managed Diversified Equity Income Fund | Equity | 0.21% |
| | Eaton Vance Limited Duration Income Fund | Fixed Income | 0.07% |
| | John Hancock Tax-Advantaged Dividend Income Fund | Mixed Assets | 0.09% |
| | Voya Global Equity Dividend and Premium Opportunity Fund | Equity | 0.15% |
| | Invesco Quality Municipal Income Trust | Fixed Income | 0.08% |
| | MFS Multimarket Income Trust | Fixed Income | 0.17% |
| NPM | Nuveen Premium Income Muni Fund | Fixed Income | 0.07% |
| | Nuveen New Jersey Dividend Advantage Municipal Fund | Fixed Income | 0.07% |
| | Cohen & Steers REIT and Preferred Income Fund | Equity | 0.05% |
| | Cohen & Steers Quality Income Realty Fund | Equity | 0.33% |
| | | Average | 0.14% |
Statistically, the bid-ask spread is a drift from the last transaction price about half of the time. So the average cost of the spread should be half of it: 0.07%. Let's take 0.1% and add a 0.05% commission like at Interactive Brokers (NASDAQ:IBKR). We obtain an average cost of 0.15%. It doesn't take into account equal-weight rebalancing. In the real world I recommend to rebalance only the largest position with the smallest one when their difference is above 15% (and iterate with the next largest position if necessary). My experience with other stock strategies is that it doesn't happen very often. I think a total average transaction cost between 0.2% and 0.3% is realistic.
The next table gives simulated annualized returns (Compound Annual Growth Rate) of the 15-holding portfolio with various rebalancing periods and transaction costs. Period is 05/01/2000 to 04/07/2016.
| | | | | | |
| --- | --- | --- | --- | --- | --- |
| | weekly | 2-week | 4-week | 8-week | 3-month |
| average turnover /period | 25% | 31% | 40% | 50% | 55% |
| CAGR, no cost | 23.83% | 19.15% | 15.79% | 14.49% | 12.07% |
| CAGR, 0.1% cost | 20.58% | 17.22% | 14.58% | 13.74% | 11.58% |
| CAGR, 0.2% cost | 17.42% | 15.32% | 13.39% | 13.00% | 11.08% |
| CAGR, 0.3% cost | 14.34% | 13.45% | 12.21% | 12.26% | 10.59% |
| CAGR, 0.4% cost | 11.34% | 11.61% | 11.04% | 11.52% | 10.10% |
| CAGR, 0.5% cost | 8.41% | 9.80% | 9.88% | 10.79% | 9.61% |
The portfolio rebalanced weekly to monthly with a 0.2% to 0.3% cost has a historical annualized return in the 12%-17% range. It is an excess return of 8% to 13% over SPY and 5% to 10% over a CEF benchmark, without timing the market. A lower rebalancing frequency has systematically a lower transaction cost, but also a lower return and a higher risk of divergence due to various possible starting dates. These statistics have been calculated with prices on market opening the first trading day of the week. They are similar with prices on closing or at the daily median price. The difference is usually under 0.5% in annualized return, above or below. It is better to trade in high liquidity hours, not necessarily on opening. Of course, past performance is never a guarantee of future returns.
Conclusion
Academic research identifies two market anomalies in closed-end funds:
An excess return over the stock market when the discount to NAV is positive.
More excess return when betting on its reversion to the mean.
It is possible to build a realistic quantitative investing strategy using these anomalies combined with the value, dividend and momentum classic anomalies. It is also possible to evaluate trading costs, and to choose an appropriate rebalancing frequency. If you are interested in a subscription to get buy and sell signals of this model portfolio, send me a private message (click "Send Message" at the top of this article). If enough people are in, I may start a new service or an add-on to my existing Seeking Alpha Premium Service.
Else, you can click the "Follow" tab at the top of this article to get free updates of my Valuation Dashboards by sectors and industries.
The content of this article is under a CC BY-NC 4.0 License.
Disclosure: I am/we are long RQI.
I wrote this article myself, and it expresses my own opinions. I am not receiving compensation for it (other than from Seeking Alpha). I have no business relationship with any company whose stock is mentioned in this article.