Prior to Bed Bath & Beyond (NASDAQ:BBBY) releasing their Q4 2015 results on April 6th I authored an article titled "Bed Bath & Beyond: Trading While The Malaise Persists". The premise of the article forewarned investors that it might prove optimal to avoid deploying capital in shares of BBBY until the price of said shares erodes. With the stock falling below $42 in February and running all the way above $50 in March, the price appreciation happened far too quickly and could be viewed as unwarranted. I suggest the price appreciation to be unwarranted in light of the retailer's gross margin performance, which has declined for several years and more dramatically since 2014. Additionally, while the gross margin performance has aided in the production of increased sales, those sales increases have been quite modest and of poor quality. So let's take a look at what I said prior to Bed Bath & Beyond's earnings release before moving forward.
I don't admire the task at hand for Bed Bath & Beyond or any brick and mortar retailer of scale. Most are undergoing some form of restructuring like Macy's (NYSE: M) and Kohl's (NYSE: KSS). Others are equally expressing gross margin pressures like Target (NYSE: TGT) and Wal-Mart (NYSE: WMT). To reiterate, I believe that having a long-term perspective when deciding to dedicate capital to BBBY is optimal for a variety of reasons. The company has exhibited a steady contraction of gross margins over the last several years and sales growth is very meager. The macro trends don't appear to be helping the retailer garner greater sales as proven in the quarterly results. Presently, I will remain on the sidelines when it comes to deploying capital in shares of BBBY. The stock has appreciated from recent low prices and I think shares can come down in price from the recent run for which to take advantage of longer-term.
One of the variables I recognized in the Bed Bath & Beyond operation prior to the company's earnings release date was the continuation of "couponing" at a level of excess on a YOY basis. Please notice the photograph below indicating the retailer's increased couponing to consumers.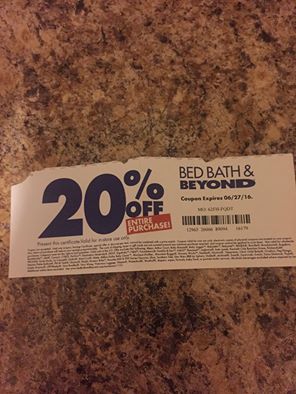 What makes the coupon promotion so impactful is that the " 20% Off Entire Purchase" is not an anniversaried coupon. In other words this did not occur during the same time a year ago. Most Bed Bath & Beyond coupons are 20% off a single purchase and $5 off your purchase of $15 or more. This coupon was launched nationally for customers of record in late March and extends to June even though Bed Bath & Beyond coupons don't necessarily expire. One other coupon operation investors and Bed Bath & Beyond shoppers will notice in the coming months is point-of-sale printed coupons. This is an operation akin to those used by both Wal-Mart and Target. This type of coupon advertising may save the retailer on direct mail advertising costs, but that remains to be seen.
Another Bed Bath & Beyond promotional event that launched in late March that gave me reason for concern was related to on-line shipping. The company promoted a reduced free shipping threshold that lasted until April 11th. The promotion allowed shoppers to ship items purchased without charging for shipping at the threshold of $25. Prior to this promotion, the retailer would only ship goods without charging a shipping fee at $49.99 and above. While the on-line promotion only lasted a couple of weeks, it gave me reason to pause as it pertains to the company's gross margin performance.
Taking the two promotional events into consideration, I didn't expect a meaningfully beneficial share price performance for shares of BBBY post the company releasing Q4 2015 results. While shares of BBBY did climb in the early hours of trading and after releasing Q4 2015 results, all of those gains were pared before shares fell in the next couple of trading sessions. After reaching a post reporting period low of $46.26, shares are resting at roughly $48 presently and below the share price on April 6 th, which is the day the company reported Q4 2015 results.
Having said that, when shares of BBBY fell below $47 I began purchasing shares at $46.50 a share. With shares bouncing off my purchase price rather quickly, I subsequently sold my shares at $48 a share yesterday. Please see the table from my Scottrade platform account for active portfolio trading activity.
| | | | | | | | | |
| --- | --- | --- | --- | --- | --- | --- | --- | --- |
| | Date | Settlement Date | Symbol | Description | Commission/Fees | Interest | Amount | Avg Price |
| | 4/13/2016 | 4/18/2016 | | SOLD 770 SHARES OF BBBY AT $48.0001 | ($7.08) | $0.00 | $36,960.07 | No |
| | 4/13/2016 | 4/18/2016 | | SOLD 354 SHARES OF FIT AT $17.00 | ($7.17) | $0.00 | $6,010.83 | Yes |
| | 4/8/2016 | 4/13/2016 | | BOUGHT 770 SHARES OF BBBY AT $46.50 | $0.00 | $0.00 | ($35,805) | Yes |
My reason for enacting this trade was due to the near-term oversold/profit taking conditions that took place between $52.11 and $46.50 after the company reported results. That kind of volatility in shares of BBBY is not typical and I believed shares of BBBY would rally from $46.50 and find the average of the high and low point of recent trading at $48 a share.
Circling back to the retailer's promotional activity I recognize this type of activity as a necessary part of the Bed Bath & Beyond business. Retailers are competing for every consumer dollar and the company must lure consumers into the store or on-line. Additionally, there is not a lot of significant change occurring to the retailer's business despite hundreds of millions of CAPEX spending on digital channel and fulfillment centers over the last 2-3 years. For all of the spending the company has committed to in recent years, the only boost in sales is coming from the digital channel. With digital sales growing in excess of 25%, and from a low base, I would not expect this rate of YOY sales growth to continue in 2017. The more likely possibility is that digital sales exhibit slowing growth somewhere in the range of 15-20 percent in 2017.
Shares of BBBY are relatively cheap when compared to its peers and this has been the case through much of the last 6-9 months. Generally, when shares are seemingly cheap they are so for good reasons. It's with this understanding that investors might consider that shares of BBBY could get even cheaper. I invite this consideration as it is simply not enough for investors to look at peer valuations and make decisions solely based on this aspect of due diligence. It's a far greater exercise in due diligence to understand why shares of BBBY are underperforming their peer group. But that is just my opinion! However, if the greater confluence of capital decides shares are undervalued, I will not be following the heard unless that capital is deployed below $45 and for my next trade. Simply put, "I need to see gross margin improvement alongside quality sales growth to dedicate long-term capital".
Disclosure: I/we have no positions in any stocks mentioned, but may initiate a long position in BBBY over the next 72 hours.
I wrote this article myself, and it expresses my own opinions. I am not receiving compensation for it (other than from Seeking Alpha). I have no business relationship with any company whose stock is mentioned in this article.