Savaria Corp. (OTC:SISXF) is a manufacturer and retailer of accessibility equipment. Some of its products include home elevators, stair lifts, and custom vehicles. Seeking Alpha contributor WestPeak Research Association gives a good review of the company and its market opportunities so I don't intend to cover that ground extensively in this article.
However, for the last two years, Savaria has slowly been accumulating a retail presence under the Silver Cross banner:
This strategic extension moved into high gear on April 6, 2016, when they announced the purchase from Shoppers Home Healthcare (a division of Shoppers Drug Mart, a large Canadian drug store chain) of their automotive division for $10m. Despite the nomenclature, Savaria is not going in to a new business selling cars at the local lot. SHHC Automotive is actually the leading Canadian retailer of wheelchair van adaptations & mobility adaptations for vehicles. Savaria's vehicles segment made up 13.3% of its 2015 revenues, totaling $12.7m for the year. However, this deal is a game changer for this division of Savaria as it adds a further $15m in annual revenues and $1.5m in EbITDA to their bottom line before any synergies are even factored in.
Savaria began the growth of its retail presence (originally referred to as lead generation) with the September 2014 acquisition of 18 Silver Cross locations. I believe management had been monitoring the significant margins that the retailers of their products were making, and decided to make a move to capture some of this margin for itself. This was proven out in a review of their company filings that indicated this original acquisition target contributed $1m in annual revenues in fiscal 2013 with net income of $234,000, giving a profit margin of 23%, before any contribution from Savaria's existing business.
In 2013, Savaria's gross margin was 29.7%. The goal of vertically integrating the business was margin expansion as Savaria would be gaining some of the margins currently made by their distributors. This has been proven out as gross margins have risen to 32.7% in 2015, while their EbITDA margin has risen from 14.2% in 2013 to 15.3% in 2015.
In the age of the Internet, shifting to a brick-and-mortar retail operation may have seemed to be somewhat counter-intuitive to broader market trends. However, when we consider Savaria's end customers, it becomes less surprising.
The key users of accessibility equipment are largely those that have become disabled either through circumstances beyond their control or through the normal aging process. Both user groups will prefer the tactile experience of seeing what equipment actually looks and feels like. For those that have become disabled, they likely have an adjustment period to their new circumstances; purchasing this type of equipment needs to be experienced in person to better know what they need. For seniors and their families, they are also more likely to be more comfortable seeing what they are buying rather than looking for a potentially cheaper on-line alternative. Silver Cross gives Savaria's customers this "window shopping" experience but with the ability to actually close the sale as well.
Savaria's management has seen strong initial returns from this business line, as evidenced in the improved margins. Currently, Savaria sells its products both through Silver Cross as well as a network of over 300 different retailers around North America. This strikes me as an industry potentially ripe for consolidation. I suspect Savaria's management has observed this as well as they have subsequently added 4 more additional stores to the Silver Cross banner since the initial purchase just 18 months ago.
The Shopper's Home Healthcare (SHHC) purchase truly accelerates this strategy. This acquisition gives Savaria a revenue increase of $15m annually with an EbITDA bottom line boost of $1.5m even before it integrates it to the overall operation. Savaria paid for the transaction entirely in cash, ably supported by their $29.7m cash balance (against $17.3m in long-term debt). At a purchase multiple of just 7x EbITDA, I believe SHHC was acquired at a substantial discount, especially compared to Savaria's multiple of 12.7x EV/EbITDA prior to the deal announcement.
Savaria's management has been preparing for this strategic move (or a similar type market entry) for some time. In August 2015, Savaria acquired a 57,000 square foot facility capable of a 50% increase from current volumes in the manufacturing of accessibility-focused vans. Even back then, management must have been investigating a larger entry in to this business line. However, being able to acquire a business at such a low multiple made a compelling business case compared to trying to develop it from scratch. This flexibility is one of the benefits of having a very vested management team, as the Bourassa family is with a roughly 46% stake in the company. A strong balance sheet also permits a company to be able to react to these opportunities as well, which Savaria has as well.
Valuation
Prior to this acquisition, management had guided 2016 revenues to $107m with an EbITDA of between $16.5 and $17.5m (a margin of 15.4 to 16.3%). The low end EbITDA margin % is in-line with 2015's results; margins have been expanding over the last several years so forecasting a further increase is not out of the question.
If we add on the SHHC acquisition, we get a full year top line of $122m with an EbITDA range of $18 to $19m; however, with management's past success, it would not be surprising to see these amounts increase to a similar level to the rest of Silver Cross. This would increase the top end EbITDA to $20m, giving us a forward EV/EbITDA multiple in the range of 11 to 12x.
If we compare this to WestPeak's analysis of Savaria's comparables:

Source: WestPeak Research Association Savaria article January 2016
we can see that Savaria's multiple is slightly below the average. I would argue it should be rate significantly higher as they have delivered strong growth for several years now; Prism Medical's 15x multiple seems more appropriate which would give us an upside share target of $9.27, 36% upside from current levels.
The market has reacted very positively to this announcement, sending Savaria shares up to a 52-week high.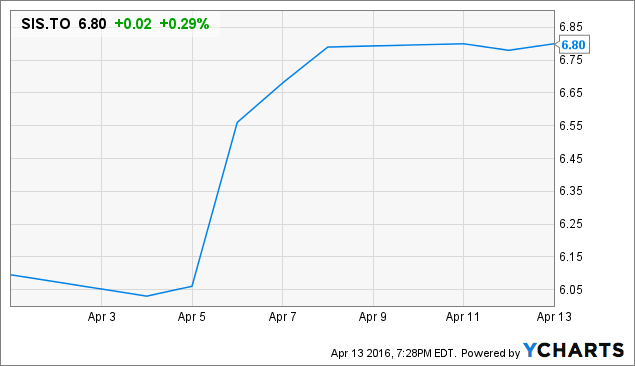 Despite this run-up, I believe there is significant upside still left in Savaria. With just $17m in debt on its balance sheet (the company has cash flow of $12.1m in 2015), it has some room to further finance acquisitions. Savaria has largely eschewed debt over its history, often accelerating debt repayment when there is not a better use for its capital. However, with the SHHC acquisition not slated to close until May 2016, I would be surprised if management takes on anything further, beyond some incremental Silver Cross store openings.
Savaria's base business has strong demographic trends supporting it to begin with. Their push into retail helps to further meet their customer's needs while simultaneously expanding their revenue and margins. On top of it all, its valuation is not particularly expensive at these levels which makes me believe that its retail initiative is not fully recognized as it is both expanding revenues and margins, both absolutely and on a percentage basis.
Due to the high cost of its products, there is likely not a lot of repeat or recurring revenue. Developing a brand like Silver Cross in this niche market is going to be important as word of mouth will continue to be a key driver to continued growth.
Another risk to Savaria's business will be maintaining product quality during this growth phase. The company has been able to so far during its growth phase as they have approached it at a moderate pace. Going from $95m in revenue in 2015 to $122m in 2016 will be a challenge so ensuring quality will be a key success factor. While there is nothing so far that has given rise to concerns about quality, this is a potential risk with any growth company. This can be more acute when brand reputation is at stake.
Technically, Savaria is a bit over-bought here due to the run up from the SHHC announcement: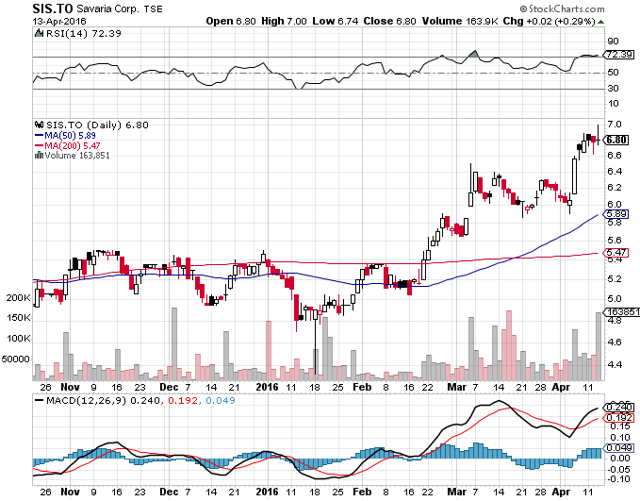 Source: Stockcharts
However, there is a strong base at $6. I believe Savaria is a good value even at current prices but it may be worth waiting for a pullback to this level or using only a half stake at the current price.
For continued discussion, please don't hesitate to comment below; I learn from your feedback.
If you like what I'm doing, you can follow me by hitting the "follow" button at the top of this article. Plus, you can follow me in real time by selecting that option. It might give you somewhat of a head start whenever I write an article on what actions I am taking and why. Thanks for reading!
Disclosure: I am/we are long SISXF.
I wrote this article myself, and it expresses my own opinions. I am not receiving compensation for it (other than from Seeking Alpha). I have no business relationship with any company whose stock is mentioned in this article.
Additional disclosure: Savaria reports its results in Canadian dollars and trades with significantly higher volume on the TSX under symbol SIS.TO. As such, all amounts in this article are in Canadian dollars unless otherwise noted.
Editor's Note: This article covers one or more stocks trading at less than $1 per share and/or with less than a $100 million market cap. Please be aware of the risks associated with these stocks.