Analytics firm Parse.ly found (in a study of 200 websites from publisher clients) the median publisher sees an average of just 3 clicks per Twitter (NYSE:TWTR) post and 0.7 retweets for each original tweet. The top 5% of publishers for each metric fare a lot better.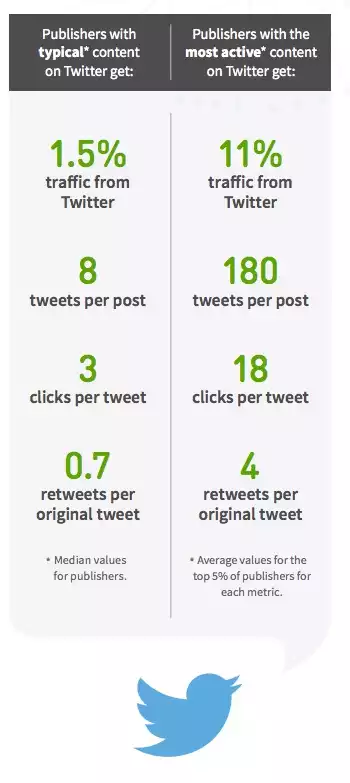 Source: Parse.ly
Thanks in part to relatively low post engagement - a smaller active user base also plays a role - Twitter is responsible for just 1.5% of the referral traffic obtained by studied publishers. Facebook (NASDAQ:FB) is above 40%, and Google (GOOG, GOOGL) sits near 40%.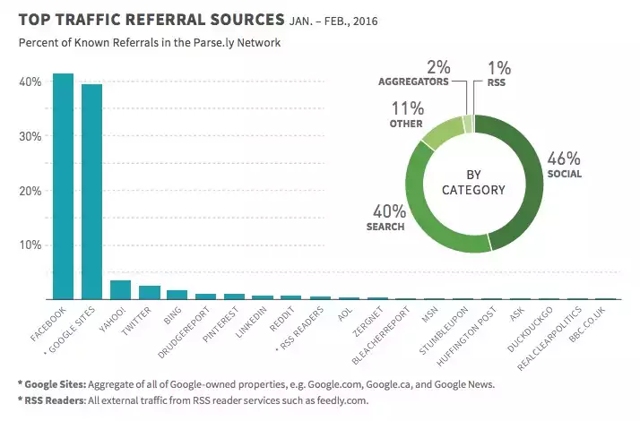 Parse.ly does admit Twitter's influence as a news platform is much larger than its referral share implies. "Though Twitter may not be a huge overall source of traffic to news websites relative to Facebook and Google, it serves a unique place in the link economy. News really does 'start' on Twitter."
However, a low content engagement rate is still a problem, especially since it also has a big impact on how often people click on or otherwise engage with Twitter ads. Twitter mentioned on last year's Q1 call weak ad click-through rates (CTRs) weighed on ad revenue, and prior studies have observed CTRs can drop sharply as a publisher's follower count grows. The company recently launched a conversational ad product in hopes of boosting engagement.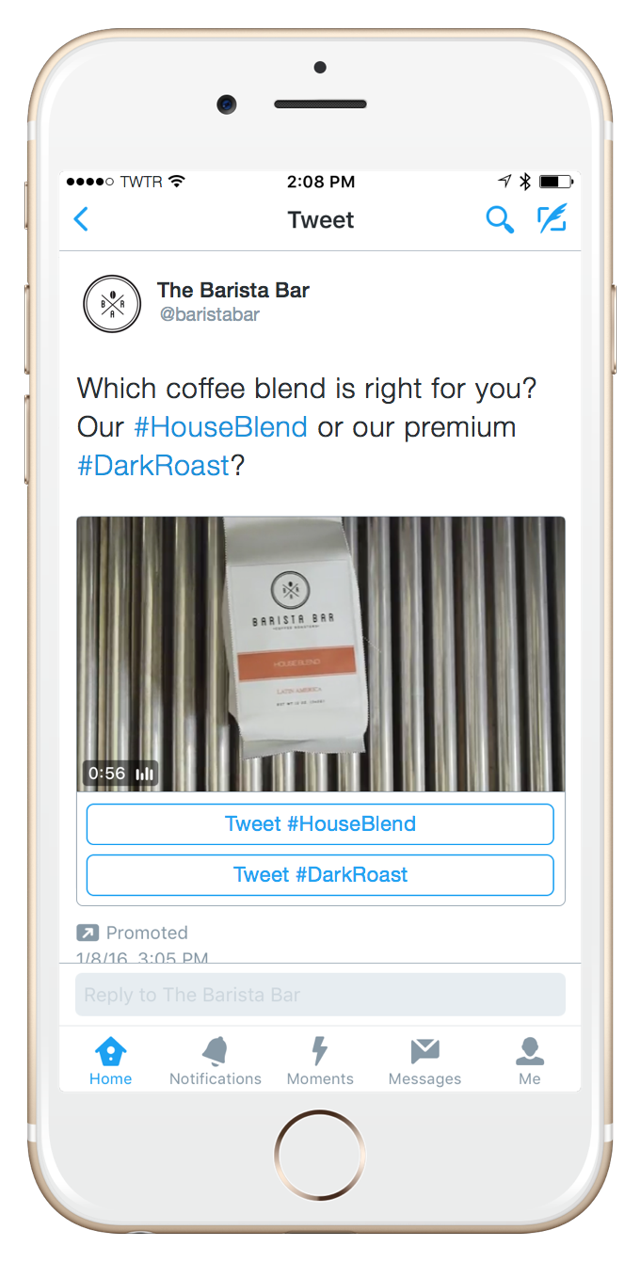 An example of a "conversational" Twitter ad.
Conversational ads look like a thoughtful, well-designed, ad product. But they don't address what might be the company's two biggest problems when it comes to content engagement:
Twitter's "firehose" approach to showing content means users following hundreds of accounts get inundated with tweets. More so than with say, Facebook, Snapchat (CHAT), or Pinterest (Private:PINIT), a user's focus can turn to keeping up with what the content they're seeing rather than engaging with it.

Twitter is a very marketing/promotion-heavy platform. So much of what's posted on Twitter is de facto advertising, even if account owners aren't paying for it (just ask your local Twitter marketing expert). This leads users to more quickly tune out actual ads (and also article links in some cases) when they see them. By contrast, well-done native ads on other social platforms can have less trouble standing out and getting users to click/engage.
Put another way, the problems Twitter faces in getting users to engage with its content - whether news tweets from publishers or Promoted Tweets from online retailers and brands - stem from fundamental issues related to how Twitter users consume and produce content. Fixing them won't be easy.
Disclosure: I/we have no positions in any stocks mentioned, and no plans to initiate any positions within the next 72 hours.
I wrote this article myself, and it expresses my own opinions. I am not receiving compensation for it. I have no business relationship with any company whose stock is mentioned in this article.