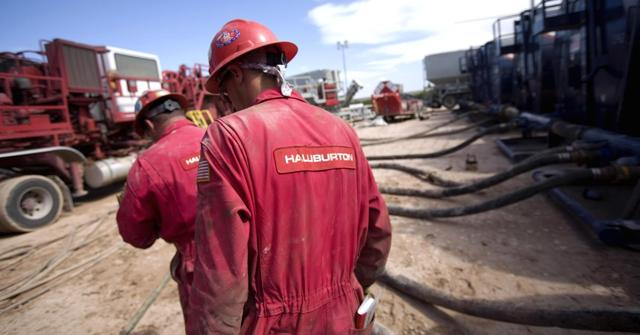 I have been pessimistic about the prospects of the Halliburton (NYSE:HAL) - Baker Hughes (BHI) merger from the beginning. After the DOJ recently sued to block the deal even bulls are starting to face reality. Both companies have vowed to fight the decision, but it could be the equivalent of arguing with your parents. Their efforts could create more deal-related fees and take management's time away from managing operations. Regardless, there is still no guarantee the decision will be reversed.
HAL's share price has been buoyed by the $2 billion in cost synergies the deal is expected to generate. A failed deal will result in Halliburton having to pay Baker Hughes a $3.5 billion break-up fee. HAL currently trades at $38.31 or 11x run-rate EBITDA. HAL is off about 15% over the past year, but where will it fall once the deal is officially dead?
Including $3.5B Break-Up Fee HAL Is Worth $20
Including the $3.5 billion break-up fee ($2.6 billion after-tax) HAL is worth $20 or 48% less than its current value of $38.31.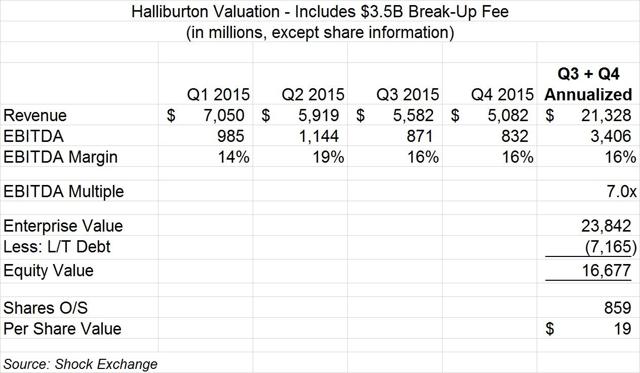 Revenue
Revenue of $21.3 billion was used for the valuation. It equates to Q3 plus Q4 2015 revenue annualized. This builds in a level of optimism as revenue is likely to fall going forward.
EBITDA
Estimated EBITDA of $3.4 billion is Q3 and Q4 2015 results annualized. The estimated margin is 16%, consistent with the second half of 2016. Halliburton has been able to keep margins in the 16% range through cost cutting, despite the fall in revenue. This could be a challenge if revenue continues to fall going forward.
EBITDA Multiple
A multiple of 5.0x to 7.0x is appropriate for an industry leader in a cyclical industry in decline.
Enterprise Value
The company's enterprise value (equity and debt) is $23.8 billion.
Equity Value
At year-end 2015 Halliburton had net debt of $4.6 billion. The $3.5 billion break-up fee would be about $2.6 billion after-tax (assumes a 27% tax rate). The break-up fee would increase net debt from $4.6 billion to $7.2 billion.
Per Share Price
I assumed 859 million outstanding and diluted shares to derive a share price of about $20.
Conclusion
HAL currently trades at $38.31. My valuation would be 48% below the current price. The fee is a one-time event and should impact the company's p/e ratio. It would reduce liquidity; net cash would fall from $10.1 billion to $7.5 billion. Once the deal is officially dead and the prospects of $2 billion merger synergies evaporate, HAL may trade closer to its intrinsic value. Avoid the stock.
Disclosure: I/we have no positions in any stocks mentioned, and no plans to initiate any positions within the next 72 hours.
I wrote this article myself, and it expresses my own opinions. I am not receiving compensation for it. I have no business relationship with any company whose stock is mentioned in this article.