Alphabet's (NASDAQ:GOOG) (NASDAQ:GOOGL) Google recently announced it is partnering with Rackspace Hosting (NYSE:RAX) to jointly develop an open server architecture design. The design specification will be based on IBM's (NYSE:IBM) Power9 processors, which will arrive in the marketplace in the second half of 2017.
Mainstream media is clamoring that GOOG's move is designed to siphon away Intel's (NASDAQ:INTC) server revenue by inducing other companies to embrace Google's strategy. For example, Bloomberg said:
Google has technology to easily switch away from Intel Corp. server chips and is helping other companies do the same, a potentially worrying development for the dominant provider of processors that power data centers.
Investors Shouldn't Listen To Mainstream Media
Google didn't say it will influence other companies to follow what it is doing. Google only said it hopes to submit the architecture design to the OCP (open compute project) community. This should be considered merely as an academic issue because it will have limited impact on the industry, given the industry is going through a significant transitional phase.
Why does Google need to design an open server architecture? Well, its initiative to develop an open server architecture is solely aimed at supporting the rising demand for compute at Google. GOOG said, "It won't surprise anyone to hear that demand for compute at Google has been relentless and it isn't slowing down any time soon."
Google needs dedicated servers to support its computing demand, which primarily comprises of big data and analytics workload. IBM has built an enormous software portfolio based on AI (artificial intelligence) and Watson, which could help Google grow its ad revenue.
Since Google's business model revolves around big data and analytics, it makes perfect business sense for the company to take advantage of IBM's expertise in AI. However, it won't be possible for a company like Google's scale and size to take the fullest advantage of IBM's AI expertise without building its own server architecture. Having a separate server architecture will allow Google to allocate resources optimally across the globe to generate maximum ad revenue.
While it is true that some large companies could take Google's route, I don't believe GOOG's initiative will create a mass departure of companies from Intel's x86-based server platform. Google's case is entirely different, and mainstream media is misguiding Intel's investors.
Intel's Investors Have Nothing To Worry About
While Google needs dedicated servers for its own datacenters, traditional IT infrastructure market is shifting towards cloud, driven by public cloud datacenter expansion. IDC forecasted:
For the five-year forecast period, IDC expects that cloud IT infrastructure spending will grow at a compound annual growth rate ("CAGR") of 15.1% and will reach $53.1 billion by 2019 accounting for 46% of the total spending on enterprise IT infrastructure. At the same time, spending on non-cloud IT infrastructure will decline at -1.7% CAGR. Spending on public cloud IT infrastructure will grow at a higher rate than spending on private cloud IT infrastructure - at 16.3% vs. 13.2% CAGR.
Clearly, cloud servers will drive the datacenter growth in future. Demand for dedicated servers will gradually decrease. Sensing that computing workloads for enterprises are slowly but steadily shifting in the cloud, Intel has recently expanded its Xeon product line with new chips for boosting cloud computing performance in datacenters. The chipmaker has further strengthened its cloud portfolio by launching faster SSDs.
Diane Bryant, senior vice president and general manager of Intel's Data Center Group, said that INTC is investing to mature software-defined infrastructure (SDI) for ensuring the availability of cloud-based services to enterprises.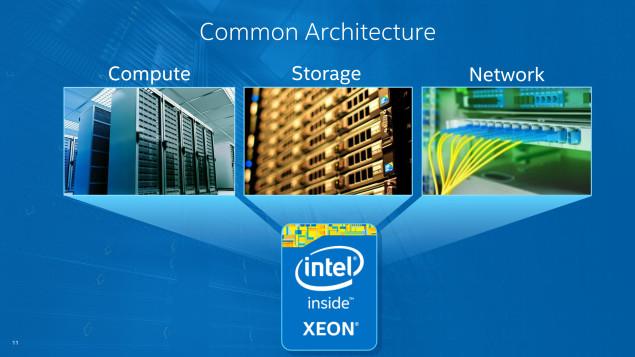 Image Credit: Intel
The recently introduced Xeon E5-2600 v4 processor family, which will be manufactured on 14nm process, has 20% more cores and cache compared to the prior generation. With faster memory, advanced server technology and enhanced security features, the new processor line will better address the requirements of SDI than before. The newly launched SSDs, which are optimized for the new processor line, will make the task easier.
Fellow SA contributor Bruce Burnworth said in an SA article, "Intel's Xeon and SSD announcements are good news, but not great news." Time will tell if these are good news or great news, but I expect Intel's datacenter group revenue will certainly get a boost as a result of the new product launches.
Conclusion
Google has joined hands with Rackspace, as mentioned in the beginning, to develop its server architecture design. Intel also has a partnership with Rackspace as part of its "Cloud for All" initiative. This essentially means that tech-giants are using the expertise of Rackspace, the leading OpenStack operator, as an open source resource. Google's collaboration with Rackspace isn't a threat for Intel. Intel is a "long-term buy."
Disclosure: I am/we are long INTC, IBM.
I wrote this article myself, and it expresses my own opinions. I am not receiving compensation for it (other than from Seeking Alpha). I have no business relationship with any company whose stock is mentioned in this article.