Natural gas (NYSEARCA:UNG) inventory is looking a lot like the 2011-12 winter season.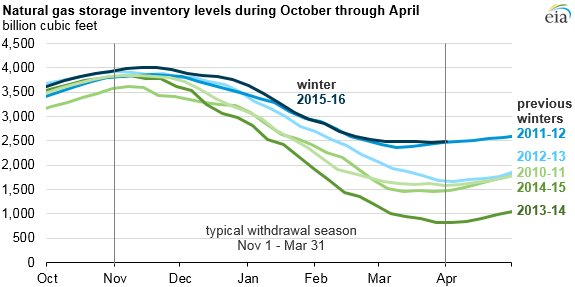 Last week, EIA reported that natural gas inventory saw a draw of -3 bcf (billion cubic feet) versus the 5-year average of +22 bcf.
Inventories saw a draw last week due to colder than usual weather hitting the Northeast. As we reported in our last week's natural gas inventory report, natural gas demand moves with weather and weather is the single biggest factor in determining the balance of the natural gas market. A hotter than normal summer and a colder than normal winter could deplete all of the excess inventory in a heart beat. The 2013-2014 winter saw one of the coldest winters and natural gas inventory went below 1 tcf (trillion cubic feet) causing natural gas prices to spike $4+/mcf.
U.S. natural gas production has now declined to 70.7 bcf/d down roughly 3 bcf/d from highs in February despite visible demand growth drivers coming online.
Will it happen again this year?
Non-Weather Related Demand Drivers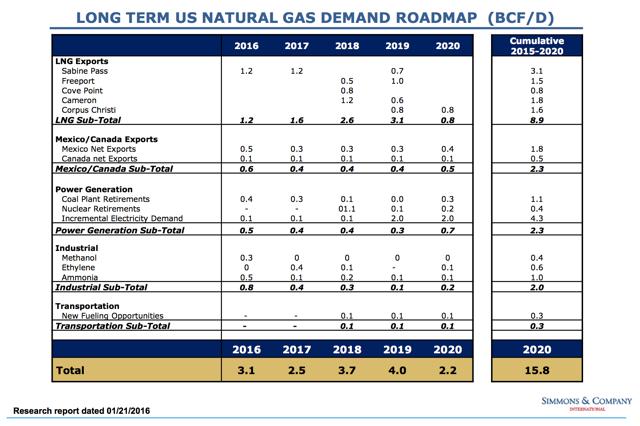 LNG demand in 2016 is 1.2 bcf/d. Currently, Cheniere Energy (NYSEMKT:LNG) has one train up and running and taking in 600 mcf/d of gas. By the second half of this year, LNG demand will be the full 1.2 bcf/d. This number is expected to increase to a total of 8.9 bcf/d by 2020.
Canada net exports isn't expected to be much as additional pipelines are brought online, but still amounts to 100 mcf/d per year.
Mexico exports will really start to take off this year coming in at 500 mcf/d of additional demand.

Coal plant retirement and incremental electricity demand from natural gas usage will increase demand by an additional 500 mcf/d.
Industrial plants after many years of building are finally coming online this year and adding an additional 800 mcf/d of demand.
In total, non-weather related and structural increase in natural gas demand is expected to be 3.1 bcf/d.
Associated Gas Production Falling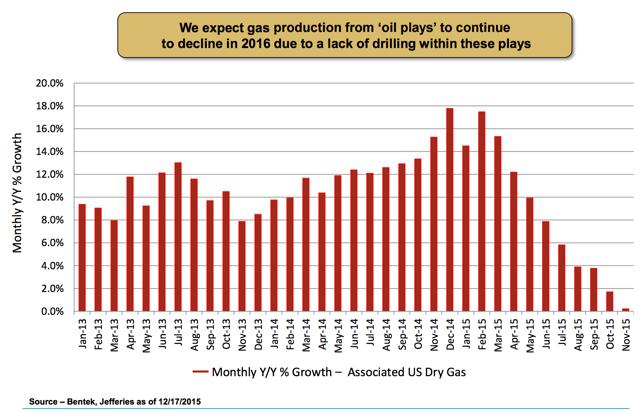 Since the start of the shale oil boom, natural gas production from oil drilling (called associated gas) has increased by roughly 12-13 bcf/d.
As a total percentage of supply, associated gas contributes nearly 1/5 of gas supply in the U.S.
With record low oil prices and natural gas prices, drilling rigs have been in terminal decline hitting an all time low.
A measurement used by EQT CEO is the gas-equivalent rig count. The measurement is to use 0.25 x the oil rigs and 1 gas rig. As of last Friday, the gas-equivalent rig count was 179.5 down from 415 last year.
Lot of people wondered why declining natural gas rig counts had little effect on overall natural gas supply. The key was the shale oil boom. Associated gas production cost practically nothing, so it was all gravy for producers.
With oil production finally rolling over and falling below 9 million b/d last week, we expect associated gas production to also start rolling off and further impacting overall natural gas supplies going forward.
Watch Out for La Nina
When one studies the natural gas market, it's an extremely imprudent thing to ignore weather. People can make base case, bear case, or bull case scenarios all they want about weather, but understanding the key theme of the year is more important than any other variables we highlighted here.
Historically following an El Nino year, La Nina, the sister weather phenomenon, follows.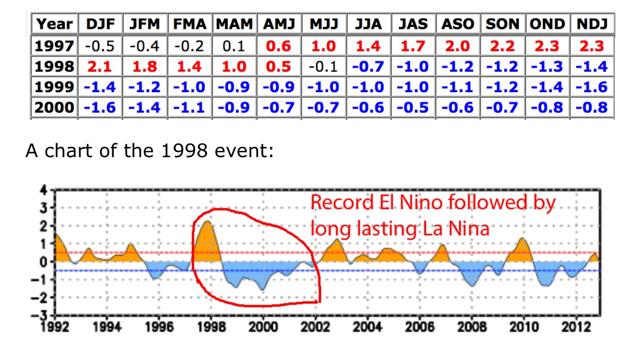 The last time we saw an El Nino the magnitude of last year's, La Nina persisted for 3 years.
The transition effect between El Nino and La Nina on weather patterns is widely researched and covered.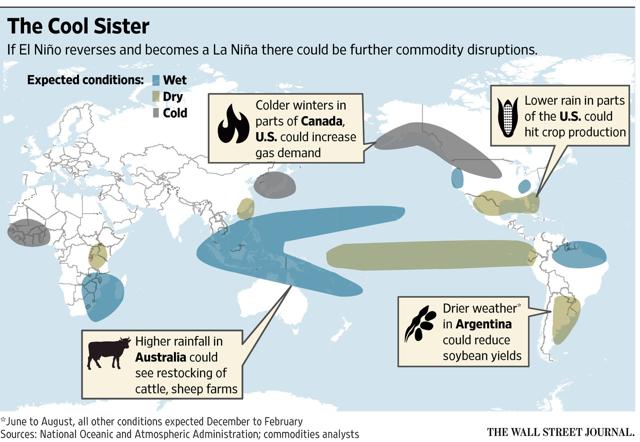 During the transition process and depending on when the shift happens, it could mean a much hotter summer followed by a much cooler winter, or as we would call it, the perfect natural gas environment.
There have been numerous reports out by now indicating a 70% chance of La Nina hitting by fall time. NOAA issued a La Nina watch on Thursday.
Sea surface temperature has been dropping and meteorologists are more confident now that La Nina will take over. No one is certain of the exact timing as a switch before summer could bring more hurricanes on the East Coast, while a delayed switch wouldn't impact hurricane season as much.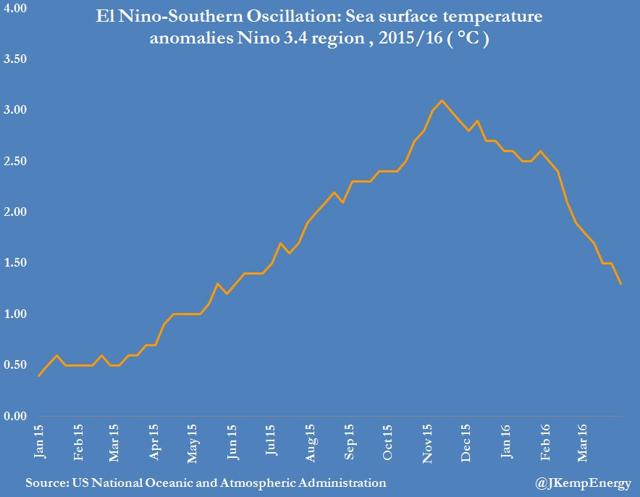 So far, forecasters are expecting La Nina to hit in fall, and this could mean a much hotter summer followed by a much colder winter.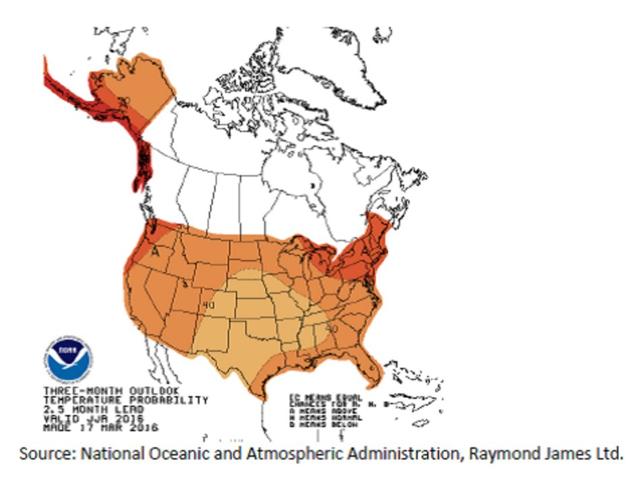 Current NOAA forecast for the summer is for it to be hotter than the norm. In the 2012-2013 cooling season, summer was unusually hot and our discussions with meteorologists point to 2012 summer being an anomaly. To give you perspective on what happened to natural gas prices during that summer, take a look at the price chart below.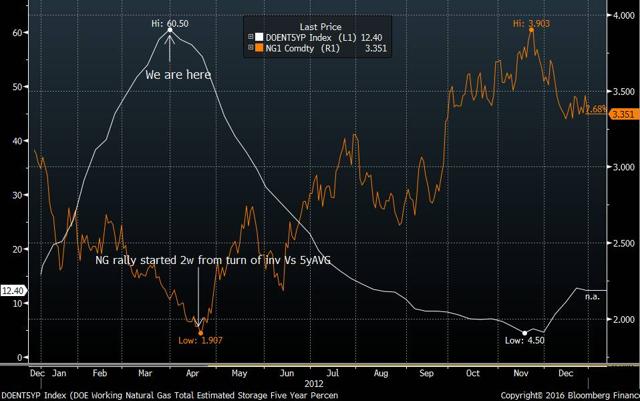 Natural gas prices went from a low of $1.9/mcf to nearly $4/mcf just 8 months later.
Macquarie in its recent natural gas report also pointed to the extreme volatility that's likely to persist pointing to a price range of $1.5-$6.5/mmBtu.
We believe that's likely the case as structural natural gas demand continues to increase combined with falling supplies will exacerbate natural gas prices. At the same time, despite increases in demand and supply, natural gas storage capacity hasn't increased which could further enhance the volatility of natural gas prices.
Concluding Thoughts
We are firm believers that natural gas prices will be much higher in the future not only for spot prices predicted by the futures curve, but the entire curve overall. Short term inventory numbers remain an overhang on natural gas prices, but a close study of historical weather patterns and demand drivers point to a much brighter situation in the days ahead.
We believe prices will be $3+/mcf by year-end.
For investors who want deeper insights into our research, please consider subscribing to HFI's premium service. We look forward to you joining a group of like-minded investors.
Disclosure: I am/we are long BXE.
I wrote this article myself, and it expresses my own opinions. I am not receiving compensation for it (other than from Seeking Alpha). I have no business relationship with any company whose stock is mentioned in this article.