Background
This month's article marks the thirteenth installment in my on-going series which outlines my efforts to achieve dividend growth success. The portfolio is nicknamed the MnM portfolio, which is a moniker for "Minne 'n Monthly."
The title of this month's article focuses on my decision to sell all of my positions in the portfolio and temporarily move to cash. I will start by saying that there are a lot of factors that went into this decision, which I will go into in greater detail about in the summary section that follows.
Ultimately, I simply wanted to restart with a clean slate before I recast the portfolio, and thus have elected to take a brief pause during which I will aggregate all of the funds for reinvestment. As I alluded in prior articles, I have a large rollover contribution (~$13k) coming soon, and once it is completed, I will get the portfolio reinvested.
Note: The portfolio holds only cash at the minute. I am targeting a portfolio size of ~35 - 40 positions over time. I feel that at that level it is enough that I can effectively follow them all, and equally weighted would provide strong diversification as each would represent approximately 2% - 3% of the portfolio total. I also receive 100 free trades each year from my brokerage, so I can trade in small quantities without worry about brokerage trading costs.
That being said, here's what happened in March.
March 2016
I have captured the activity for March and for the year-to-date in the standard rollforward summary below. Prior to March the portfolio was up just under 1% for the year, but during the month the portfolio saw incredible returns, rising 5.94%.
The year-to-date performance of the portfolio of 6.93% continues to outperform the S&P 500, which was up as well for the month of March but continues to trade relatively flat for the year. The portfolio collected $258.44 in dividends and interest during the month all but $.16 of which was recurring on positions held.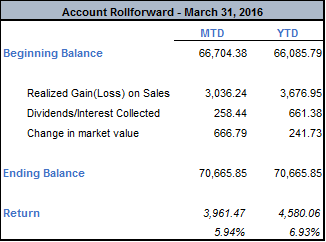 The portfolio was comprised of the following securities as of March 31, 2016: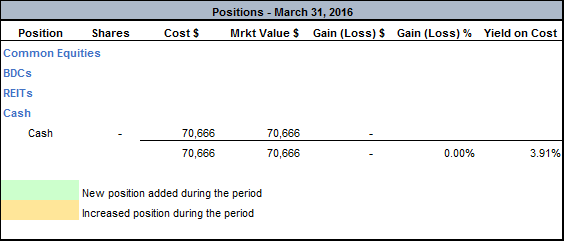 The following sections go into greater detail of the events that have occurred since the end of March.
Sales
As noted in the introduction, I sold all of the positions in the portfolio. To be honest, I felt that this was simply the easier route to go down as I have not yet decided how I want to recast the portfolio from the perspective of the number and size of positions.
As you can see, given the nice run-up in value that the portfolio has experienced, the portfolio had a nice realized gain of $3,036.24 from the sales.
Additions
Prior to selling, I had acquired some more US Bank(NYSE:USB) shares, as listed below. These too were sold near the end of the month.

Dividends Collected
As mentioned already, I collected $258.44 in dividends and interest during the month, all but $.16 of interest was recurring. I have included the forward-looking dividend summary for where the portfolio ended prior to the sale of the securities.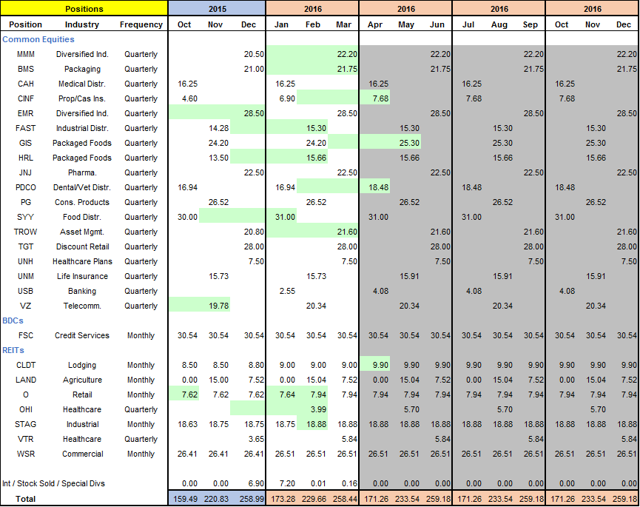 The income for the month represents a 0.2% decrease in dividends over December 2015 (the prior quarter); however, it should be noted that increases and purchases almost entirely overcame the special dividend that was received in December.

Dividend Increases
As I mentioned in the summary points of the article, the portfolio had two positions announce increased dividends. Dividend stalwart General Mills (NYSE:GIS) and relative new-comer Patterson Dental (NASDAQ:PDCO) both increased dividends by nice clips.

In looking at the charts, it is encouraging to see just how many of the positions have increased their dividends and we are only a quarter of the way through 2016.
Summary
March was the start of what will be several transformative months for the portfolio. Selling everything might seem a bit bold, but I made the decision based upon several factors.
First, I would be lying if I told you I wasn't concerned with current valuations. The storylines we're seeing right now are that market valuations are stretching at a time when corporate profits are contracting. I will assert that I do not have much faith in the current rally, which was a factor I weighed as I sold the portfolio. The realized gain exceeds an entire years worth of dividends.
Within the MnM portfolio, the valuations on several positions, namely Bemis (NYSE:BMS), Sysco (NYSE:SYY), Hormel (NYSE:HRL) and Fastenal (NASDAQ:FAST) have just gotten too high. Even Procter & Gamble (NYSE:PG) has rallied recently, in the face of declining revenues and stalled dividend growth. Further, I would also highlight the current debate that is fuming on Seeking Alpha. Realty Income (NYSE:O) has become a bit of a lightning rod lately, with people issuing strategies ranging from short positions, to selling, to covered calls. The one thing that most agree on right now is that the valuation is stretched.
Second, I have struggled with how best to handle individual positions, as under the current portfolio construction individual position sizes ranged in value from $500 to nearly $5k. Re-balancing the portfolio would have been a bit of a juggling act, and coming up with a plan would have been more messy than just initiating all new positions and choosing what to add from there. This decision may cost me some dividends in the near-term, but I want to take a more measured approach in reallocating.
I can say that right away several positions, such as Fifth Street Finance (NASDAQ:FSC) and Gladstone Land (NASDAQ:LAND) will be removed from the portfolio and replaced. I have considered swapping Procter & Gamble and T. Rowe Price (NASDAQ:TROW) for Kraft Heinz (NASDAQ:KHC) and Coca-Cola (NYSE:KO) as well.
Looking forward, my initial inclination is to reduce portfolio position sizes to $2,500 each and with the rollover contribution included, increase the portfolio from 25 positions to 33. This will get me a wider base and a great starting point. I could consider keeping most of the current securities, adding back on dips, while adding such names as Wells Fargo (NYSE:WFC), McCormick (NYSE:MKC), CVS Health (NYSE:CVS), Illinois Tool Works (NYSE:ITW), Ecolab (NYSE:ECL), Old Republic (NYSE:ORI), etc. I feel that patience will be important as I rebuild the portfolio.
The re-building of the portfolio and total asset sales will not become a recurring trend. A conflux of the market surging and a forthcoming rollover contribution presented an opportunity for a fresh start, one that I intend to take advantage of.
I'm open to your thoughts and suggestions as well, so let me know what you think.
Disclosure: I/we have no positions in any stocks mentioned, and no plans to initiate any positions within the next 72 hours.
I wrote this article myself, and it expresses my own opinions. I am not receiving compensation for it (other than from Seeking Alpha). I have no business relationship with any company whose stock is mentioned in this article.