Orchid Island Capital (NYSE:ORC) was on a slide this morning (April 14, 2016) as this article was being written. The shares were down about 3% from yesterday's close, while several peers were only down around half a percent or so. The major underperformance was the result of traders being disappointed with the REIT's latest portfolio update.
Portfolio Updates
Each month, Orchid Island Capital provides a portfolio update demonstrating its latest positions and the value of each position. The book value is provided in updates that follow the end of the quarter. For instance, January and April would both have book value estimates. While I'm using the term "estimate," it is important to recognize that management has excellent information in this regard and will be vastly more accurate than analysts can hope to be. While an analyst hopes to be within 2% on estimating book value, I wouldn't be surprised to see management nail it down to a penny or a nickel.
This is something I believe the rest of the industry should try to do. The monthly portfolio updates are an excellent tool for transparency.
The following chart demonstrates the latest portfolio characteristics for Orchid Island Capital's RMBS: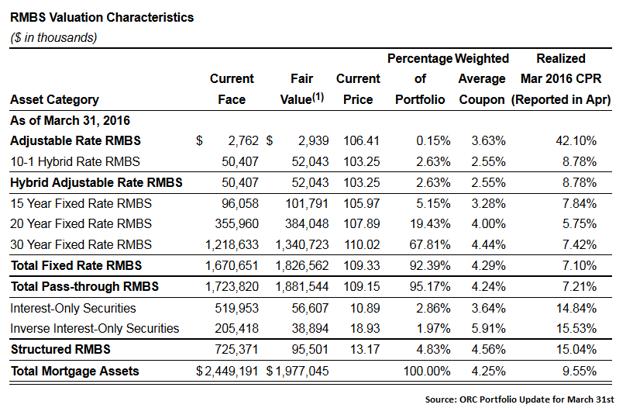 Book Value
The book value for March 31, 2016 was estimated at $10.99. This is a fairly significant decline from the end of Q4 in 2015. Book value was down $.65 and the dividend for the quarter was $.42. The net economic return comes in at a negative $.23.
Discount
The shares were trading at $10.53 while this article was being prepared, which represents about a 4.2% discount to book value as of March 31, 2016. This suggests ORC is one of the mREITs trading near the smallest discounts.
Revising an Opinion
While I have been concerned that share price for ORC has become too high, I must recognize another change in the market. Share prices are moving up across the board for both mREITs and the equity markets (both domestic and international). Due to my risk aversion, I find ORC materially more attractive when it trades at a discount that is around 5% larger than that for Annaly Capital Management (NYSE:NLY) or American Capital Agency Corp. (NASDAQ:AGNC). The simple logic indicates that larger mREITs should offer greater economies of scale, and their long history should encourage a slight pricing premium. However, ORC had a brilliantly timed move from using primarily futures contracts to include a significant position in LIBOR swaps. When the company reports earnings, it may start reporting Core EPS. Previously, it did not report this figure.
Because a material portion of hedging is still done through futures contracts, and because management brilliantly timed their entry into LIBOR swaps, the result should be an exceptionally low value reported for "cost of funds" and materially higher values for "Core EPS" as a percentage of book value. The result is the potential for ORC to trade at premium pricing relative to larger peers, because many investors and analysts may simply look at the net spreads and give Orchid Island Capital the title "best of breed" again.
I think management of ORC is fairly strong, but I don't like the idea of paying for a "best of breed" title that could disappear if the market turns bearish again. ORC's share price has been materially less efficient than that of its larger peers. For investors unfamiliar with the term, I am referring to the way the company's share price moves by larger amounts than peers and the tendency for discount to book value to be more volatile. The more volatile nature of the share price (despite a reasonable portfolio design) increases the importance of fundamental analysis.
Fundamental Challenge
The challenge facing Orchid Island Capital is simple. While it has locked in what appear to be very favorable net interest spreads, the strength will be at least partially a result of using historical costs. While the company pays a huge portion of its net interest income, the principal received from loans would usually be reinvested by the mortgage REIT. The current spread available between the expected yield on MBS and the rate on swaps that would hedge those positions is not huge. It isn't terrible, but it isn't huge. Unfortunately, the spread between MBS yields (on new purchases) and repo costs is also fairly weak. The simple result is that neither a heavily hedged nor a moderately hedged mREIT can expect to make exceptional levels of net interest income on new investments.
Conclusion
My view on ORC's share price remains that it is too high and not attractive for either traders or "buy and hold" investors looking to add to their position. My rating at this point would be around "sell" to "strong sell." This has been my stance for some time. Because of heavy risk aversion, I may be prone to downgrade shares of an mREIT too early. I want to see a margin of safety on investments, and I don't see it here. ORC is a fine mREIT, but the current price is simply too high.
I would need to see the share price declining to around $8.00-8.25 to get heavily bullish. I had previously thought $8.50 would be enough to get me excited, but the book value loss for the quarter exceeded my expectations.
Disclosure: I/we have no positions in any stocks mentioned, but may initiate a long position in PREFERRED SHARES OF ANY MREIT over the next 72 hours.
I wrote this article myself, and it expresses my own opinions. I am not receiving compensation for it (other than from Seeking Alpha). I have no business relationship with any company whose stock is mentioned in this article.
Additional disclosure: Information in this article represents the opinion of the analyst. All statements are represented as opinions, rather than facts, and should not be construed as advice to buy or sell a security. This article is prepared solely for publication on Seeking Alpha and any reproduction of it on other sites is unauthorized. Ratings of "outperform" and "underperform" reflect the analyst's estimation of a divergence between the market value for a security and the price that would be appropriate given the potential for risks and returns relative to other securities. The analyst does not know your particular objectives for returns or constraints upon investing. All investors are encouraged to do their own research before making any investment decision. Information is regularly obtained from Yahoo Finance, Google Finance, and SEC Database. If Yahoo, Google, or the SEC database contained faulty or old information, it could be incorporated into my analysis.