Vuzix (NASDAQ:VUZI) announced that the company has capacity to connect the soon-to-be-released M300 smart glasses with GoPro (NASDAQ:GPRO) cameras to deliver complete hands-free viewing and control capability. Vuzix was selected by GoPro as one of the first developers to have access to GoPro's Developer Program Toolkits.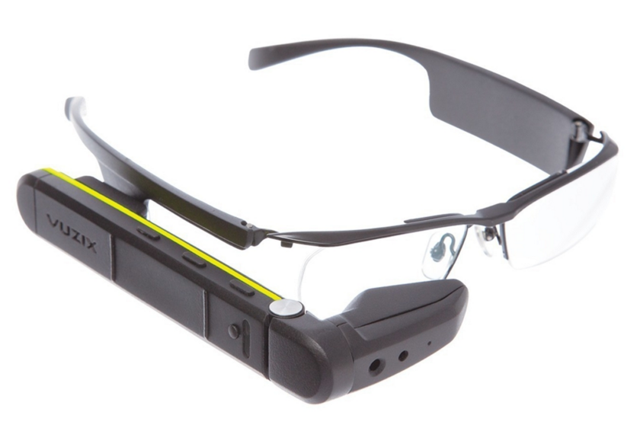 Vuzix M300
(Image Source: PR Newswire)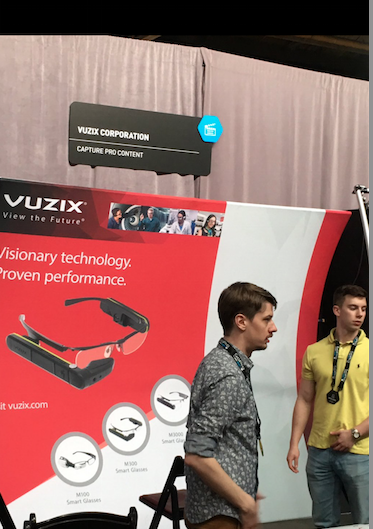 Vuzix Booth at GoPro's Developer Conference held in San Francisco, CA on April 14th
(Image Source: Wall Street Forensics)
The announcement with GoPro expands and shows the versatility of Vuzix's M300 product that can be used by enterprise customers and as a vehicle to consume and produce media by prosumers. Vuzix enables GoPro consumers, including filmmakers and other creators of media content, access to hands-free camera viewing and control through a pair of smart glasses via gesture controls.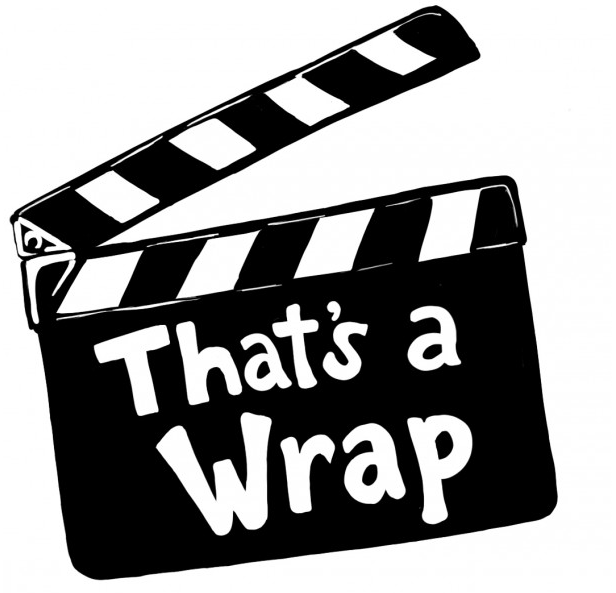 Vuzix M300 smart glasses coupled with GoPro cameras are great for filmmakers.
The selection by Vuzix by GoPro as one of the first developers is a testament of Vuzix's leading position as an augmented reality hardware manufacturer and perhaps a glimpse into significant enterprise offerings between the two companies down the road.
GoPro is a camera-centric, action- and thrill-seeking focused company, and Vuzix is a leader in the enterprise sector and head-mounted display technology. One major opportunity within the enterprise space for augmented reality smart glasses is sharing two-way video to provide hands-free support for manufacturing, field service technicians, medical professionals and more.
Oftentimes, a partnership, development agreement or cross-leveraging technologies between two companies are not only about seizing immediate market opportunities, but also focused on a much larger market opportunity. With that in mind, shipments of consumer drones will more than quadruple over the next five years, according to Business Insider, but the biggest growth opportunity is enterprise customers.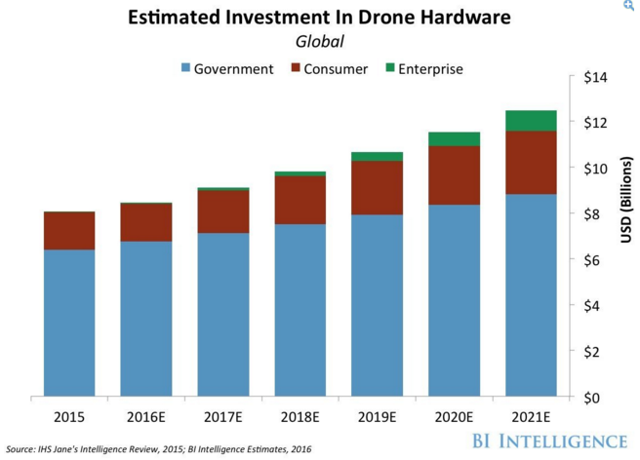 (Image Source: Business Insider)
However, despite the incredible forecasted growth coming from the consumer sector, the fastest-growing segments of the drone industry will surprisingly come from enterprise customers, not from consumers. In terms of overall spending, the military is still by far the largest consumer of drones.
Growth in the enterprise sector will outpace the consumer sector in both shipments and revenues as regulations open up new use cases in the US and EU, the two biggest potential markets for enterprise drones.
Business Insider estimates that drone sales will grow from $8 billion annually in 2015 to $12 billion by 2021. In terms of unit volume, enterprise shipments are expected to grow from under 100k a year in 2015 to 800k annually by 2021.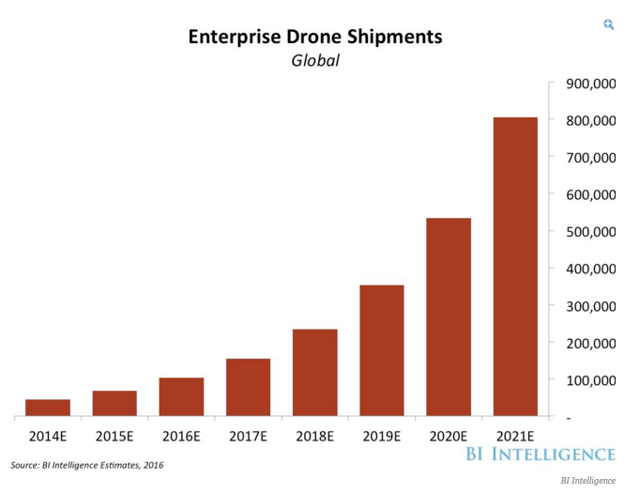 (Image Source: Business Insider)
The enterprise drone unit volumes above do not appear significant compared to mobile phones or PC sales, but it is important to keep in mind that the number of enterprise smart glass deployments only number in the tens of thousands to date. Even if a small percentage of enterprise drone consumers acquire smart glasses in conjunction with drones, the annual revenue that will be generated is staggering. If 10%, or 80,000, of the 800,000 drones purchased by the enterprise sector are accompanied by smart glasses, it would result in $120 million in smart glass hardware sales alone, assuming a $1,500 ASP.
Here's the rub for investors. Vuzix beat out Google Glass (NASDAQ:GOOGL) and all of the other competitors in the augmented reality smart glass industry to be one of the first developers with GoPro. GoPro is a consumer-focused company, and Vuzix has aspirations to deliver consumer fashion smart glasses to the masses in the future.
Vuzix is a leading player in the augmented reality hardware sector focused on enterprise customers, a market segment GoPro does not participate in enough today. Enterprise represents the fastest-growing segment of the augmented reality hardware industry and drones over the near and medium term.
The announcement between Vuzix and GoPro, in my opinion, is the first step in what could be a very fruitful opportunity to cross-leverage the best products from both companies to significantly expand the addressable market for both companies. Additionally, GoPro is fun and adventurous, and by association, Vuzix's brand will become more recognizable to consumer and prosumers as a result of this relationship, which is important as Vuzix inches closer to introducing consumer fashion smart glasses in the not-so-distant future.
Disclosure: I am/we are long VUZI.
I wrote this article myself, and it expresses my own opinions. I am not receiving compensation for it (other than from Seeking Alpha). I have no business relationship with any company whose stock is mentioned in this article.
Editor's Note: This article covers one or more stocks trading at less than $1 per share and/or with less than a $100 million market cap. Please be aware of the risks associated with these stocks.