Ford Motor Company (NYSE:F) and the broader automotive industry have been posting record sales figures through 2015 and 2016. A recent article from Brent Miller highlights some of the ongoing success Ford has had; readers of the article presented another issue. It seems a main concern with the increase in auto sales is the "sub-prime" auto loan issue. I believe this concern warrants a deeper dive and hopefully we can finally put this issue to rest.
The sub-prime home mortgage crisis that led to the 2008/2009 recession was a tough lesson to endure for lenders. It turns out that giving people money they can't ever pay back is a bad idea. The word "sub-prime" would forever be etched into the vocabulary of investors. Individuals are once again concerned with this idea, especially within the auto-industry. In the years preceding the recession we saw record home sales driven by sub-prime mortgages; now we have record auto sales and many feel that is due to a rise in sub-prime auto loans.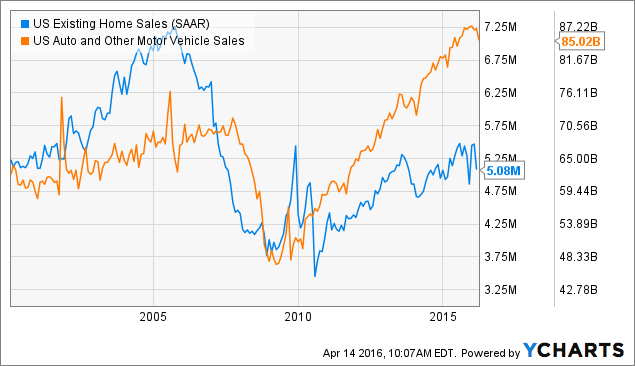 US Existing Home Sales data by YCharts
The chart above certainly is scary at first glance; words like "bubble" and "correction" come to mind when looking at the solid rise in auto sales even as home sales have remained relatively flat. The sub-prime auto loan concerns weigh heavily on Ford.
Enter Ford Motor Company and their unique situation. During the recession Ford avoided taking the government bailouts and as a result were able to retain Ford Motor Credit, their in-house bank. With FMC retained Ford is subject to additional scrutiny from investors, especially as sub-prime concerns and "peak auto" theories rear their ugly heads. If Ford is exposed to these sub-prime loans through Ford Credit and should the economy sink the company would be horribly affected. One thing we must keep in mind is that not every Ford sold is financed through Ford Credit. For my own knowledge I dove into FMC, what I found was interesting.
Ford Motor Credit Company is a unique strength for the company. In 2015 the financial services wing brought in just over $2 billion in pre-tax profit for the company and is somewhat of a secret weapon. Ford Credit also forces the company to carry a huge amount of debt on it's consolidated balance sheet, an issue that Dividend Drive recently covered in a great article. I had failed to recognize this myself at my first crack at looking at Ford, consider this my mea culpa and apology. The company carries $132.9 billion in debt, $120 billion of that is a result of Ford Credit. This "good debt" will remain good so long as those car loans continue to be paid and that will only be the case if those loans are to low-risk customers.
The company goes to great lengths to provide investors with information on Ford Credit. This graphic below is pulled from their 2015 annual report.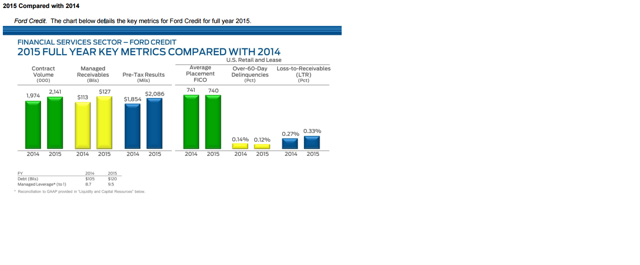 As expected, the rise in auto sales has led to a rise in profit from their financial services. The two most important metrics for investors here is average FICO and over-60-day delinquencies. In 2015 the average credit score in the US was 699, Ford Credit's average loan placement was 740.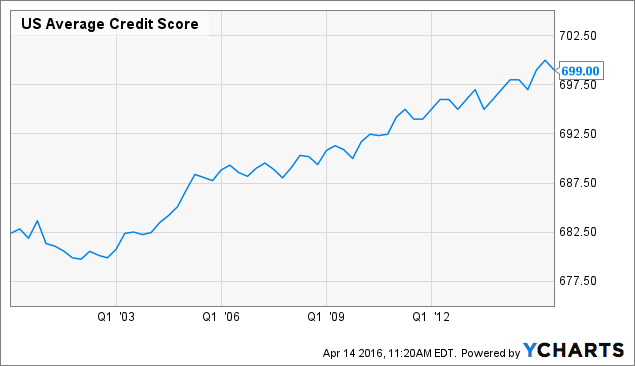 US Average Credit Score data by YCharts
Any concern over Ford and sub-prime customers should be remedied with the above facts. With a well above average credit score it is no surprise that Ford Credit only saw .12% in delinquencies over 60 days, a full .02% improvement over 2014 even with 167,000 more contracts being written. Such a small amount of delinquencies and the fact that they are going down YoY even as loans go up should ease investor's minds.
At the 2016 Auto Summit Brokers Conference CFO Bob Shanks addressed this issue in even more detail and acknowledged that FMC only has 5%-6% of its portfolio in what it would deem as high risk but not necessarily sub-prime loans. The low-risk profile of the loans on FMC books cannot be stressed enough. There is still additional concern with FMC if auto sales were to slow down, this too has been addressed.
The concern is logical, if auto sales slow down wouldn't FMC start to drag the overall company down? During the most recent earnings conference call Bob Shanks informed investors that FMC is in fact self-funding and self-liquidating. Simply put, FMC costs Ford nothing to operate and should sales slow down then FMC will shrink in kind.
There will always be the concern that auto sales will slow down, Ford can't do anything about that. What Ford has done is insulate themselves very well from default risk on their auto loans and created a cash-positive financing arm. Their conservative management during the rise in auto sales will pay the company dividends even if the industry sees a drop in sales. Investors need not worry about Ford Motor Credit and sub-prime auto loans.
Disclosure: I am/we are long F.
I wrote this article myself, and it expresses my own opinions. I am not receiving compensation for it (other than from Seeking Alpha). I have no business relationship with any company whose stock is mentioned in this article.