As discussed in "Baby Bonds For BDCs", I am expanding my coverage to include high-yield bonds for investors that would like to limit the amount of pricing volatility and overall risk in exchange for lower yields. However, investors need to keep in mind that volatility goes both ways and as mentioned in my "April Newsletter", business development companies ("BDCs") have been easily outperforming the S&P 500 and high-yield bonds as shown in the chart below. I am still expecting a pullback but happy to see a continued rally as BDCs have been underperforming the general markets since 2014. I have included iShares iBoxx High Yield Corporate Bond ETF (NYSEARCA:HYG) and SPDR Barclays High Yield Bond ETF (NYSEARCA:JNK) that are up around 6.6% over the last three months compared to the S&P 500 at 10.9% and the average BDC over 16.4%. Keep in mind that this does not include dividends paid with the average BDC yielding over 12% annually compared to HYG and JNK closer to 6%.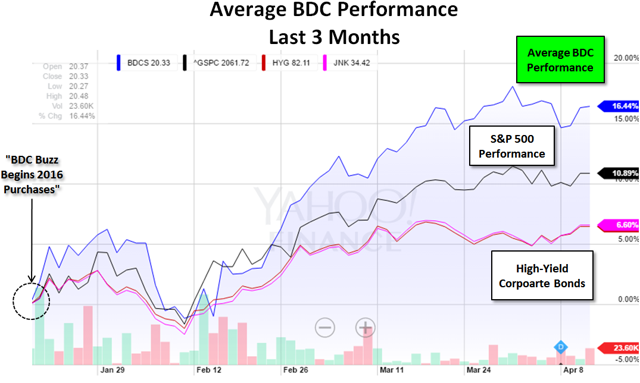 However, not all BDCs have participated equally in this rally and I am expecting a wide range of operating results in the coming weeks that will likely cause increased bifurcation in multiples and price performance.
The following chart/table shows the recent stock price performance for Hercules Technology Growth Capital (NYSE:HTGC), Main Street Capital (NYSE:MAIN), Fifth Street Finance (NASDAQ:FSC) and Medley Capital (NYSE:MCC) compared to the average BDC and S&P 500. Clearly investors are paying multiples based on operating results and credit quality as MCC and FSC have continuously had credit related within their portfolios.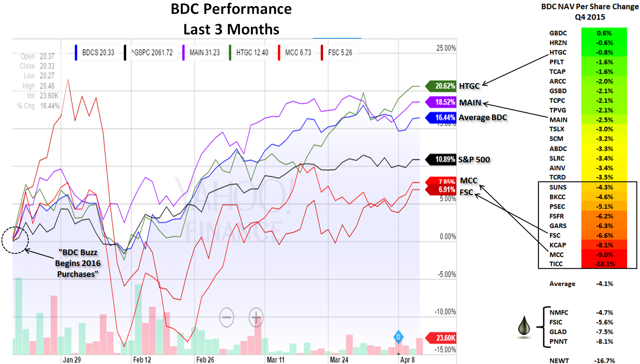 Relative Valuations Using Price-to-NAV
Many BDC investors are confused by the wide range of price-to-NAV multiples assigned to BDCs by investors. Part of this confusion is likely related to perceptions of NAV (or book value) as an amount that investors could expect in a worst case liquidation scenario. Wrong. BDC assets are primarily illiquid, without direct market comps, and management uses valuation firms with various assumptions and a range of values. The management of each BDC is responsible for assessing proper valuation firms and assumptions used, including choosing where in the range of valuations provided by 'independent parties'. It has become very clear to me that certain BDCs use conservative or aggressive valuations and this is often reflected in the multiples that investors are willing to pay. However, investors are also driven by relative dividend yields, based on potential changes to the dividend and/or perceived risk, so I believe valuing BDCs is more complex.
During the recent earnings call for TPG Specialty Lending (NYSE:TSLX), Josh Easterly, the CEO, hit the nail on the head with:
"Quite frankly, again, I think the space -- it would probably be less difficult for the space to raise capital if there was a clear, consistent approach to valuation. My view, and you've heard me say this, is either managers will mark their book or the market will mark it for them."
The following table shows the current price-to-NAV for many BDCs.

It should be noted that MAIN, HTGC and Triangle Capital (NYSE:TCAP-OLD) are internally managed companies but so is KCAP Financial (NASDAQ:KCAP) at the other end. Also, BDCs with access to U.S. Small Business Administration ("SBA") debentures through Small Business Investment Company ("SBIC") licenses have the ability to use higher amounts of leverage. This would include MAIN, TCAP, HTGC, Golub Capital BDC (NASDAQ:GBDC), Fidus Investment (NASDAQ:FDUS), TCP Capital (NASDAQ:TCPC), New Mountain Finance (NYSE:NMFC), Monroe Capital (NASDAQ:MRCC) and Ares Capital (NASDAQ:ARCC). On March 29, 2016, MAIN announced that the SBA has issued a "green light" letter to obtain a third license and the company has already completed and submitted its application to the SBA.
Apollo Investment (NASDAQ:AINV) and PennantPark Investment (NASDAQ:PNNT) are likely being double discounted due to oil related exposure as these companies have marked down exposed investments and investors have assigned further discounts. Given the average BDC is trading at a 9% discount to NAV, which is much better than earlier this year, would imply that BDCs trading at discounts of 20% or more have investor trust issues including KCAP, FSC, MCC, Full Circle Capital (NASDAQ:FULL), Fifth Street Senior Floating Rate (NASDAQ:FSFR), Prospect Capital (NASDAQ:PSEC), Stellus Capital Investment (NYSE:SCM) and TICC Capital (NASDAQ:TICC). It is also important to note that FSC, FULL, FSFR, PSEC and TICC do not have fee agreements that protect shareholders against capital losses, and management could earn full income incentive fees while NAV per share falls. Basically, paying management incentive fees for poor performance.
Q1 2016 BDC Earnings Seasons
The following charts shows when BDCs began to report Q4 2015 results which is also when they began to outperform compared to other high-yield investments and the general market. There are many potential reasons for this as discussed in my previous articles.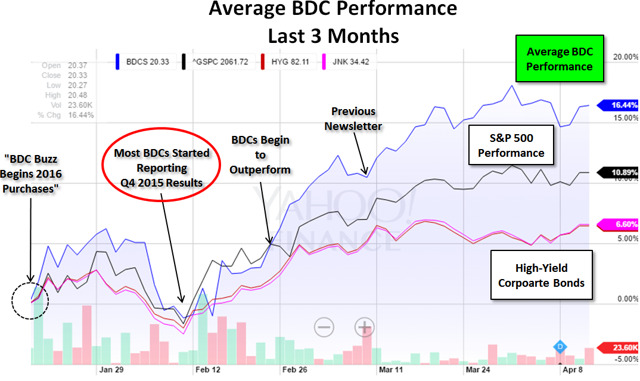 Similar to FSC and MCC, I am expecting various other BDCs to have credit issues in 2016 and investors need to closely watch the upcoming results for signs of changes in portfolio credit quality beyond NAV per share including the restructuring of investments, individual writedowns, management discussions on calls and footnotes, etc. If you are interested in updates as each company reports results (and free monthly newsletter), please visit "BDC Buzz.com". For a list of all my articles including BDC rankings (risk, return, pricing, dividend potential), interest rate sensitivity comparisons, target pricing charts and valuations, individual dividend sustainability, my historical purchases and current positions, and suggested BDC portfolios, please see my "BDC Research Page".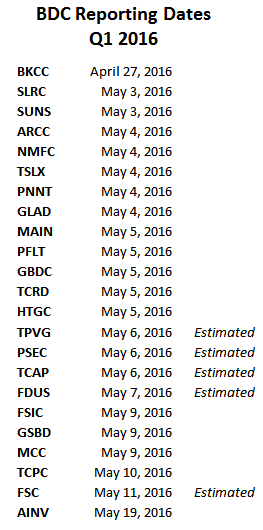 Personal note: I have updated my positions to reflect changes in my holdings, but please keep in mind that some of the positions are VERY small and mostly for research purposes.
Disclosure: I am/we are long ABDC, AINV, ARCC, BKCC, FDUS, FSC, FSFR, FSIC, GAIN, GARS, GBDC, GLAD, GSBD, HTGC, MAIN, MCC, MRCC, NMFC, PFLT, PNNT, PSEC, SCM, TCAP, TCPC, TICC, TPVG, TSLX. I wrote this article myself, and it expresses my own opinions. I am not receiving compensation for it (other than from Seeking Alpha). I have no business relationship with any company whose stock is mentioned in this article.
Editor's Note: This article covers one or more microcap stocks. Please be aware of the risks associated with these stocks.