By Rupert Hargreaves
A tightening labour market and peak margins pose a risk to S&P 500 profits in the near term; that's according to a new research report on rising labour costs and US equities from Goldman Sachs (NYSE:GS).
The report notes that while average hourly earnings growth has spiked higher to 2.3% this year, this growth is still below the long-term average. Moreover, the healthy labour market should drive an acceleration of the trend labour costs.
This could be a problem for corporates. Goldman's analysis suggests that each 100 bps acceleration in US labour costs above a baseline assumption of 3% would weigh on S&P 500 EPS by roughly 0.7%. This may not seem like much for the market as a whole but wage growth has and will continue to be the most concentrated in the labour-intensive consumer discretionary, industrial, retail and restaurant industries.
So, while the market on aggregate will not be crippled by high labour costs, some sectors will struggle with the wage growth more than others.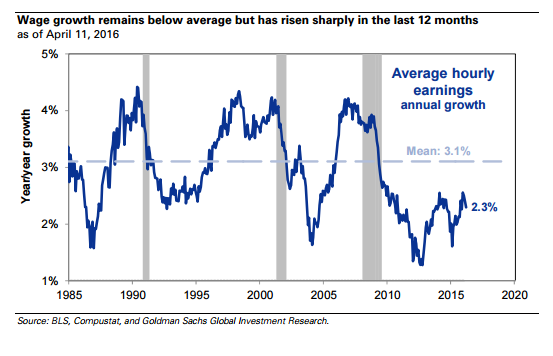 Profit margins under pressure
S&P 500 net profit margins currently sit around 8%, just below their record cyclical and secular highs.
Margins have been able to widen to this level thanks to sluggish wage growth, which has accelerated net profit margin expansion. Specifically, during the last five years while corporate earnings and equity prices have risen sharply, wages have grown at an annual rate of just 2% - the slowest pace of growth in the last 50 years, and 100 bps below the 30-year average of 3%.
But now wage growth seems to be picking up. US unemployment is already at 5%, labour market strength should support further acceleration. Broadly speaking this is good news for workers and bad news for investors. Although, a correction in the labour market has been long overdue.
Corporate profits currently represent 8% of US GDP, down from more than 10% before the oil price started to slide in 2013/2014. As shown in the chart below, corporate profits after tax as a share of GDP are currently at record levels. However, record corporate profit margins have come at the expense of wages. The personal wages and salary as a percentage of US GDP­­ have fallen to the lowest level since 1950 as corporate margins have expanded.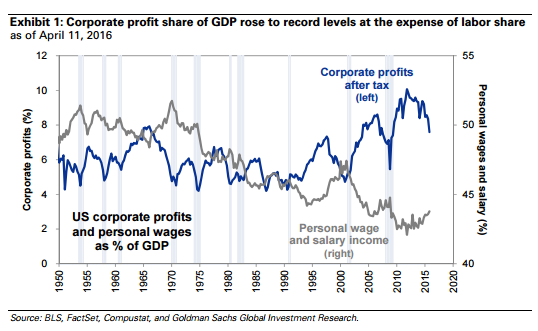 Wage growth accelerating
With states introducing higher minimum wages, politicians campaigning against inequality and companies themselves trying to improve their image by hiking wages, it's clear it's only a matter of time before this trend is reversed.
Using a combination of US government data and company filings, Goldman's analysis shows that a 100 bps acceleration in US wages (from the baseline assumption of 3% growth) would reduce S&P 500 EPS by roughly 0.7%. Sectors with labor-intensive businesses and already-low margins such as industrials and consumer discretionary appear the most vulnerable.

Disclosure: Rupert may hold positions in one or more of the companies mentioned in this article. You can find a full list of Rupert's positions on his blog. This should not be interpreted as investment advice, or a recommendation to buy or sell securities. You should make your own decisions and seek independent professional advice before doing so. Past performance is not a guide to future performance.