As with other upstream MLP, Memorial Production Partners (NASDAQ:MEMP) was bracing itself for a credit facility redetermination in April. As was expected, MEMP saw its borrowing base reduced by 21% to $925 million, $250 million lower than the previous level of $1.175 billion.
While a 21% reduction may seem steep, MEMP actually came out okay compared to some of its peers. EV Energy Partners (NASDAQ:EVEP) saw its base slashed by 27%. Vanguard Natural Resources (NASDAQ:VNR) was forced to sell assets to cover a projected gap. While Breitburn Energy Partners (NASDAQ:BBEP) is expecting an even larger cut, so large that it is now exploring "strategic alternatives."
Though, this all came at a price, as will be explained below.
Distribution will be cut
As part of the agreement, MEMP will be restricted on future cash distributions, as explained below:
If the total debt ratio (total debt at the time of the distribution divided by consolidated EBITDAX for the previous four quarters) is greater than 4.0x, the Partnership may only make a distribution if it has availability subject to certain liquidity and financial tests and in any such case up to a maximum total cash distribution amount of $4.15 million per quarter

If the total debt ratio is less than 4.0x, the Partnership may only make a distribution if it has availability, pro forma for such distribution, of at least 15% of the borrowing base, but if it satisfies such tests then cash distributions are not limited to any total amount
Given that its leverage ratio is currently 5.9x, well above the 4.0x threshold, MEMP will not be able to distribute more than $4.15 million in cash per quarter. With 82.9 million common units currently outstanding, this comes out to around $0.05 per unit every quarter, or $0.20 per unit annually.
In other words, MEMP's next quarterly distribution is most certainly going to be cut from the current $0.10 per unit level. Though, assuming it goes to $0.05 per unit, the distribution yield is still a hefty 10% per year. At the prior rate, the yield was 20%, so the market was already pricing in a cut.
Cash flows are very strong
While the distribution cut is unfortunate, this does not necessarily mean that MEMP is facing any sort of cash flow crisis. Rather, the company is generating pretty good cash flows, despite lower oil prices. This is largely due to MEMP's impressive hedge book.
A full 93% of production is hedged in 2016, 76% in 2017, 69% in 2018 and 53% in 2019. Furthermore, these hedges are at prices above $80 per bbl for oil and $4.00 per mcf for natural gas, double current price. This is by far the best hedging among the upstream MLPs.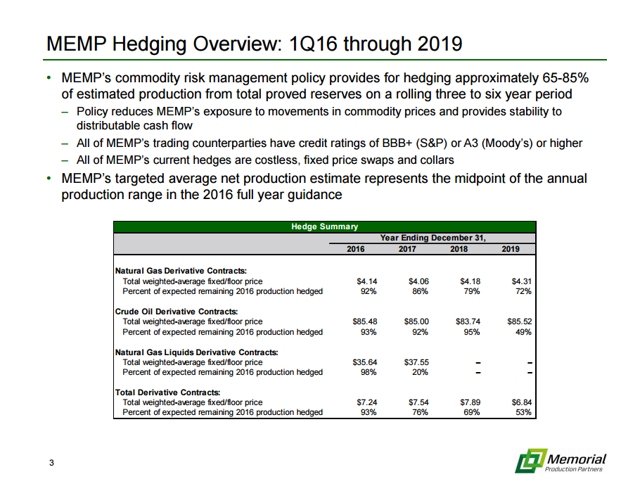 In Q4 2015, the company generated distributable cash flow "DCF" of $34.9 million and $125.2 million for the year. The company would be able to cover its lowered distribution with just 16% of its 2015 DCF. While DCF is slated to drop in 2016 due to lower production, coverage should still remain extremely robust.
Liquidity is okay for now
As of March 31, MEMP was left with $131 million of spare capacity on its credit facility, or around 14%. MEMP should should also end 2016 with $80-100 million in excess cash flow after distributions. The borrowing base could be cut by another 20-25% and MEMP would still have enough liquidity. Not a lot of its peers can say the same.
Conclusion
By far the biggest winners from this announcement from MEMP are its bondholders. The company is distributing just 16% of its cash flow to distribution. All the rest will be used to lower the debt pile. It is clear where the priorities are.
As of March 31, 2016, MEMP had total debt outstanding of $2.0 billion, $800 million under its revolver and $1.2 billion in senior notes. Total debt should fall by at least 5% in 2016 just via retained excess cash flow. Though, leverage will remain elevated unless oil and gas prices were to rise.
There is also the subject of buying back or exchanging debt. Others in the sector have done so and MEMP can afford it. The senior notes are currently trading at well under par. Though, doing so would result in them booking large amounts of book cancellation of debt income ("CODI), which is a negative for the common unitholders.
Nevertheless, MEMP is in a lot better shape than the majority of its peer group. The equity still offers a yield, unlike say BBEP, Vanguard and Linn Energy (NASDAQ:LINE) (NASDAQ:LNCO), and it is trading at an absurd 1.5-2.0x its 2016 DCF per unit. Furthermore, the hedge book provides a ton of security. I think this one is a survivor. I have added to my position in recent weeks.
Disclaimer: The opinions in this article are for informational purposes only and should not be construed as a recommendation to buy or sell the stocks mentioned. Please do your own due diligence before making any investment decision.
Disclosure: I am/we are long MEMP, VNR, BBEP.
I wrote this article myself, and it expresses my own opinions. I am not receiving compensation for it (other than from Seeking Alpha). I have no business relationship with any company whose stock is mentioned in this article.