Welcome to the April 15th edition of Seeking Alpha's Eye on Tech newsletter.
Noteworthy Tech News
Bloomberg: Apple weighing paid search listings, new browsing options for App Store - Paid search would provide a new way of monetizing the App Store, which produced over $6B in 2015 net revenue (over $20B in gross revenue) for Apple (NASDAQ:AAPL). But I suspect Apple's larger priority here is the health of the iOS developer ecosystem - smaller mobile developers have complained for years about how difficult it is to get noticed in the App Store and Google Play, each of which now claim over 1M apps.
Also a problem: Many installed apps are sparsely used. Google, which has already rolled out paid search listings for Google Play and Search, estimates the average person uses only 26% of their apps daily, and that a quarter of apps are never used at all. Yahoo stated in 2014 the average Android user has 95 apps installed, of which 35 are used each day.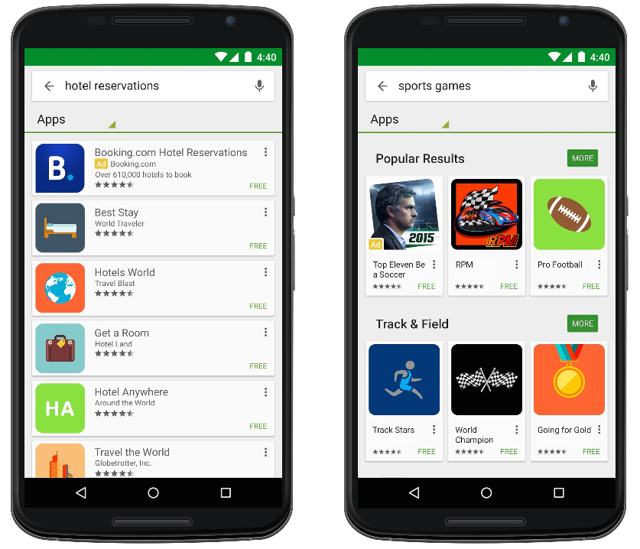 Paid app search listings on Google Play.
Facebook (NASDAQ:FB) app install ads (a large chunk of Facebook's mobile ad revenue, from all indications) have been one of the few good options developers have had for getting noticed, and the company has also had traction with app engagement ads that urge users to launch an app they've already installed but haven't been using. Now Apple apparently wants to provide its own options.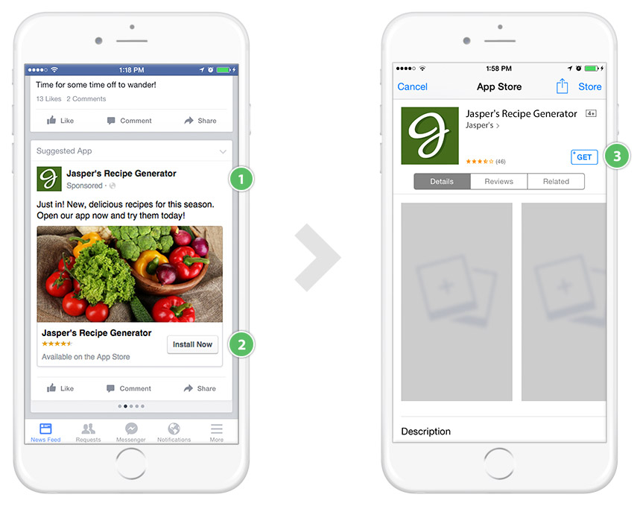 An example of a Facebook app install ad.
Over the long run, better app recommendation tools will need to be part of the solution to the app discovery and app engagement issues. Facebook, meanwhile, is pitching bots as an alternative to downloading more apps when users only need certain basic functions.
Report: The Canadian police have had a BlackBerry global encryption key since 2010 - Vice states the encryption key, which could potentially be used to monitor the communications of millions of BlackBerry (BBRY) users, was used by the Royal Canadian Mounted Police ("RCMP") to intercept and decrypt 1M messages from numerous users, as part of a 2011 murder probe. Details remain limited on exactly how the RCMP obtained the key - BlackBerry has previously said it uses a global encryption key only the company has access to - and on whether the key has been changed.
Of note: BlackBerry allows corporate and government clients to use their own encryption keys. Still, the report is bound to make some non-corporate BlackBerry users uneasy, and isn't good PR for a company that has often talked up its privacy/security strengths as it continues an enterprise-focused turnaround effort.
Twitter struggles to drive traffic to other sites - Data from analytics firm Parse.ly shows Twitter (NYSE:TWTR) accounting for only 1.5% of referral traffic for news publisher clients, compared with ~40% apiece for Facebook and Google. Even after accounting for differences in U.S. active users, that's a massive delta, particularly given Twitter's status as a go-to news source for many. The figure also highlights the challenge Twitter faces in driving higher click-through rates for Promoted Tweets.
GoPro launches developer program for third-party mounts, accessories, and apps - Over 100 partners already support GoPro's (NASDAQ:GPRO) Developer Program, including BMW (making a lap timer app for drivers), Volkswagen, Fisher-Price (creating camera mounts for children's toys), SanDisk (GoPro-certified memory cards) and Twitter's Periscope livestreaming platform (an existing partner).
The announcement (apparently in the works for some time) comes on the heels of GoPro's hiring of Apple's Danny Coster to be its VP of Design. GoPro has occasionally made moves to grow its ecosystem - for example, every 2016 Toyota Tacoma pickup contains a GoPro camera mount - but the company has also tried to emphasize sales of its own accessories/mounts, and drive usage of its own app. Indeed, every earnings report comes with an update on GoPro app downloads - for those wondering, there were nearly 24M cumulative downloads of the GoPro Mobile App as of the end of 2015, and over 15M installs of the GoPro Studio PC/Mac app.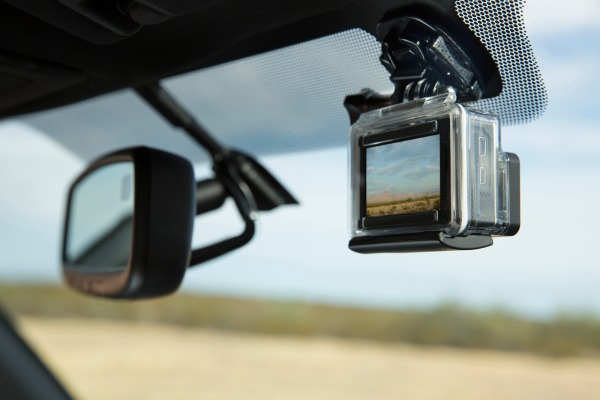 A GoPro camera mounted on a Toyota Tacoma pickup.
There's naturally a risk that creating a formal hardware/software ecosystem will weigh on GoPro's own sales and downloads. But given recent sales trends, this looks like a risk worth taking. As far as its action camera business goes, GoPro's focus right now needs to be on growing its addressable market and upgrade rates by creating new use cases and making consumers aware of them. A large partner ecosystem should help with that.
Instagram launches video channels within Explore feature - It's all about video (and bots!) for Facebook right now. Instagram's Explore section - one of its main content-discovery tools, along with a search engine and a "Trending" section - now contains a "Videos you might like" channel, as well as "Featured" channels containing autoplay videos on specific topics (echoes of Twitter's Moments feature).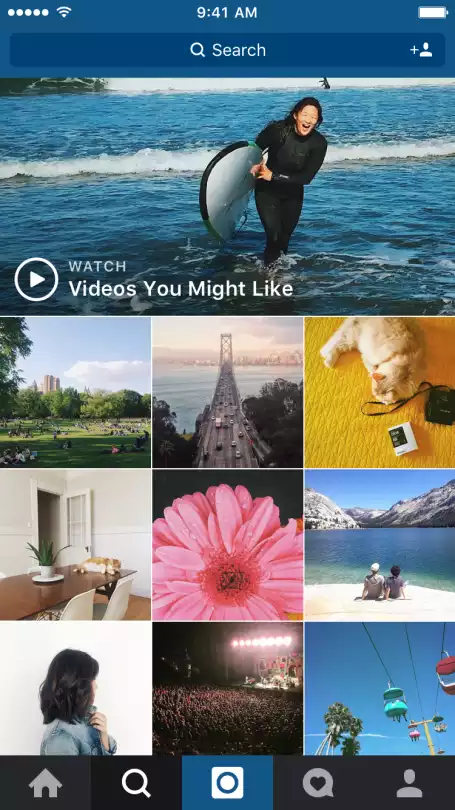 Instagram's Explore section. Now with more video.
Instagram assures its algorithmic approach to delivering content within Explore remains unchanged. "Explore still works the same way: It connects you to posts about your interests from people you don't yet follow. The more you like, the better Explore gets, adjusting to your preferences and showing you more of the stuff you enjoy. And if you see something you don't like, tap 'See Fewer Posts Like This'..." There should be opportunities (if Instagram wants to go in this direction) to include video ads that are relevant to a particular Featured channel.
Last week, Facebook launched a video hub and video search engine for its core app that are accessible through a menu bar tab, and gave its Live video platform a big facelift and a heavy dose of promotions. And two weeks ago, Instagram increased its max video length for all users by 4x to 60 seconds.
This sudden all-out video push isn't exactly an existential threat to YouTube (GOOG, GOOGL), which remains the 800-lb. gorilla of online video still has quite a few things going for it. But it leaves Facebook/Instagram well-positioned to grab more online video share, and with it take a larger portion of the TV ad dollars moving to digital channels.
Lyft gaining on Uber in U.S. with help of aggressive spending/promos - In America as in China, the ride-sharing wars remain fierce and costly. $50 ride vouchers, half-off fare discounts and hefty driver referral bonuses are some of the tactics Lyft (LYFT), which has delayed international expansion to focus on U.S. growth, has used to gain ground on Uber (UBER).
On the flip side, Uber, which got 50M of its 169M March ride bookings from the U.S., has promised its North American ops will be profitable by Q2. Lyft did 11M U.S. rides in March, up from 7M in October. It has reportedly promised investors its monthly losses will remain below a paltry $50M.
Alphabet reportedly planning digital "testbed" city filled with advanced Google technologies - The Information reports Alphabet's Sidewalk Labs unit, which is looking to use tech to solve various urban problems, wants to "create an area in the U.S. that serves as a testbed for new technologies from superfast Internet to autonomous cars." ~100 "city planning experts, researchers, and technologists" are reportedly involved.
It's safe to file this project under the "long-term moonshot" category. However, as Re/code notes, the project could help Google sell other cities on the value of specific products/technologies, such as Fiber and self-driving cars, in the near-term.
Micron selling $1.25B in debt at 7.5% interest rate - Shares sold off in regular trading after Micron (NASDAQ:MU) announced a $1B offering. The deal was upsized and priced after the bell.
With Micron hit hard by weak DRAM/NAND flash pricing (EPS turned negative in the February quarter) and the company having already said it would take on $2.5B in debt to help take full ownership of its Inotera DRAM JV, markets aren't thrilled with the debt raise. It could be sparking fears Micron's capex needs will be larger than expected, and it ramps 3D NAND and 3D XPoint memory production and tries to keep up with an aggressive Samsung in both DRAM and NAND.
Chinese firms extend $1.23B offer for browser vendor Opera Software - China's efforts to acquire foreign tech companies are extending into software. Among the prospective buyers is soon-to-be-private Qihoo 360 (NYSE:QIHU), which claims hundreds of millions of Chinese users for its own browsers.
If Opera (OTCPK:OPESF) agrees to a deal, EU regulators might take a look. The Opera Browser has a relatively large European base, and has been lauded for its security features. On the other hand, its market share (even in Europe) is a small fraction of that of Chrome, Firefox and IE/Edge.
Bloomberg: Synaptics looking to announce sale to Chinese group by month's end - The Synaptics (NASDAQ:SYNA) report arrived a day after China's Tsinghua Unigroup disclosed a 6% stake in Lattice Semi. Synaptics popped on the news, but still closed more than 20% below the $110/share buyout price reported by Bloomberg, as fears U.S. regulators will reject the deal continue looming large.
Given it's a top supplier of PC touchpads, mobile touch controllers, fingerprint sensors, and mobile LCD driver ICs, regulators arguably have far more reason to reject a Chinese acquisition of Synaptics than one of Fairchild Semiconductor (FCS), a maker of low-margin power management chips. And Fairchild turned down a Chinese buyout offer because it was worried regulators would shoot down the deal.
Bloomberg: STMicro looking for CEO Bozotti's successor - The French/Italian chipmaker has been losing share and is in the middle of a restructuring. Notably, the French government reportedly wants STMicro (NYSE:STM) to abandon its tradition of choosing Italian CEOs. With both the French and Italian governments owning 27.5% stakes, political considerations always loom large with this company. Shares moved higher following Bloomberg's report, but still finished down on the day.
Noteworthy Tech Commentary and Reports
NPD: U.S. video game hardware sales drop in March, physical software sales rise - Hardware sales fell 19% Y/Y, nearly on par with February's 23% drop. But software rose 7% after dropping 11% in February - the launch of Ubisoft's (OTCPK:UBSFY) Tom Clancy's The Division (March's top game) provided a lift. Worth remembering NPD's data doesn't cover game download sales or other digital revenue.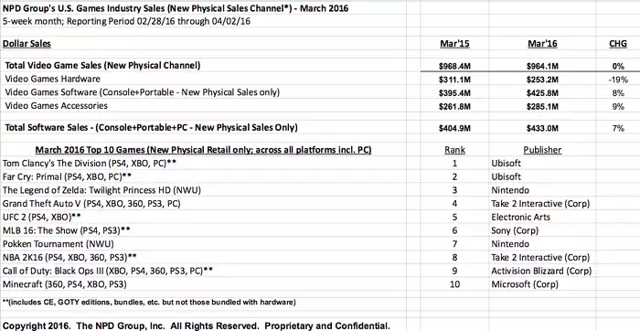 NPD's March data
The PlayStation 4 (NYSE:SNE) was once more the top-selling console. Take-Two's (NASDAQ:TTWO) Grand Theft Auto V is still going strong, clocking in at #4 on NPD's top-10 game list. Microsoft's (NASDAQ:MSFT) Killer Instinct: Season 3 has seen "record engagement across Xbox One and Windows 10 since it launched on March 29," according to a company exec.
Tech.pinions: There is a revolution and it has a voice - A good overview of how advances in A.I., processing power, and cloud resources are helping voice recognition/assistant services take off, and of the various instances the technology is more useful/convenient than alternatives. But I think the author overlooks something when suggesting voice will replace keyboards and touchscreens as the dominant interface: Many people find constantly talking to a device uncomfortable, awkward, and/or distracting to those around them, even if it's "convenient" to do so. This especially holds in public places.
I think part of the reason Amazon (NASDAQ:AMZN) has stolen a march on Apple and Google in this space via the Echo speaker line and Alexa voice assistant is that many users feel less discomfort frequently issuing voice commands in the home. Also helping: Alexa (unlike Google Now or Siri) can be accessed without having to pull a device out of one's pocket and issuing an activation command (e.g. "Hey, Siri" or "OK, Google"), and Amazon has moved quickly to create an Alexa developer ecosystem.
SA contributor ARK Investment Management: Netflix Will Be The Largest U.S. 'TV Network' By 2019 - Takes a look at Netflix's (NASDAQ:NFLX) recent growth trajectory and declining TV viewing rates, and projects Netflix could deliver 83B hours of video to 69M U.S. subs by 2020. ARK sees this growth boosting Netflix's competitive position as it gives the company a larger content budget to work with, and indirectly benefiting YouTube, Facebook, and Snapchat's video ad sales as advertisers react to declining TV viewing by moving more ad dollars online.
Disclosure: I/we have no positions in any stocks mentioned, and no plans to initiate any positions within the next 72 hours.
I wrote this article myself, and it expresses my own opinions. I am not receiving compensation for it. I have no business relationship with any company whose stock is mentioned in this article.
Editor's Note: This article discusses one or more securities that do not trade on a major U.S. exchange. Please be aware of the risks associated with these stocks.