In a recent article, Greg Wajda argued that now is the time for all millennials to jump aboard the Netflix (NASDAQ:NFLX) Ship and set sail for millionaires' island.
The crux of the argument was that 1 billion users paying $15 a month was $1.8 trillion in revenue (it's not, it's only $180 billion), and at about 3% net margins, that's $54 billion in net income. At a 13x multiple, that'd value Netflix at $700 billion or so, leaving it to rival Apple (NASDAQ:AAPL) in size.
Valuation of Companies
While using net income to value companies seems attractive, it doesn't give you the full picture. In the case of Netflix, growth doesn't come free: Netflix has to either purchase or develop content on its own and unfortunately, that doesn't show up on the income statement. It shows up on the cash flow statement.

As can be seen here, in 2015, Netflix spent $5.7 billion (or about 85% of revenues) acquiring content versus amortization of $3.4 billion.
The simple point here is that for Netflix to get to 1 billion users across the globe, it's going to have to amass the largest content library on earth. I think the company can do it, but developing or licensing content that appeals to viewers in each country, in multiple languages, and across age groups is a very expensive undertaking that has to be funded in some manner.
So How Much Will it Cost
Let's assume that the amortization line item represents the costs to Netflix of maintaining its library of content. I don't think it's a perfect representation: even if you've amortized the value of a show like House of Cards over 10 or 15 years down to $0, there are still going to be viewers watching that content. Regardless, Netflix is going to have to keep generating new content in order to replace old and unpopular content, and amortization is a reasonable proxy for that.
Right now, Netflix records about $3.4 billion of amortization across its 74.7 million streaming subscribers, or $45.50 per year (about $3.80 per month). If we assume this continues forward, at 1 billion users that results in $45.5 billion in amortization of content.
Now, to grow, Netflix is going to have to add content. Right now Netflix spends $77.25 per subscriber ($6.44 per month) in new content, of which $45.5 per subscriber is simply replacing amortized assets. This then equates to $31.75 ($2.65 per month) per user of net content additions. Obviously amortized content remains in the library, just as depreciated assets remain on any balance sheet. The point here is to illustrate that Netflix must invest in additional content to grow its library above and beyond the content that is amortized.
Now, Netflix is in the position to gain significant scale from its library. Shows can be easily translated, and there is significant cross border appeal for numerous titles, so we can't just use that $31.75 per year of net content additions per subscriber.
Valuation
Just for fun I ran a quick DCF using Greg Wajda's assumptions, assuming straight line growth in users, slight EBIT margin creep from 4.5% to 6.5%, its current tax rate of 13%, $45.5 per user of content amortization and 50% of the current $77.25 per user in content acquisition/development costs.

The valuation outputs can be seen below.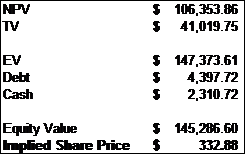 So that implies a tripling of the share price from today's ~$110. Sounds great right?
Well, there are a few things I don't buy. First, the growth rates in subscribers at the front end of the model are far too high. Users almost double in year one. Netflix grew subscribers at 30% last year, so let's change the assumptions to create a S-curve shaped growth trajectory, more in line with how companies actually grow.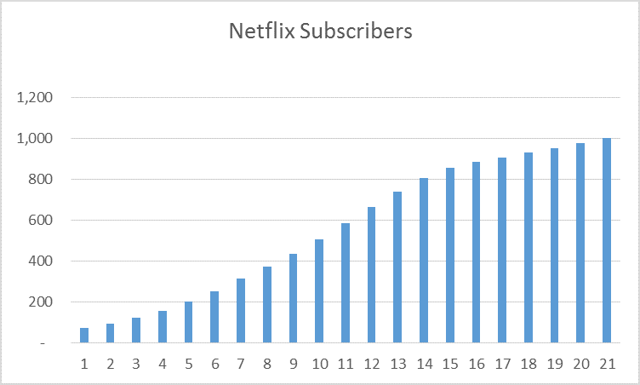 Interestingly enough, this actually increases the value per share slightly to $347.
Now, in the original model, we assumed that pricing would go from $8 per month to $15. However, Netflix has not historically demonstrated significant pricing power. Growth in pricing from 2013 has only been 2%, and is down Y/Y. So let's be generous and say that Netflix can grow prices 2% per year. That gives us an ending pricing of $11.90 per user per month and knocks the value down to $311.
But the problem with that assumption is that it doesn't really take into account that Netflix earns about $1 per user LESS from international markets where most of its user base will be. So, Netflix may have pricing power, but that's offset by lower base prices overseas. If we adjust the pricing growth down to an ending value of $10, that value drops to $288.
Now let's revisit the content acquisition assumptions. I don't believe that Netflix will immediately gain scale from its content. The company is going to have to invest upfront in order to grow the business. Let's assume that content costs are instead the full $77.25 per user. If we assume this throughout the life of the model, Netflix's value is (drum roll please) -$642.58 per share (assuming the pricing discussed above, and the user growth discussed above). Also note that in the terminal year of the model it's assumed that content costs equal amortization, which is simply for technical reasons for calculating terminal value.
Now, I don't think that content costs will be $77.25 per user for all of Netflix's life. So let's adjust that and say that on a per user basis, that cost declines by some amount per user going forward. The sensitivity analysis can be seen below.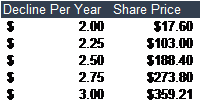 Notice the variability that a straight line decline in acquisition costs has on Netflix's value. Indeed, I would say content costs will be the single largest driver of Netflix's value: if it can develop a top-quality, globally popular library for a reasonable cost, the scale that the company can operate at will mean impressive value generation for shareholders.
But have content costs declined? Not really. 2015 was a big investment year, but average new content costs per user have averaged $71 over the past 4 years, with a low of $65.74 and a high of $77 per user. Fundamentally, content is expensive and Netflix doesn't have the ability that HBO has, for example, to monetize its content, so the returns to Netflix from content aren't spectacular at present.
If we assume that content costs run at the average rate over the past 4 years at $71 per user and decline at $2/user per year, you arrive at a value for Netflix of $123 per share. I think somewhere around here is reasonable.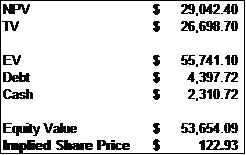 Why do I think that valuation is reasonable? It's already clear that Netflix is the dominant service for cord cutters, and the larger a library Netflix can build, the more true that becomes. As Netflix gains users, it will also gain scale in its operations and more pricing power in content negotiations. I think it's fair to say that both of these should reduce content costs per user over time.
Conclusions
Netflix will be very successful, I don't contest that. What I do contest is investors using income statement items to value the company precisely because they fail to take into account the massive cash costs of developing the immense content library that is required to make Netflix a global near-monopolist in online streaming.
Netflix may well grow to 1 billion users but the company has limited pricing power overseas, and on a free cash flow basis, the costs of content weigh significantly on the company's valuation. As such, investors should not necessarily wade in at present.
Disclosure: I/we have no positions in any stocks mentioned, and no plans to initiate any positions within the next 72 hours.
I wrote this article myself, and it expresses my own opinions. I am not receiving compensation for it (other than from Seeking Alpha). I have no business relationship with any company whose stock is mentioned in this article.