Performance Sports Group (NYSE:PSG) is a leading manufacturer of many different sports products. The main product brands that bring value to this company are Bauer Hockey and Easton brands. At the end of the fiscal year 2015, hockey represented $418.4 million in sales or 64% of total revenue while baseball represented $199.3 million or 30% of total revenue. According to the 2016 annual report, PSG stated that Easton is the leader in diamond sports with 27% of the market share. Bauer sports also has the number one market share in hockey as shown below:

This is directly from the 10k which lists Bauer to have an estimated 56% of the market share of a roughly $700 million industry. This is to show the strong brands that are currently supporting this struggling company.
Macroeconomic effects
This past year PSG ran into multiple headwinds. They all affected revenue growth but it is important to note which issues were simply out of control and part of the business. The forex issues were related to the weakening of the Canadian dollar in relation to the US dollar over the past year. There were also issues in the overall demand for hockey products over the past year. This tends to be a cyclical business that is up and down as years progress.
Sports Authority
PSG is a huge supplier to Sports Authority. As a result of Sports Authority's recent chapter 11 bankruptcy, sales have decreased and investor confidence significantly decreased. Sports Authority is currently in the midst of closing 140 stores as they have recently began huge liquidation sales to try to pay off their billion dollars worth of debt. The closings of these stores have impacted the price of PSG significantly; however, I do not believe the entirety of the decrease in price is justified. The rest of this article will discuss the upside potential of PSG and why I believe it is currently at its trough.
Key Investors
The price has been significantly increasing these past two days after Wellington Management Group decided to keep a stake in PSG. The reported filing shows a 5.93% passive stake. This shows that Wellington is still bullish on PSG as they are the second highest investor behind Sagard Capital. The market seems to have forgotten the huge brands that PSG currently owns. These two investment companies have not. The fact that they are still bullish shows a high opportunity for growth. This also hints at a solid earnings report this Friday which is causing market excitement.
Acquisition Potential
Sagard Capital upped their stake in PSG last month. They currently own 15.06% of PSG. Sagard Capital's strategy is to take significant minority positions in small- to mid-cap stocks; then it will sponsor teams to help take struggling companies private. As Sagard Capital has already appointed their CEO Daniel Friedberg to PSG's board, it seems that they have already taken initiative for their strategy.
Sagard Capital has a history of doing this as I will give a few recent examples. Sagard Capital completed a deal in 2012, where they personally purchased Intramed America for $14.05/share with a total purchase price of $169.5 million. The price jumped from $11 when it was announced that Sagard Capital would be acquiring them.
Even more important to note is the success X-Rite had when Daniel Friedman was appointed to the board of directors. X-Rite was acquired by Danaher Corporation (NYSE:DHR) for a 39% premium.
Recent price increases
With the earnings report coming up this Friday, large amounts of speculation are artificially increasing the price. This is largely due to the 13D that was recently filed with Wellington Management Group as previously stated. When big investors show that they want to hold a large majority interest in a company (over 5%), other investors react to this in a bullish fashion. I believe this company is still undervalued but be weary of the significant increases. These investors most likely believe that there is going to be some sort of acquisition or positive analysis in the transcript.
Financials
It is important to look to past financials to show the profitability this company used to bring in comparison to its competitors. Below I have created a chart to show the underperformance of this company in the past year:

The past year's profitability measures of PSG are low because of the decreases in revenue which I have discussed earlier. In PSG's earnings report today they will most likely discuss future plans to increase revenues with the bankruptcy of Sports Authority. The company is currently highly leveraged with $452 million of long-term debt. There is no danger of bankruptcy as they have a working capital of $204.6 million that consists of $174.5 million in inventories. The inventory turnover days have actually decreased over the past few years as shown below:
(Source: Bloomberg)

This shows that they are selling off their inventory at a faster rate than any other year. They are then using this capital to pay off debt and invest back into the business.
Valuation
In order to estimate an acquisition target value, I have used CapitalIQ for their quick comp transactions. I have sorted through the comparables as necessary. For this I have used EV/EBITDA and EV/EBIT. Below I have attached the list of transactions and their multiples.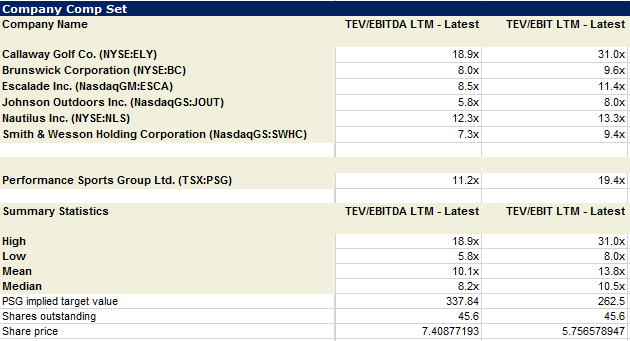 Using these general multiples and the average analysts estimated EBITDA and EBIT, I am estimating that PSG will be acquired for a price of around $300 million, with 45.6 million shares outstanding this is a price of around $6.57 per share. This represents a large upside potential for investors if PSG is acquired.
The 3-year forward EV/EBITDA which I have calculated using analyst future estimates from Bloomberg shows an even higher upside potential as I have demonstrated below:

The enterprise value was calculated adding total debt to equity and subtracting cash.
Conclusion
In conclusion, I would recommend a buy on PSG. I believe this stock is still very cheap and has strong products within their company. When I valued this company using a DCF model, I did find issues with their operating costs. The analysts are currently estimating the next quarters to be around 90%, and it will be difficult for PSG to operate without lowering those costs to around 85% for the long run. I am pricing this stock as an acquisition target because of the current minority holders of this stock.
Disclosure: I/we have no positions in any stocks mentioned, and no plans to initiate any positions within the next 72 hours.
I wrote this article myself, and it expresses my own opinions. I am not receiving compensation for it (other than from Seeking Alpha). I have no business relationship with any company whose stock is mentioned in this article.