I recently received notification that Seeking Alpha is partnering with the Sohn Conference Foundation, which runs an annual investment ideas contest judged by a panel of top dog investing celebrities that includes William Ackman, David Einhorn, Joel Greenblatt, and Seth Klarman, all chaired by Michael Price. The top 13 prizes for winning this conference are free admission to the conference, described as a $5,000 value. The winner of the contest gets the opportunity to give a 10 minutes presentation about his pick to conference attendees.

The cost of entering the contest is $100 for all but students who pay $25. This is a miniscule amount for investment professionals who may very well be spending that much on one day's lunch, but it was enough to make me think twice before submitting. Call me frugal, but $100 struck me as too much to pay for a chance of winning the opportunity to rub shoulders with a crew of billionaires, none of whom was likely to be inviting me to join their staff on the basis of one good stock pick. On the other hand, if attending the conference might help me become a billionaire, winning the contest might be more interesting.
So that raised the question, how useful would the information disseminated at this conference really be to a retail investor like myself?
Since each entrant to the contest submits a single stock pick, which can be short or long, The obvious place to start in answering that question would be to look at the winning presentations from the previous year's contest and see how useful they would have been to investors who put their money into the stock picks of the winner and of the four finalists (i.e. runners up). Would investing in these five ideas have given me better results than my current strategy does (described in this article: My Portfolio of Well-Valued Growth Stocks?)
It is easy to see how last year's best contest entries fared as The Sohn Conference Foundation has made public the names and presentations of last year's winners. The winning stock pick was Interactive Corp (NASDAQ:IAC). The four finalists for which information was provided were Premier (NASDAQ:PINC), Grupo Televisa SAB ADR (NYSE:TV), Constellation Software (NYSE:CSU), and W.R. Grace (NYSE:GRA).
Since the contest's stated goal is to pick investment theses that would play out well over the next year and it is almost a year since the May 4, 2015 conference, it is possible to judge how useful these stock picks really were and whether following them would have been worth the $100 entry fee it takes to enter the contest, to say nothing of the $5,000 fee paid to attend the conference by all those who didn't come in among the top 13 entries that won their entrants free admission.
So I went and had a look at last year's winners. You can view them yourself here. One of the five finalists is listed on the Sohn Conference page but does not indicate what that finalist's stock pick was, so I have not been able to include that finalist's pick in my list. In addition, there is no indication which stocks were chosen by the contest's semi-finalists.
As you would expect, all of these presentations were highly professional, filled with charts and graphs and detailed analyses of the companies' financials, along with in depth consideration of their business models, and the like.
Using the information provided in these presentations I created the chart below. In it you will see the name of the contest entrant, their affiliation, the stock they chose, whether they were long or short, the current price of the stock at the time of the presentation as reported in the presentation, the price target included in the presentation, and the current price of the stock.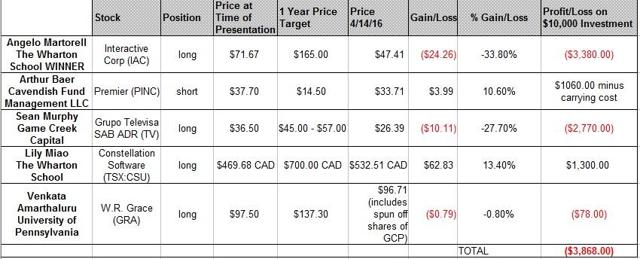 Dismal Results
As you can see only two of these five trades were profitable, and those two were only modestly profitable. Meanwhile two of the three unprofitable trades were seriously unprofitable, losing 27.7% and 33.8% of your initial investment. And it is worth noting that the winner of the contest was the worst performing pick!
Would You Have Done Better Investing in an Index Fund Instead?
Of course, the case could be made that the conference, which took place on May 4, 2015, occurred as the stock market was topping out, and that perhaps the prices of these picks were simply responding to overall market forces, which have been particularly hard on small and mid cap stocks this year. Would you have done any better if you had bought into Vanguard's Total Market Index Fund (MUTF:VTSAX) on May 4, 2015?
If you had invested in each of these five picks, yes, you would have done better with the index fund. VTSAX is currently down only 1.7% from its price on May 4, 2015. This is far better than the 3.9% loss you'd have experienced from investing in all five of these winners and finalists. And if you'd invested in the winner? Well, you'd be down 33.8%.
I will leave it to you to draw your own conclusions, but it looks like my $100 stays in my pocket, as I don't want to be tempted to invest in "wonderful opportunities like these!
As an extra bonus, I'll leave you with the F.A.S.T.Graphs chart of IAC. The dot shows you the price and PE of this stock at the close the end of the week before the conference.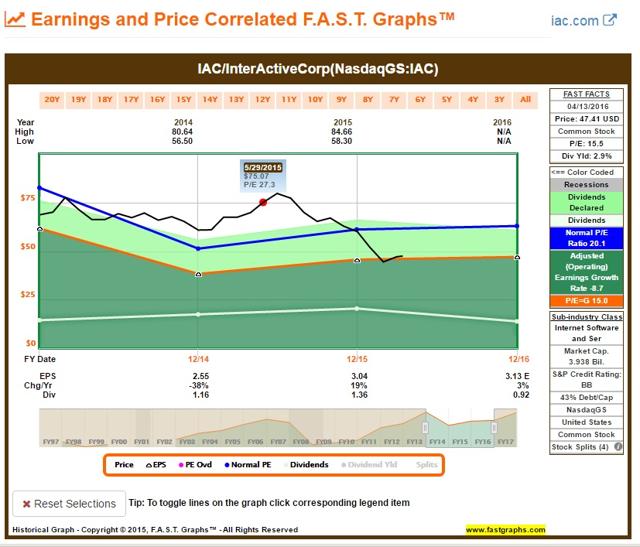 Disclosure: I/we have no positions in any stocks mentioned, and no plans to initiate any positions within the next 72 hours.
I wrote this article myself, and it expresses my own opinions. I am not receiving compensation for it (other than from Seeking Alpha). I have no business relationship with any company whose stock is mentioned in this article.