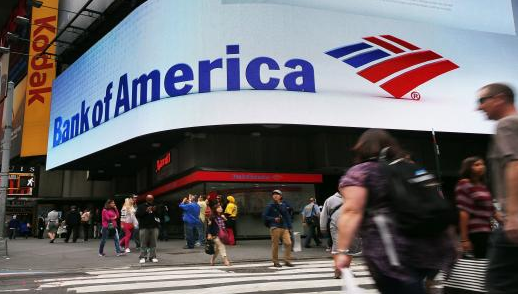 Last week, I wrote an article that outlined what I thought were important things to watch for in Bank of America's (NYSE:BAC) Q1 earnings report the company provided to us yesterday. My bullish stance on BAC has been well known for a long time and heading into the report, I thought enough bad news had been priced in that anything but an unmitigated disaster would cause at least a relief rally. BAC's quarter actually showed pockets of strength so in addition to it not being a disaster, there is cause for optimism. There are many places you can get a rundown of the numbers so I won't do that here. Rather, I'll focus on some key areas that I think are important and how they tie into the bull case.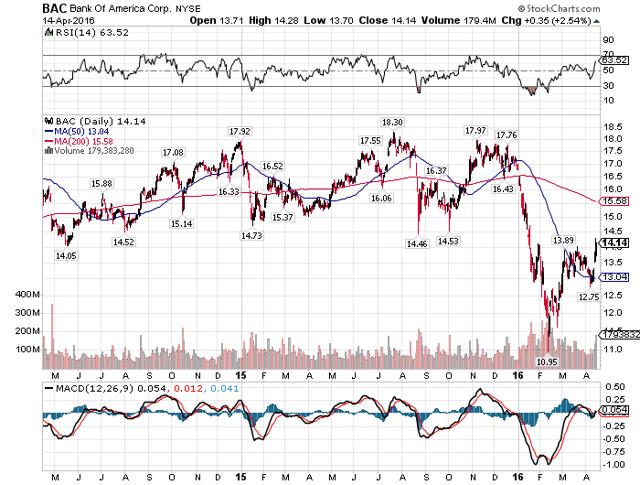 To my eye, the quarter brought for the something very interesting in BAC's business; the fact that its consumer segment is on fire right now. BAC has been notably weak in this area for years as it tried to clean up the sins of the pre-crisis version of this company so to see the consumer portion of the business flying is very encouraging. Net interest income rose nicely while noninterest income and noninterest expense were roughly flat. That led to a very nice 22% Y/Y gain in net income for the segment but apart from that, BAC's growth here is setting it up for future gains as well.
Loans were up $17.5 billion in the consumer business and deposits also gained $42.6 billion. This has been the story for a while with BAC's consumer network; solid deposit growth but relatively slower loan growth. That's fine because this additional capital allows BAC more flexibility with the rest of its businesses and besides, with 22% Y/Y profit growth, BAC doesn't seem to need the additional boost. I was very encouraged by the progress of the consumer business in Q1 and I think it's very exciting for bulls in the coming quarters. If BAC makes a concerted effort to grow the consumer loan book, it has shown the ability to do so very profitably.
The company's credit card business continues to grow as well, steadily adding more than a million accounts each quarter at risk-adjusted margins in excess of 9%. Card spending was up 5% during the quarter and all of those new accounts will not only allow BAC to collect handsome interest fees on future spending, but more accounts means more transaction income as well. The card business is rapidly becoming a primary growth driver for BAC and continued progress here is certainly welcome.
In addition, the LAS business continues to shrink appreciably and now is a tiny fraction of the overall portfolio. Expenses fell almost 30% Y/Y and that is great news because the sooner this segment can be shuttered, the better. BAC has done a better job of winding down that segment than it forecast that it would years ago so it will no longer be a significant cost center down the road. In addition, its number of 60+ day delinquent mortgages is down 42% to just 88K units. Recall this unit used to lose billions of dollars so while 88K mortgages is still meaningful, it is a drop in the ocean. BAC's wind down of LAS has gone exceedingly well and continued progress here is terrific.
On the credit quality side, there has been endless chatter in recent months about energy exposure but there is a lot more to BAC's balance sheet than energy loans. For instance, the consumer business produced credit loss provisions in Q1 that were 22% lower than last year's Q1 and almost that amount lower than Q4. BAC's strategy of lending prudently instead of to whomever requests it has worked beautifully and is a harbinger of continued great results coming down the road.
Unfortunately, the party was largely spoiled by the energy complex as the Global Banking business saw a provision increase of $457 million. The energy space is to blame and although that number is significant, we knew it was coming. The fact that it was 'only' $457 million is actually a decent surprise as that is roughly half of the guidance management has provided in the past for energy-related loss potential. I'd think BAC went ahead and reserved for what it thought was reasonable plus a little more - as has been its practice in the past - so we shouldn't see these large provision increases from energy in the coming quarters. BAC's total reserve against energy losses is $1B which should be more than sufficient for whatever actually occurs. That removes a significant overhang for the next few quarters and indeed, we may see some provision releases in a few quarters to reverse any over-provisioning that may have occurred.
BAC's branch transformation continues as well, something I think it's still in its infancy. BAC has an enormous branch network - still close to 5K units - but it is rapidly growing in the mobile field as well. Mobile users continue to grow in the mid-teens as BAC has invested significantly in that space for years now and the results speak for themselves. As BAC continues to transform its branches from places to do a transaction - largely replaced by the web/mobile app - the branches will become selling centers. That should help drive incremental business to other segments over time and the mobile interactions the company provides with customers should continue to drive people to use BAC's services.
One source of constant angst with shareholders has been BAC's sky-high efficiency ratio. BAC's efficiency ratio has been elevated for years now as one problem after another arose from the financial crisis. However, BAC has done significant work to reduce expenses where possible and it continues to make progress as Q1's number was 75%. That's a terrible efficiency ratio but we all know BAC's numbers are going to continue to be rough for some time to come. The thing to focus on is the improvement we're seeing because this - perhaps more than anything else - is a terrific catalyst for long term profit growth. BAC's horrendous margins are an opportunity for vast improvement and I believe will be the best source of profit growth in the coming years. BAC is prudently reducing expenses where possible and is chipping away at the efficiency ratio so we'll see those benefits accrue over time. Q1 saw continued progress and that's what I wanted to see.
Unfortunately, BAC's very high efficiency ratio continues to contribute to sub-par returns on its portfolio as ROAA was just 50bps during Q1. This is roughly in-line with what BAC's been producing for several quarters now as it grapples with low rates. Indeed, Moynihan himself said higher rates were needed for his 1% ROAA goal. That certainly is true but again, the opportunity for BAC to grow earnings from here is unprecedented among the other TBTF banks. Citi (NYSE:C) is busy shrinking itself and WFC and JPMorgan (NYSE:JPM) are already very profitable. BAC's profitability metrics are roughly half of what WFC and JPM produce so the runway here is huge even if BAC can't get to where those two are eventually.
BAC's quarter was well received by investors and why shouldn't it have been? The company continues to make significant progress towards a number of goals and for me, the story remains that BAC's currently sub-par returns on capital and assets are the opportunity and the reason to own the stock. JPM and WFC are already very profitable and totally different investment opportunities than BAC; this is a growth story despite the fact that BAC is one of our nation's largest companies. The runway for margin expansion is still very large with a long tail and that means BAC's earnings growth potential over the long term is much higher than the other TBTF banks. BAC could literally double its current level of profitability whereas that kind of expansion is impossible for WFC or JPM because they are already so efficient. BAC is anything but at this point and that means bulls should be in control for the foreseeable future.
Disclosure: I am/we are long BAC.
I wrote this article myself, and it expresses my own opinions. I am not receiving compensation for it (other than from Seeking Alpha). I have no business relationship with any company whose stock is mentioned in this article.