I'd like to start this article by sharing my own personal experience working in the manufacturing sector.
From January of 1999 to October of 2004, while I was 21 to 26 years old, I worked for what was America's largest printed circuit board manufacturing company. I started out as a factory worker, then moved up to supervisor training, then on to become a technical service engineer. This company made circuit boards mostly for the automotive industry. The company had about 4000 employees at its peak in 2000.
The circuit board industry peaked in January of 2001 as we entered into a recession. Soon after, work began to move to China like crazy.
China joined the World Trade Organization on December 11, 2001.
It was about that time when the printed circuit board industry in the
U.S. began to collapse.
While this company and other American companies were always able to compete with Taiwan and Japan, when it came to China, the cost difference was too great.
In 2001, we sent a top engineer to China to see what was going on. When he came back to share what he learned, I remember him saying that China has built beautiful state of the art printed circuit board manufacturing companies. He showed us pictures of their factories. He also informed us that they built dormitories for workers to be housed right next door to those factories.
Here was the kicker: He said that those workers worked 6 days a week, 12 hours a day and made only $50 a month...and that they were happy to do it.
Manufacturing workers in the U.S. have completely different lifestyles that they needed to afford. These lifestyles were similar in Taiwan and Japan - i.e. They live in their own homes and have cars. So trying to compete with China on price was frankly impossible without any protective tariffs.
The total employees chart below shows the extent of the collapse in the U.S. printed circuit board industry: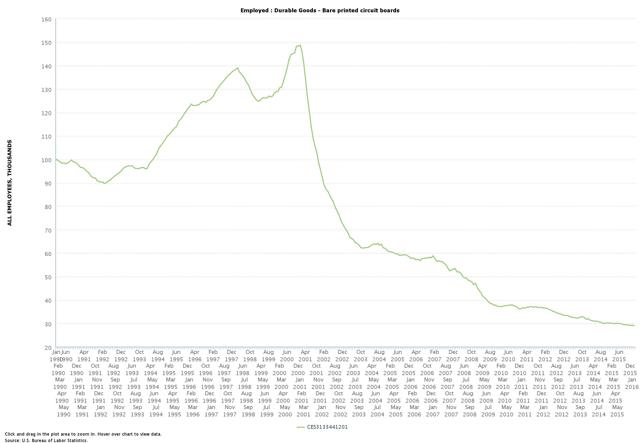 To this day, the printed circuit board industry continues to lose jobs.
One of things you learn when working in manufacturing is the constant innovation. Improving upon both productivity and efficiency are the jobs of engineers and managers.
That was how you competed: by improving the economy and reducing the cost of what it was you were making.
On March 1st, 2016, Alan Greenspan gave an interview on Bloomberg Radio where he was suggesting that the economy was not in good shape. In the interview he put it like this, "We're in trouble because productivity is dead in the water."
Now here is a chart showing the year over year percent change in both manufacturing output per hour and Nonfarm business output per hour: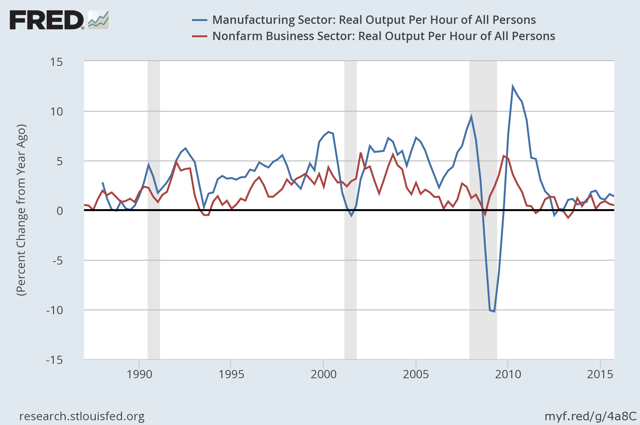 Increases of manufacturing output per hour was the driver of overall productivity growth. As the chart above shows, manufacturing productivity growth was nearly always higher than overall productivity growth.
It's not just the circuit board industry that has been gutted in the U.S. but many manufacturing sectors. Clothing manufacturing for example has also been gutted. In 1960, 95% of clothes bought in the U.S. were made in U.S. In 1990, that figured dropped to 50%, in 2000 it was down to 29%. Today, it's less than 2%.
With only a very small manufacturing base left, there is a small need to make capital investments in these businesses. Capital investments are what drive productivity.
Here is a chart of gross fixed capital formation as a percent of GDP. It only goes out to the first quarter of 2015 however.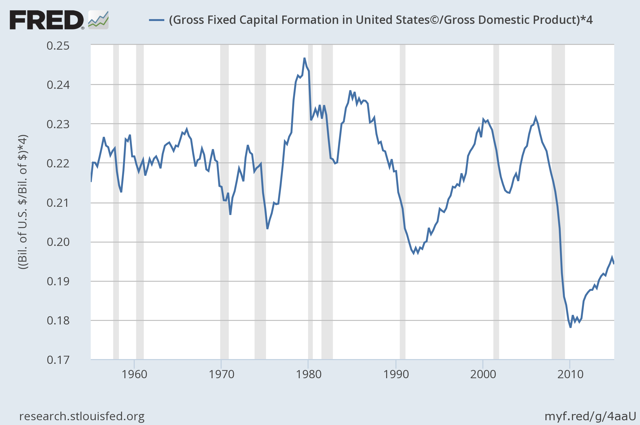 One of the consequences of the gutting of so much of our industrial base is that we've become dependent on buying goods and equipment from overseas and this has given us a wide trade deficit.
The consequences of this trade deficit is a destruction of our Net International Investment Position. Foreigners are now larger owners of our domestic assets than we are of their domestic assets.
The net difference shows that they own $7.356 trillion more in our assets than we own of theirs.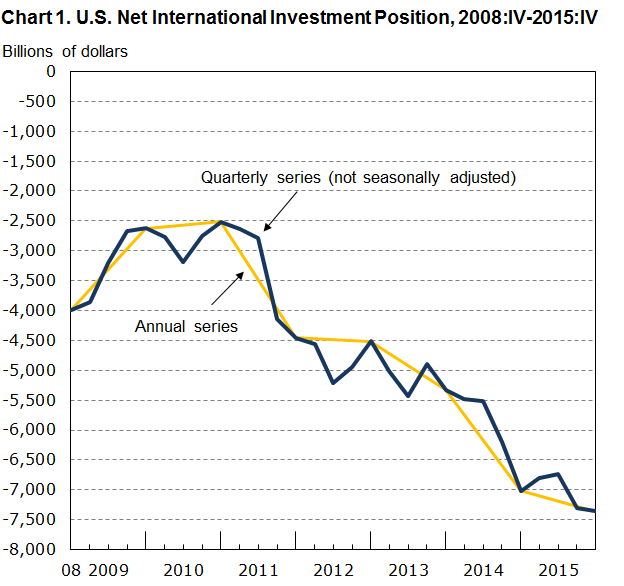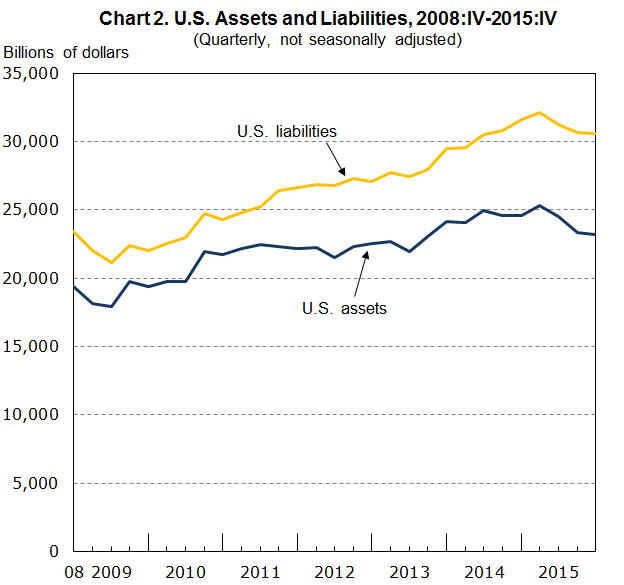 For a more historical perspective: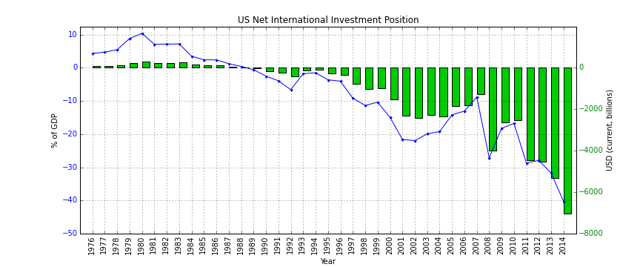 Conclusion
Productivity growth in the U.S. is going to be hard to come by. Without an industrial base to which to even make capital investments in, there is not going to be enough capital investment that will induce productivity growth.
An economy grows with two factors:
1. Aggregate hours worked
2. The output per hour
So with so little growth in productivity, we've become dependent on growth from hours worked.
In the chart below, you will notice how real GDP growth is more or less in line with hours worked.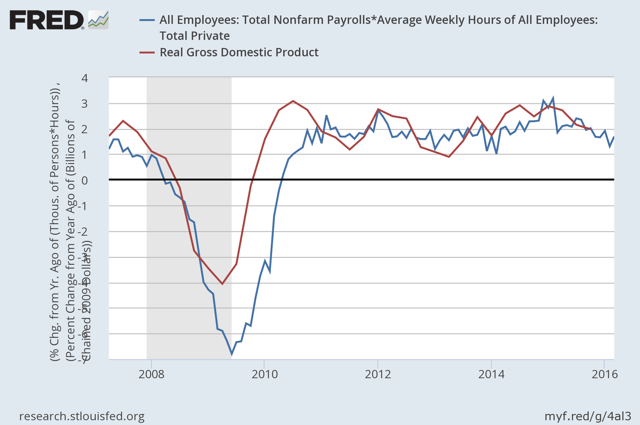 Another negative consequence to our gutting of our manufacturing base is that we're dependent on buying products and equipment from overseas and that has given us a wide trade deficit.
As more of our assets are owned by foreigners, more capital flows out of the country via interest payments and dividends. This leaves less capital here in the States for savings and investment further limiting economic growth.
Perhaps we do need to renegotiate our trade deals to help make America great again.
Until then, real GDP growth is dead in the water.
Disclosure: I/we have no positions in any stocks mentioned, and no plans to initiate any positions within the next 72 hours.
I wrote this article myself, and it expresses my own opinions. I am not receiving compensation for it (other than from Seeking Alpha). I have no business relationship with any company whose stock is mentioned in this article.