Prologue
It was about nine months ago that I had named my A-Team; a group of 5 high-yield dividend stocks that investors should stick to over the long-run and not let go.
The original group consisted of the following five stocks: Ares Capital Corporation (ARCC), Apollo Commercial Real Estate Finance (ARI), Gladstone Investment (GAIN), Main Street Capital (MAIN) and Starwood Property Trust (STWD). Back then, in July 2015, I also took advantage of the opportunity to nominate Prospect Capital (PSEC) as "the sixth element"; a top candidate to enter my A-Team - and it recently did.
PSEC, together with four new names - Hercules Technology Growth Capital (HTGC), Ladder Capital (LADR), Newtek Business Services (NEWT) and New Residential Investment (NRZ) - are now part of my current ten-members A-Team that, for itself, has turned from being a "Fab Five" into a "Top Ten".
Earlier this week I've started a series of articles that will break my A-Team into pieces. Each article will focus on a different company that is part of my A-Team. Part I of the series focused on MAIN Street Capital that is, in my view, the equivalent in the BDCs-dom of what Realty Income (NYSE:O) is in the eREITs-dom. As such, MAIN has been given the honor of being the captain of my A-Team and it's now time to move on into another quality player among the lining up.
While at the current valuation I'm not a big fan of O, to say the least, there's no doubt that both companies have top quality management teams - and this is usually what differ a (just) "good" company from a "great" company. ARCC is no doubt also belonging to the "top quality management teams" club and let me tell you why.

What is Needed to Make it into My A-Team
There is a learning curve to almost everything in life, and this series is no difference. Based on the comments I've received through the first part of this series thread I find it important to, first and foremost, explain what is required in order to enter my A-Team?
The criteria is as simple as it is demanding:
Top quality team, as already outlined. We may - and most probably will - argue about the quality of few of my picks (PSEC anyone?...) but I promise to explain why do I see quality in each and every management team of my ten picks.
Attractive dividend yield. For that matter, I consider a decent dividend yield as >7%.
Sustainable dividend yield. No dividend cut threat on the horizon.
A very promising long-term prospect. In terms of return that means a minimum 10% total return (*), on average, per annum over the next five years. Bear in mind that "on average" means that the 10% may not be achieved each and every year but, after five years, the average return suppose to meet the long-term target.
A very promising short-term prospect. That means a minimum of 10% total return (*) over the next 6-12 months.
(*) The expected return is based on the closing prices of the A-Team components as of 31 March 2016:
| | | |
| --- | --- | --- |
| Name | Symbol | Price |
| Ares Capital Corporation | ARCC | 14.84 |
| Apollo Commercial Real Est. Finance Inc | ARI | 16.30 |
| Gladstone Investment Corporation | GAIN | 7.02 |
| Hercules Capital Inc | HTGC | 12.01 |
| Ladder Capital Corp | LADR | 12.45 |
| Main Street Capital Corporation | MAIN | 31.35 |
| NEWTEK Business Services Corp | NEWT | 12.50 |
| New Residential Investment Corp | NRZ | 11.63 |
| Prospect Capital Corporation | PSEC | 7.27 |
| Starwood Property Trust, Inc. | STWD | 18.93 |
Does "Don't Let Go" = Forever?
Obviously, the "don't let go" means... don't let go, i.e. stick to it.
Nonetheless, the "stick to it" is subject to a reasonable valuation. In reality, there's no such a thing as never let go because every asset has its boundaries and every asset has a price in which it needs to, i.e. must, get sold.
Stocks usually don't explode for no reason, but what if a "don't let go" type of stock is trading at 10% over the consensus and/or your personal target price? What if the 10% is actually 20%, 50%, 100%, or even more than that? Surely, as much as an investor is willing to stick to a certain stock and doesn't let go, sometimes the price of a stock is losing reasonable touch with the forces of gravity and gets disconnected from the company's even most optimistic valuation.
Point is: There is a price for everything. For every stock we may find a price that will be high enough to convince even the most dedicated-stubborn investor to let go... Take (NASDAQ:TSLA) as an example. Being one of the most debated, controversial, volatile stocks on the planet TSLA is a stock that investors don't stay apathetic to; either they love it or they hate it. It's almost impossible to find neutral investors when it comes to Tesla. How much TSLA stock worth? Some say 300, others say 200; some may even say 400, and some may even say 100. Does anyone say 500? I haven't seen anybody with such a phenomenal price target. Can we agree that under the current circumstances, each and every Tesla fan would be willing now to sell his shares for $500 per share? There you go. Every stock has a price that can wipe out any potential suitor.
Bottom line: Don't let go, until you must let go. As I've shown in part I of this series, at a price of $35 I believe that MAIN is a strong sell. This price is perhaps not high enough to allow a complete wipeout of all MAIN investors but if we dig a bit deeper I'm sure that we can find such a "cleaning all chips off the table" price.
Similar to MAIN, I believe that ARCC management is of the highest caliber. Nevertheless, unlike MAIN that trades at a generous premium to its BV, ARCC is trading below BV. Why Mr. Market does not recognize ARCC's management quality and treat the stock the way it deserves to be treated is (1) beyond my grasp, and (2) this is exactly what makes ARCC so A(TT)R(A)C(TIVE) (to) C!
Company Profile and Focus Areas
Ares Capital Corporation is a specialty finance company, i.e. BDC, that provides one-stop solutions to meet the distinct and underserved financing needs of private middle-market companies across diverse industries. ARCC invests primarily in first and second lien loans (including uni-tranche loans) and mezzanine debt, which in some cases includes an equity component like warrants. To a lesser extent, ARCC also makes equity investments. ARCC seeks current income and capital appreciation through their debt and equity investments. ARCC seeks to originate investments in market-leading companies with a history of stable cash flows, proven competitive advantages and experienced management teams. ARCC seeks to serve as a lead agent or investor in order to optimize due diligence and capital structure as well as enable active monitoring of the investment. ARCC's strategy is to maximize risk-adjusted returns throughout economic cycles. As of 31 December 2015, ARCC's portfolio had a fair value of approximately $9.1 billion and consisted of 218 portfolio companies backed by 150 different private equity sponsors.
As of 31 December 2015, ARCC is the largest BDC by total assets and market capitalization with total assets of $9.5 billion. ARCC is externally managed by Ares Capital Management LLC, a subsidiary of Ares Management, L.P. (ARES), a publicly traded, leading global alternative asset manager. ARCC leverages-off of the ARES platform, benefiting from its relationships, infrastructure, industry research, reputation and significant multi-asset class management expertise.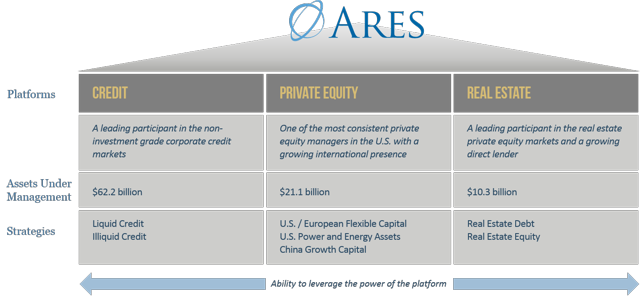 ARCC's Main Strengths and Most Compelling Features
Unjustified discount to BV. At the 3/31/16 closing price of $14.84, ARCC is trading at a discount of circa 10% to the 12/31/15 BV. MAIN, in comparison is trading at a premium of 47.6% (!) based on prices for the exact same dates (MAIN's BV as of 12/31/15 was $21.24). Why is the market treating those greatly managed companies so differently? I find it odd, to say the least, and I expect the gap to narrow in ARCC favor, i.e. for ARCC to trade close to or even above its BV.
Breaking an important technical level. It was few days ago that ARCC broke, for the first time in about nine months, its 200-day moving average resistance line. That's a very bullish sign. Furthermore, since the $12.31 through of 2/11/16, ARCC is up over 20% and the straight line up is very impressive. From a technical perspective, ARCC may be creating a floor around the $15 level.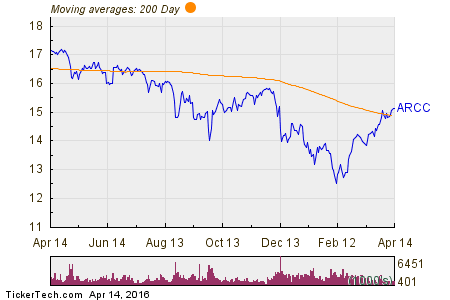 Sellers are running out. While volumes generally remain robust when it comes to this largest BDC out there, the chart below clearly shows that the recent upside has occurred with fewer sellers than before. While for each buyer there's a seller - so it's hard/impossible to make a decisive read out of this - it's clear that there aren't too many sellers left, i.e. we are far from reaching the "right price" that may see a more balanced demand-supply ratio.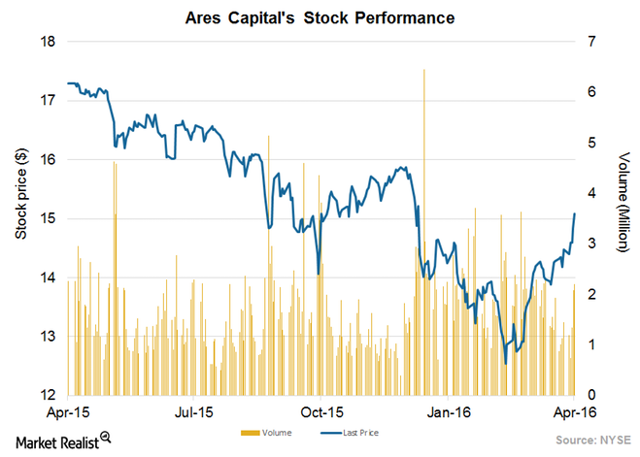 Consistency of Distributions. As can be seen from the chart below, ARCC is very solid when it comes to dividend distributions. Don't expect extreme increases here but a slow, reliable, uptrend trajectory. Even so, when the dividend yield stands at exactly 10% (as I write) there's no real reason to complain, isn't it?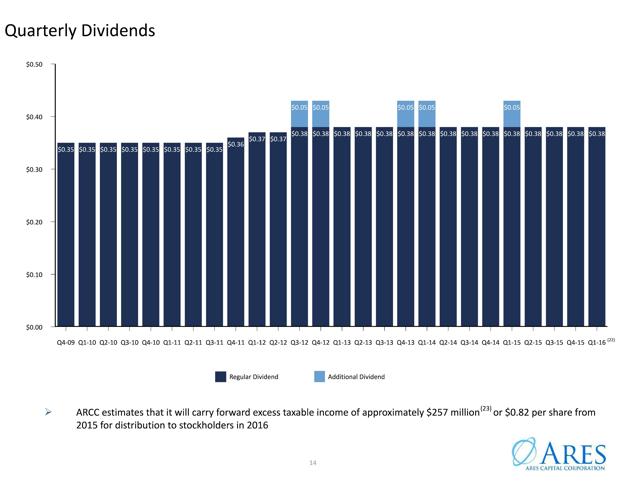 At the current 38-cents quarterly distribution pace, i.e. $1.52 per annum (excluding occasional special dividends), ARCC is distributing 98.7% of its $1.54 core EPS or 94.4% of its $1.61 NII per share.
The below chart shows the GAAP Net Income per share that, while implying of a weaker than usual FY 2015 result, is of less significant than the above-mentioned metrics, when it comes to a BDC (or mREIT for that matter)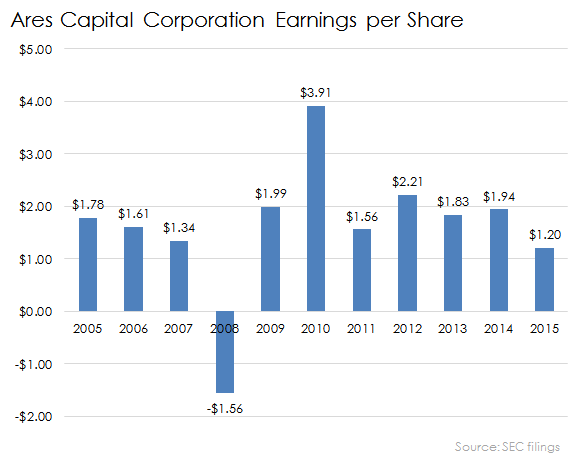 A very well diversified portfolio. Even the top issuer, SSLP, which accounts for 20.8% as of 12/31/15, is (for itself) comprised of 41 different borrowers. Needless to say that as the largest BDC, ARCC also benefit from its size and scale.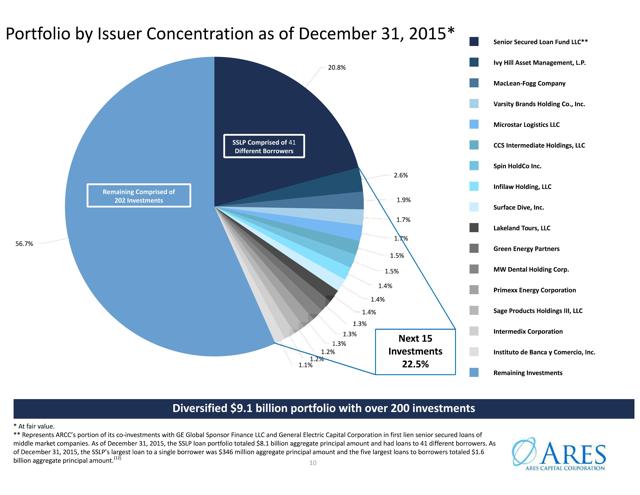 Risk Management at ARCC and beyond...
As a side note, it worthwhile mentioning that ARCC approach over the past two years was relatively defensive. The company has freed up and it keeps freeing up capital ahead of (past and) possible further interest rate hikes. I always like to see a company that prepare itself in advance, while leading and adjusting its operations, towards a major-imminent (monetary policy in this case) change. Getting ready upfront, tuning to the right set of mind and adopting a proactive approach are essential as much as they are beneficial ingredients for companies and investors alike. Such an approach is knows as risk management, which is - by far - the most important element when it comes to managing single investments, diversified portfolios or operating companies!!!
Going back to what makes a top quality management; risk management does! quoting from few comments that I've made recently regarding risk management:
"Many speak about it (risk management); very few do!"

"This is called risk management. Like any purchase of insurance, it costs money and it may eat some of the potential gain but this is what a real SWAN is all about!!!"

"There are those who talk about SWAN and there are those who do what's needed to do in order to SWAN. I belong to the latter camp"

"As for me, I'm getting prepared. Like Noah I'm currently building an ark... Hope for the best, prepare for the worst!"

"Hoping/believing that your portfolio can withstand a crush is one thing. Taking actions and build walls of defence is a completely different thing.
If and when water start pouring down it is/will be impossible to build a proper ark!"
ARCC is getting itself prepared. So am I!
Trading Recommendation
Just like MAIN, ARCC chart is quite easy to digest and draw conclusions from. Looking at ARCC price chart over the past five years tells you everything you need to know.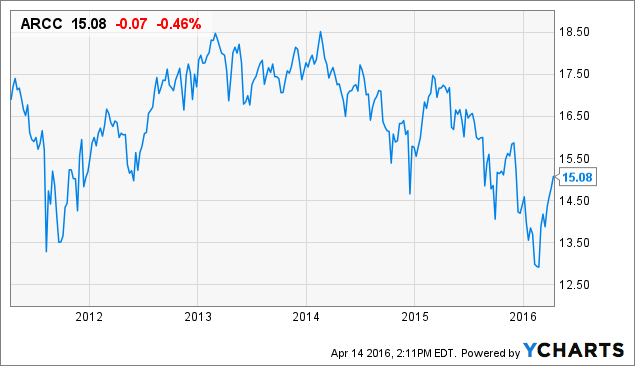 Based on this chart and the stock price action my trading recommendations when it comes to ARCC are as follows:
ARCC Investment Recommendation
Share price
Rating
>20.5
Strong SELL
>18.5
SELL
16.5 - 18.5
HOLD
<16.5
BUY
<14.5
Strong BUY
I consider the current stock price of ARCC, ~$15, to be very cheap and it's only slightly above my most bullish "Strong BUY" trading recommendation. ARCC is the second player out of my A-Team to get out of the dressing room because it's the type of player that you know you can count on to do the right thing at the right time. ARCC doesn't have the star quality of Stephen Curry but the hard-working, solid, mentality of Draymond Green. And that is exactly what is making ARCC a true Golden Warrior!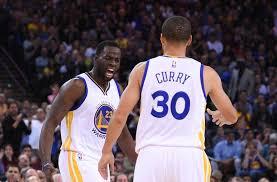 Epilogue
ARCC is a very well managed company that doesn't count on luck or coincidence. The management leads the company in a very solid way without causing or wishing to cause too much noise. What you see is what you get - and that's, in my view, more than enough.
I don't expect ARCC to trade at the same premium to BV as MAIN does. I do. however, expect this gap to close in ARCC's favor. Let's call it even; between MAIN's 47.6% premium (to BV) vs. ARCC's 9.8% discount I'm happy to see ARCC ending its uptrend trajectory at the middle point, i.e. a premium of circa 20%.
Will this happen? I'm not sure but frankly I don't care that much. The reason is very simple: As long as ARCC share price remains stable and as long as ARCC dividend yield remains ~10% - my goal of double digit total return will be an easy-peasy task.
Ares Capital Corporation is scheduled to report its earnings on 05/04/2016 before market open. Based on 8 analysts' forecasts, the consensus EPS forecast for the quarter is $0.39. The reported EPS for the same quarter last year was $0.37.
Remember: Hope for the best but prepare for the worst. In ARCC case it's very easy to prepare for the worst because ARCC's worst is most companies' best!
Disclosure: I am/we are long ARCC, ARI, PSEC, HTGC, GAIN, MAIN, STWD, LADR, NEWT AND NRZ.
I wrote this article myself, and it expresses my own opinions. I am not receiving compensation for it (other than from Seeking Alpha). I have no business relationship with any company whose stock is mentioned in this article.
Additional disclosure: I'm SHORT O, as part of a pair-trade and/or portfolio global hedging, through both a short sale as well as selling Call options