By Darrin Smith, Portfolio Manager, Principal Global Fixed Income
Fallen angels, or corporate bonds that have had their credit rating downgraded from investment grade to high yield, continue to offer a potential value proposition to investors. But why? While it's true that the majority of these downgrades are concentrated in the oil and metals and mining sectors, the issuers are usually larger entities with diversified lines of revenue and are able to generate significant cash flow.
In addition, prior to being downgraded, these bonds often trade down to a substantial discount, which creates the potential for future gain in the form of price appreciation. As commodity prices continue to ride a roller coaster and the credit cycle matures, it is likely that investors will continue to see fallen angels in the high yield market. As these fallen angels make their presence known, what can investors expect?
Over the last few months, we've seen names like Continental Resources (NYSE:CLR), Teck Resources (TCK), Weatherford (NYSE:WFT), Transocean (NYSE:RIG), and Freeport (NYSE:FCX) exit investment grade and enter the high yield market. The perception is that once they hit high yield, investment grade sellers will exit and continue to put downward pressure on prices. The reality, however, is that they tend to reduce exposure well before an issuer actually falls into high yield. And from our experience, that selling ebbs quickly after the downgrade.
So what does the return data suggest? The graph below from Citi Research and Moody's shows average cumulative returns for issuers 6 months prior to and 12 months following a downgrade. Prior to the downgrade to high yield, the average issuer significantly underperformed. However, a good chunk of that underperformance disappeared shortly after the downgrade.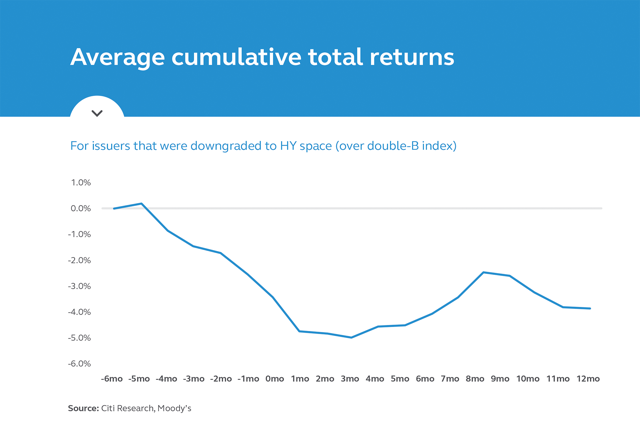 What this then demonstrates is that by buying fallen angels soon after the downgrade, an investor can maximize excess performance relative to a BB-rated portfolio. It is also worth noting that BBs have significantly outperformed lower-quality high yield over the last few years.
Taking a close look at the value proposition, Barclays, who has created an index of fallen angels from the previous 18 months, shows that fallen angels have generated a 1.9% higher annual return in comparison to the Barclays Capital U.S. Corporate High Yield Index. A perfect and recent example of this is Continental Resources, an independent energy producer. The company's bonds were trading in the mid-80s six months prior to being downgraded. It entered the high yield index at $68 and has since rallied back to $85.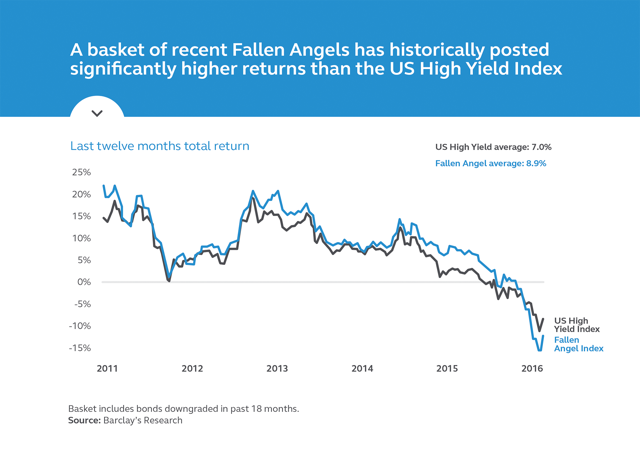 Unfortunately, not every fallen angel experiences the same fate. Example: Cliffs Natural Resources (NYSE:CLF) was downgraded in late 2014 and was trading in the $90s. Now deep into high yield territory, it is C-rated and is trading at $30. This example helps illustrate the challenge high yield investors face - discerning the names that offer value from the names that are value traps. Bottom line, it is important for investors to remember that the original issuer has often gone through some form of a credit issue that's led to a downgrade, or a series of downgrades, bringing it into high yield territory.
However, these names often have more diversified revenue streams and assets that can be sold to raise capital, keeping them among the highest-rated high yield issuers (BB-rated). Not many investors remember that AT&T (NYSE:T) was once a fallen angel and now trades at high values. So while there aren't any guarantees of just how high a fallen angel will fly, they can be a blessing in disguise for disciplined investors and managers that have the ability to analyze downgraded names from an investment grade and a high-yield perspective.