Introduction: Why bother? Why should it appear on your radar?
Cal-Maine Foods, Inc, (NASDAQ: CALM) is a U.S. egg producer that showed up on my fundamentals screen due to its history of growth and profitability, its solid balance sheet, and its seeming cheapness (LTM PE of 6.9x). But is it isn't as cheap as it looks, and the best may indeed be over for CALM.
3 reasons why CALM is a company with strong fundamentals
CALM seems like a good company for 3 reasons, namely 1) financial analysis shows strong fundamentals, 2) big insider buy-in and a commitment to dividends, 3) evidence of an economic moat.
Source: Morningstar
Financial analysis shows strong fundamentals: growth, profitability and balance sheet health.
Growth: CALM has a strong growth over the past 10 years, with revenue growing at 15.4% and EPS growing at 18.6%. The growth story seems just as impressive. Outside of organic capex growth, CALM has made 18 acquisitions since 1989, but despite this inorganic growth they've managed to keep goodwill and intangible assets on the balance sheet to a minimum - i.e. they've got a disciplined M&A strategy and aren't overpaying for growth.
Profitability and FCF: CALM has a great ROE record; since 2009, the ROE has been in the 15% - 26% range since 2009, excluding 2013 (10%). Free Cash Flow has also never been negative in the last 10 years.
Financial health: CALM has a healthy Balance Sheet - practically no debt (2% D/E as at latest quarter) and a current ratio of 5.1 right now.
Insider ownership is high - and so are dividend payout ratios.
CALM has huge insider buy-in. Founder Fred R. Adams Jr. and his spouse own 28% of the outstanding Common Stock, and Mr. Adams and his family have the majority of voting power (Source: CALM 2015 Annual Report).
Consequently, CALM has a committed dividend policy. Since 2009 they've paid between 22% - 42% of NPAT as dividends, and as at 2015 seem committed to a 33% payout ratio, paid quarterly.
Evidence of an economic moat exists, built up over the years due to their M&A strategy.
Finally, CALM's economic moat seems to be scale / cost structure. They've avoided "diworsification", focusing their M&A on a vertical integration strategy in addition to simply increasing horizontal output, by acquiring and building high-tech facilities along the value chain to lessen labor requirements, reducing production costs and overheads.
3 reasons why CALM may not be a good investment
Despite its strong fundamentals, CALM may not be a great investment at its current price of $51, for 3 reasons: 1) its seeming undervaluation is mainly a result of inflated LTM earnings, 2) a reverse DCF valuation results in unsustainable implied perpetual growth rates, 3) a downturn of the highly cyclical price of eggs may mean the best is over for CALM.
CALM's undervaluation is deceptive; low PE is largely due to LTM earnings inflated by supply shocks.
CALM's cheapness is deceptive - the current 6.9x LTM PE makes it seem like an incredible bargain until you look deeper and realize that LTM earnings are inflated by unsustainable causes (2015 avian flu), resulting in CALM's best year ever.
CALM's 6.9x PE is based off its $7.53 LTM EPS, which is more than double that of FY 2015's $3.35 EPS or FY2014's $2.27 EPS.
CALM's LTM performance, however, is mainly driven by inflated egg prices resulting from the , which wiped out a sizeable percentage of the egg-laying hens. The resulting supply squeeze shot wholesale 2015 avian flu outbreak in the U.S. large egg prices in the southeast U.S. to a record level of $1.53 / dozen, compared to the average of $1.28/dozen from 2011-2014 (Source: CALM March 2016 SEC 10-Q).
In short, CALM only seems incredibly cheap since LTM earnings are inflated by a non-recurring supply squeeze that boosted wholesale egg prices to their highest in the past 2 decades.
A quick reverse DCF valuation results in an implied growth rate of 5% in perpetuity, a level that is far outstrips U.S. GDP growth forecasts and is thus likely unsustainable, suggesting overvaluation.
To further explore whether CALM's current share price of $51 is fairly valued, we can do a simple exercise - James Montier's reverse DCF, which gives us the implied perpetual growth rate of the company.
The perpetual growth rate implied from the $51 share price is 5%. This assumes a sustainable Free Cash Flow based on Morningstar's FY2015 estimated FCF of USD 113m (Source: Morningstar),which ignores the inflated LTM earnings, a discount rate of 10% and the current market cap of USD 2.5b, adjusted for net cash.
What this means is that the $51 price implies that CALM will grow at 5% in perpetuity, which far outstrips long-term U.S. forecast GDP growth of ~2%. This suggests that the current market price is overvalued.
High cyclicality in egg prices may mean that the good times may be over soon.
Finally, egg prices - the single biggest driver behind CALM's topline - are extremely cyclical, by CALM management's own admission. Production capacity increases during profitable years result in supply gluts, followed by periods of significant loss.
I do not know enough to predict when the next down cycle will occur. Yet, with the then-historically high price of $1.43/dozen in 2014 pushed even higher by the 2015 avian flu outbreak, it is uncertain how long the current upcycle (on the rise since 2010) will continue to last. Any downturn in egg prices will very negatively affect CALM's future earnings.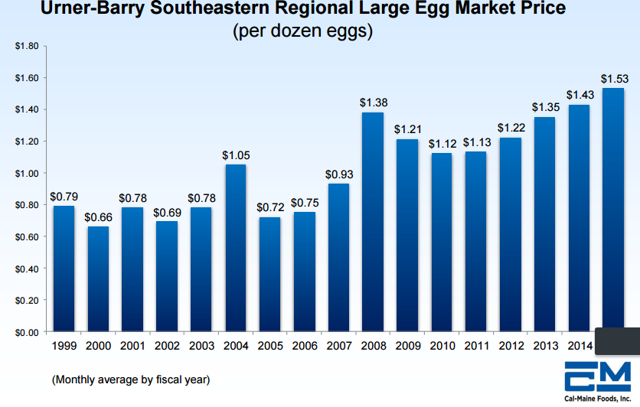 Source: CALM investor presentation, March 2016
Conclusion
CALM may seem like a great investment at first glance - a company that is not just fundamentally strong but undervalued as well. However, it is less cheap than it seems at first glance, and its fundamentals will inevitably weaken with the next egg price down cycle.
Disclosure: I/we have no positions in any stocks mentioned, and no plans to initiate any positions within the next 72 hours.
I wrote this article myself, and it expresses my own opinions. I am not receiving compensation for it (other than from Seeking Alpha). I have no business relationship with any company whose stock is mentioned in this article.