HSBC (NYSE:HSBC) is one of the largest banks in the world with a market capitalization of more than $127B. The bank operates all over the world and provides a broad range of financial services. The group has a strong presence in Asia, the US and the UK (see next graphs for an overview of regional and divisional sales). The group is well capitalized with a CET 1 ratio of 11.9% and a leverage ratio of 5% at year-end 2015.

The Business model and the strategic plan
Even though the company benefits from the diversification of its business model and from its well-regarded brand name, the company is also penalized for its size by the regulation. Indeed, large banks need to face higher capital requirements because of additional risk buffer (G-SIFI buffer) required to systemically important financial institutions. This higher capital requirement has lowered the appeal of historically-profitable activities and requires financial institutions to take a new strategic approach to improve their return on capital.
The group has started to implement a new strategic plan to restore its profitability to an acceptable level (Target 10% ROE in 2017). In order to achieve that, the group wants to reduce its RWA (Risk Weighted Assets), optimize its cost structure and re-deploy 25% of group capital towards higher-return business. Moreover, the bank also wants to increase its footprint in Asia.
Over a long-term horizon, it makes sense to look for a better cost structure and to focus on high-return businesses. However, the group will face headwinds in the short term because of the $290B RWA reduction (more on that in a following section).
What could we expect in term of earnings?
The ultra-low interest rate environment is really negative for banks because they are not able to re-price their funding to keep the same margin as before. It is especially true for a bank with a strong deposit franchise such as HSBC. Indeed, as many retail banks, HSBC gathers a lot of cash from its customer base and has the choice between 3 different options: lending, investing this money or keeping the money at the central bank.
In order to be able to lend these deposits, the bank needs to face a healthy credit demand. Moreover, this demand needs to meet the credit standards of the company in order to avoid profit erosion over the life of the loan. In this respect, the problem for HSBC is twofold: Top line growth (volume and pricing) and cost of risk (quality of borrowers).
Loan growth and pricing
Firstly, global loan growth across the world is still subdued but this is even worse for HSBC. Indeed, the loan growth has been negative for the last 2 years and has been negative in 5 out of 8 years since 2008.
Based on recent trends and on GDP forecasts, we can't expect a strong rebound from loan growth, hence top line will not be boosted by volume growth.
Secondly, NIM (Net Interest Margin) is decreasing since 2005. Even more worrisome, the fall has accelerated in the last few years. Indeed, central banks have implemented different strategies to pressure interest rates to very low levels, in order to boost economic growth. This strategy has eroded profits for the banking sector since banks were not able to fully re-price their deposit book. As a result, banks started to compete on price to obtain more volume in order to offset this decline.
In the current environment, it is difficult to expect any support from central banks: the Fed struggles to hike and the ECB and BOJ are easing further. With a sluggish economic growth and an inflation rate close to 0% in Japan and Europe, this should not change any time soon.
Moreover, HSBC is a strong deposit franchise so it gathers a lot of deposits but it tends not to lend as much as it gathers (look at the falling loan to deposits ratio). As a result, the NIM is impacted negatively as it has to remunerate deposits on which it doesn't receive compensation (It is not completely true because it still invests this cash, earning a return on investment which is lower than it would have earned with a loan).
Cost of risk
After lending the money, the bank has to wait until the loan termination to be paid back. In the meantime, banks need to assess the creditworthiness of borrowers and to write off if any adverse events occur.
The cost of risk (Provisions for loan losses/total loans) is already at a minimum so it will no longer support the growth in earnings. The cost of risk stands at 39 bps (basis points) when the average over the 2005-2015 period is 132 bps.
HSBC has a $29B exposure to the Oil & Gas sector (3% of the total loan book) and $18B to the metals and mining sector (2% of the total loan book). The group has a total exposure of $143B exposure to China (15% of total loan book) and $264B to Greater China (Hong Kong, Taiwan…). With energy and commodity at depressed level, a slowdown in Asia and probably a more risky behavior from people who have access to very cheap funding, cost of risk has only one way to go; it should increase to a more normalized level and pressured earnings.
Asset management
Last figures reported by competitors, especially UBS, show outflows mainly driven by Asia. Moreover, margins were also down because client's risk appetite was lower and thus revenue as well. Indeed, risk averse clients tend to trade less and prefer the relative safety of fixed income products which are lower margin than equity products.
Capital markets
In 2015, the biggest division in terms of operating income was the Global Banking & Markets. This division represents 40% of total operating income. It seems that a lot of investors underestimate the size of this division. The following chart shows the breakdown of the operating income by divisions.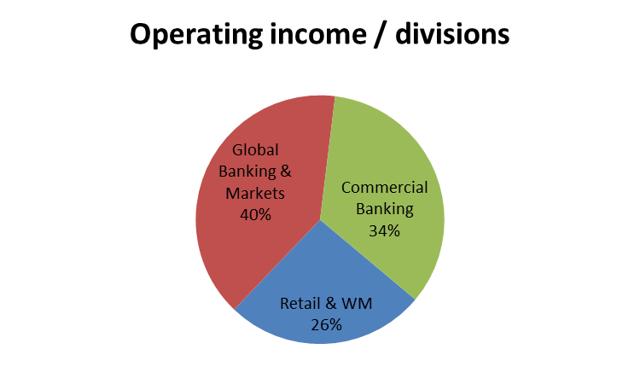 The capital market businesses seem to have a difficult start of 2016 as highlighted by several profit warnings released during the first quarter. Indeed, JPMorgan (NYSE:JPM) has guided for a -20% YoY decline for the equity and fixed income trading businesses and -25% YoY for the investment bank (ECM, DCM and M&A). Citigroup (NYSE:C) has a profile more similar to HSBC and also guided for a -25% YoY decline in the investment bank and a -15% YoY decline for the trading business. We could assume that HSBC could do a bit better because the group is less exposed than peers to equity and fixed income trading. However, the group is more exposed to Asia so I'm not really sure that HSBC will be able to significantly outperform its peers. Keep in mind that usually the first quarter is the biggest quarter for the capital market division, with a disproportionate effect on the full-year results.
RWA deleveraging
One of the initiatives of the strategic plan requires HSBC to reduce RWA. However, the group will face headwinds in the short term because reducing $290B RWA will impact negatively its earnings even with the full redeployment of the capital in the higher performing businesses. And actually, the group just wants to redeploy 25% of its capital, shrinking the overall size of its footprint.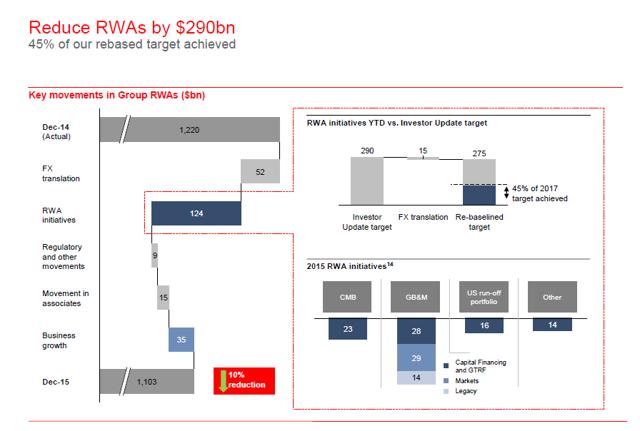 In 2015, the company has reduced RWA by $124B, which represents 45% of the 2017 target. At the same time, business growth led to an RWA inflation of $35B. Overall, the company has decreased roughly 10% of its total RWA. The following table shows a simple simulation but gives a good overview of how it will be difficult for HSBC to offset the deleveraging.

Each scenario is based on the assumption that every dollar of RWA is generating the same amount of revenue (59 800 / 1 161 500 = 0.0515), computed with 2015 figures. If we consider that the group does not reduce its RWA in 2016 (Scenario 1), HSBC should improve the PBT (Profit Before Tax) margin from 31.6% to at least 33.2% to keep its PBT flat. In the second table, the scenario assumes a stable PBT margin, which leads to a 5% drop in PBT.
What about the dividend?
The company established a progressive dividend policy in 2009 after cutting its dividend. In theory, it means that the dividend should increase progressively every year (or at least be constant) even if the company has a difficult year because the company is able to accumulate enough cash flow during good years to be able to assure the payment of future dividends. The company is currently trading with a 8. 5% dividend yield.
Since 2010, the dividend has increased from $0.36 to $0.51 so a roughly 42% increase over the period. However, earnings have decreased by 11% over the same period. Be aware that I use 2010 as a starting point instead of 2009 because the 100% payout ratio was not sustainable and was cut for 2010, thus 2010 is a "rebased dividend" which makes more sense for an analysis.
The company increased the dividend by just 1 penny for the past 3 years just to respect the progressive dividend strategy but this leads the company to increase the payout ratio from 49% to 78%.
In the latest annual results presentation, the company states its dividend policy: "dividend growth dependent on long-term profitability and further release of less efficiently deployed capital." Clearly, it shows that the company is not comfortable with its progressive dividend strategy because it needs FURTHER release of capital to meet its dividend obligation. Moreover, if you look in the appendix, note 19 states: "Progression of dividends should be consistent with the growth of the overall profitability of the group, and is predicated on the ability to meet all capital requirements in a timely manner."
The company clearly changed the wording since 2014 annual presentation because it adds "further release of capital." Moreover, HSBC is still paying its dividend with a script option so it does not show optimism from management in its ability to generate capital whereas the CET 1 ratio of 11.9% is already higher than the 11.5% required.
New CEO coming
The group chairman, Douglas Flint, has announced his departure for 2017 and has said that his successor would lead the search for a new CEO to replace Stuart Gulliver. So we can consider that the new management will be in place at the latest in 2017.
Usually, when a new management team arrives, they tend to clean the balance sheet and to charge at the maximum the P&L in order to obtain favorable basis for their mandate. I can't figure out how it will be possible for them to start without cutting the dividend. This high payout is an error from the past and I really think that the new management will cut the dividend (unless it is done before).
Conclusion
Many investors think that the dividend is safe because HSBC is considered as a high quality bank, but I disagree. Firstly, the macro environment is awful for banks with low interest rates and a flattening yield curve. The economic growth is sluggish and the demand for credit is subdued. The reappearance of the volatility has led investors to become more risk averse, and as a consequence depressing the trading and wealth management businesses. The cost of risk is at a historical low despite risks being hidden almost everywhere (China, energy sector, commodities…) and should increase over time to a more normalized level. Management wants to reduce RWA with a negative impact on earnings generation because the company will not reinvest all the savings or will do so with a time lag. Even if the dividend has resisted all these headwinds, the management change will give no room for hope because they will surely cut it.
I don't advice to short the stock because I think valuation is too low and the financial sector could rebound after this terrible year-to-date performance. However, in a long/short strategy, HSBC could be an ideal candidate for the short side. I really do recommend switching HSBC with another bank if you want to remain invested in the sector.
Disclosure: I/we have no positions in any stocks mentioned, and no plans to initiate any positions within the next 72 hours.
I wrote this article myself, and it expresses my own opinions. I am not receiving compensation for it (other than from Seeking Alpha). I have no business relationship with any company whose stock is mentioned in this article.