SolarCity (SCTY) has seen its stock price plummet over the past year. Despite the growing investor skepticism surrounding SolarCity, the company is on a far healthier growth path. SolarCity has abandoned its growth-at-all-costs approach for a more conservative approach. Given the recent troubles plaguing high-growth companies, SolarCity's decision to slow things down should be a long-term positive.
Recent solar industry volatility has made it clear that the risks associated with the rapid growth model have generally been underestimated. The catastrophic and seemingly overnight collapse of SunEdison (SUNE) epitomizes the dangers associated with rapidly increasing debt to fuel growth. SolarCity appears to have learned valuable lessons from the industry's recent troubles and is doing a good job of adapting.
Impressive Commercial Solar Gains
Rather than focus almost exclusively on pushing its residential solar business, SolarCity is starting to pay far more attention to its commercial solar business. Considering the headwinds facing residential solar, SolarCity's shift in attention is smart. The commercial solar market is huge and still relatively underpenetrated, giving SolarCity a huge opportunity for growth. SolarCity's focus on commercial solar is clearly paying off given recent developments.
SolarCity recently struck a highly promising commercial solar deal with Whole Food Markets (NASDAQ:WFM) to install rooftop solar modules across many of its stores. SolarCity's expanding business relations with some of the largest corporations proves that the company's commercial solar efforts are being met with growing success. Most of SolarCity's major rooftop solar competitors have yet to even enter commercial solar, putting SolarCity in a great position.
SolarCity is also making solid gains on the financing side of its commercial solar business. In fact, SolarCity just closed $150 million in non-recourse financing for commercial solar funding. Financiers' appetite for commercial solar will likely only grow as the sector continues to mature. So far, SolarCity is doing a great job of opening up the highly promising commercial solar market and will likely continue to see success on this front given current trends.
SolarCity is making notable strides in commercial solar. The company's recent Whole Food Markets commercial solar deal represents another step towards commercial solar dominance.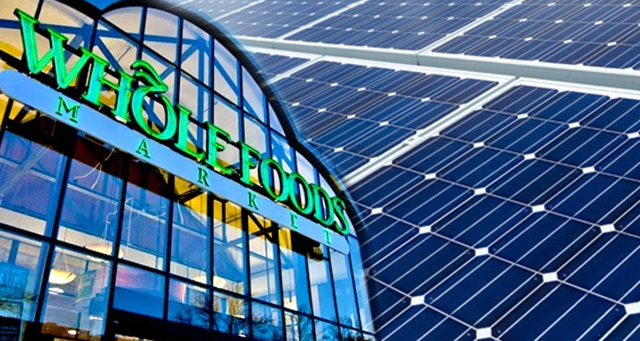 Source: ecowatch
Pulling Ahead of the Competition
Despite SolarCity's recent growth and policy troubles, the company is faring much better than its main competitors. Vivint Solar (NYSE:VSLR), which is SolarCity's closest competitor in terms of size and business models, is falling even further behind SolarCity on almost all major fronts. Despite being much smaller than SolarCity, Vivint Solar has experienced a far more severe growth slowdown. In fact, Vivint Solar's Q4 installations only grew 17% YOY compared to SolarCity's 54%.
Vivint Solar's cost structure has also stagnated at around $3.12 per watt, which compares extremely unfavorably to SolarCity's cost structure of $2.71 per watt. As such, it is not surprising that Vivint Solar is receiving inferior financing terms compared to SolarCity. Given SolarCity's strengths, financiers are clearly far more comfortable loaning to SolarCity. While Sunrun is doing better than Vivint Solar, Sunrun also has a lot of work to do before catching up to SolarCity. SolarCity appears to be reasserting its dominance in the rooftop solar sphere despite the growing obstacles facing the company.
While SolarCity is far larger than any of its competitors, the company is arguably innovating more and adapting better than its competitors. SolarCity's recent hire of ex-FERC chair man John Wellinghoff shows that the company is prepared for the changing rooftop solar policy environment. The company's proactive approach to recent policy obstacles is a great sign for investors. Despite SolarCity slowing growth momentum, the company's fundamentals are clearly superior to those of its main competitors.
The Regional Threat
Many have long argued that smaller regional companies will dominate the residential solar industry in the long-term. This view has only been strengthened with the recent slowdown of the largest residential solar companies. The US residential solar industry grew 66% YOY in 2015, which means that the growth differential between larger and smaller residential solar companies is narrowing.
Despite the massive slowdown of larger residential solar companies in 2015, the general growth rate of the US residential solar industry only decreased slightly in 2015. This means that smaller residential solar companies are starting to gain momentum. The recent slowing growth of large US residential solar companies like SolarCity and Vivint Solar will continue in the near-term by all indications, which gives regional companies an opportunity to take market share from their larger counterparts.
Conclusion
Despite SolarCity's upswing over the past few weeks, the company has far more room to grow at its current market capitalization of $2.9 billion. SolarCity's business diversification and innovation should allow the company to remain dominant for the foreseeable future. SolarCity has taken the recent industry headwinds as an opportunity to improve its fundamentals, which is proving to be a smart decision given the company's growing lead in areas like cost and sector exposure. While the regional threat appears to be growing, SolarCity will likely remain a dominant force in the long-term.
Disclosure: I am/we are long SCTY.
I wrote this article myself, and it expresses my own opinions. I am not receiving compensation for it (other than from Seeking Alpha). I have no business relationship with any company whose stock is mentioned in this article.
Editor's Note: This article covers one or more stocks trading at less than $1 per share and/or with less than a $100 million market cap. Please be aware of the risks associated with these stocks.