Celldex Set To Bounce Back
Summary
Celldex swooned when a Phase 3 brain cancer trial failed to qualify Rintega for FDA approval.
There is $290 million in cash left, vs. a market capitalization of $465 million.
There are several other promising therapy candidates in clinical trials.
Other pipeline events could mean Celldex will be coming back before the end of 2016.
Celldex Therapeutics (NASDAQ:CLDX) stopped its most advanced clinical trial of Rintega for brain cancer in early March. This resulted in a major stock price drop. However, Celldex has a broader pipeline of drugs in clinical trials. Positive results from any of these candidates would very likely send the price right back up.
The volatility is impressive. As I write (on April 13), you could buy CLDX for $4.68. The 52-week low was $2.96 on March 17, 2016. The 52-week high was $30.28 on April 24, 2015.
Celldex has a market cap of $465 million. It ended Q4 with $290 million in cash. It is a small-cap stock with all the caveats that implies. It is a clinical-development stage cancer biotechnology company with all the caveats that implies.
With new data from a number of studies about to be introduced at the AACR (American Association for Cancer Research) annual meeting between April 17 and 20, now is a good time to review Celldex's prospects.
Pipeline Overview
Minus Rintega, here is the Celldex pipeline graphic from its website: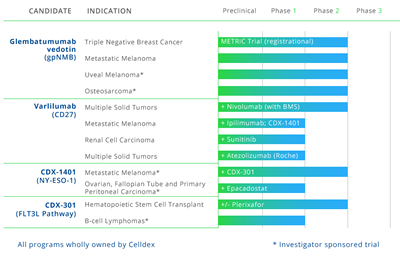 Glembatumab vedotin (CDX-011) is now the most advanced agent in the Celldex pipeline. It is an antibody-drug conjugate that targets a molecule, GPNMB, that is overexpressed in some tumor types. The linking technology was provided by Seattle Genetics (SGEN). The payload is monomethyl auristatin E (MMAE), which kills cells (and would kill healthy cells if delivered to them).
Glembatumab vedotin is in four Phase 2 trials, two run by Celldex and two investigator-sponsored. I'll focus on the Triple Negative Breast Cancer trials, which are the most advanced.
An earlier Phase 2 trial was designed to see if there was a correlation between a high degree of GPNMB and the rate of disease control. 64% of treated high GPNMB breast cancer patients and 75% of triple-negative high GPNMB breast cancer patients showed disease control (vs. 38% and 25% for the non-vedotin arms).
The METRIC study has a more focused design. It is testing CDX-011 in 300 triple-negative breast cancer patients where GPNMB is over-expressed. The patients have failed prior therapies. The control arm patients receive Xeloda. The primary endpoint is progression free survival.
While this is a Phase 2 study, the patient size is large enough that it could be submitted for FDA approval if the evidence is strong enough. However, it is still enrolling patients, so the next marker would be completion of enrollment, not top line data.
If approved, the number of patients that could potentially be helped is substantial, as a high percentage of triple negative breast cancers express GPNMB. About 20% of breast cancers are triple-negative.
Nothing is guaranteed, but given its highly-targeted nature and the size of the treatable population, CDX-011 is a potential blockbuster for breast cancer alone. If it works for metastatic melanoma, or any other cancer variety, that would make it even more valuable.
Celldex has indicated a Phase 2 trial in squamous cell lung cancer should begin this year, and other cancer targets that may express GPNMB would certainly be tried if one of the current trials succeeds. At AACR, there will be a presentation on GPNMB overexpression in various cancer types, which should give us a list of potential targets.
Varlilumab (CDX-1127), which targets CD27, is being tried in four trials against three indications. All are solid tumor types, including melanoma and renal cell (kidney) cancer. All the Varlilumab trials are in combinations with other agents. I'll focus on the most advanced trial, which combines with Nivolumab against solid tumors. There is also a Phase 1 trial combining with Roche's (OTCQX:RHHBY) Atezolizumab against renal cell carcinoma, with Roche's role limited to supplying its drug, which is investigational.
Varlilumab is a monoclonal antibody that blocks CD27, an immune checkpoint molecule, in lymphocytes. Nivolumab, better known as Opdivo from Bristol-Myers Squibb (BMY) is a PD-1 checkpoint inhibitor that is already approved for use with melanoma and squamous non-small cell lung cancer.
The Phase 1-2 trial collaboration began enrolling patients in January 2015 with NSCLC (non-small cell lung cancer), metastatic melanoma, colorectal cancer, ovarian cancer, and head and neck squamous cell carcinoma. The Phase 1 part is mainly to establish a safe dose. The Phase 2 primary objective is improved overall response rates.
At AACR, a presentation will be made on Phase 1 results from the Varlilumab-Nivolumab combination.
CDX-1401 is in a Phase 2 trial for metastatic melanoma and a Phase 1 trial for ovarian and related cancers. Both trials are investigator-sponsored. It combines an antibody specific to DEC-2015 with the NY-ESO-1 tumor antigen. Celldex believes it could play a fundamental role in inducing cancer immunity with dendritic cells.
CDX-301, which affects the FLT3L pathway, is in a Phase 2 trial to aid in stem cell transplants and in an investigator-sponsored Phase 1 trial for B-cell lymphomas. Celldex believes CDX-301 could have a broad variety of applications in cancer therapy and immunotherapy.
A Note on the Rintega failure
Usually, when a therapy gets good Phase 2 results, investors can bet on good Phase 3 results. Phase 2 Rintega results were reported as statistically significant. The only difference should be that with more patients in the later trial, the statistics mean that good results are less likely to be due to random fluctuations in the patient population.
Based on the preliminary results, Celldex indicated that the results for the patients receiving Rintega in the Phase 3 trial were actually similar to the results of the treated group in the Phase 2 trial. The difference was in the control group, which did significantly better in the Phase 3 trial than in the Phase 2 trial. It could be that the Phase 2 control group was randomized to be sicker than normal, or the Phase 3 group was randomized to be healthier than normal. Whichever the case, the Phase 3 trial is assumed to be more accurate, given that more patients were randomized.
Glioblastoma has proven to be one of the more difficult cancers to treat effectively. That makes the failed trial even more disappointing.
What's it worth?
In the worst-case scenario, all four current Celldex therapies fail to meet FDA efficacy or safety standards for all of their target diseases. Investors will have spent a lot of money funding research of no commercial value. Given the breadth of the pipeline and varied mechanisms of action, I would judge that as unlikely. Also, failures in Phase 1, while expensive, prevent later stage expense, so cash can be used to develop more candidates.
At its 52-week high of $30.28, Celldex had a market capitalization of nearly $3 billion. Then came the biotech pullback, and then came the Rintega glioblastoma failure. Rintega was the most advanced and valuable program, but it was just one of several. Nor did it go down in flames, an indicator that Celldex's technology does not work in general. It just did not make the hurdle in a notably difficult to treat type of cancer.
Rather than try to build up a figure from probabilities of success and sizes of end markets, I would just point out that CLDX is at something of a floor. That does not mean the stock could not go lower. If, for instance, the METRIC study is a failure.
But Celldex has $290 million in cash. It can forge on. I believe CDX-011 looks like a winner. So it is mainly a question of buying at a low price and waiting for the GPNMB triple-negative breast cancer results. Any announcement of a partnership with a larger pharmaceutical company should also start the stock back up. Positive Phase 1 or 2 results leading to more Phase 3 trials would also boost the price.
I originally bought CLDX at $15.14 on September 16, 2015. I bought more on February 22, 2016 at $6.98. And after researching this article, but before writing it, I bought more at $4.69. At the end of the day, on April 13, 2016, Celldex represented 1.6% of my portfolio.
This article was written by
I provided stock and bond research and analysis to a small cap specialist investor, Lloyd Miller, from 2002 until his death in January 2018. For my own account I invest mainly in technology and biotechnology stocks. My technology and investment web site is openicon.com, where readers can view the notes I take to make decisions and to write articles for Seeking Alpha.
Analyst's Disclosure: I am/we are long CLDX. I wrote this article myself, and it expresses my own opinions. I am not receiving compensation for it (other than from Seeking Alpha). I have no business relationship with any company whose stock is mentioned in this article.

This is financial journalism, not advice.
Seeking Alpha's Disclosure: Past performance is no guarantee of future results. No recommendation or advice is being given as to whether any investment is suitable for a particular investor. Any views or opinions expressed above may not reflect those of Seeking Alpha as a whole. Seeking Alpha is not a licensed securities dealer, broker or US investment adviser or investment bank. Our analysts are third party authors that include both professional investors and individual investors who may not be licensed or certified by any institute or regulatory body.