Action: Initiate Position
Sprouts Farmers Market (NASDAQ:SFM) has witnessed substantial revenue growth as the company has transitioned from private to public. As seen below, the company has grown its revenues by nearly 20 percent per year, including 2008 prior to the Great Recession.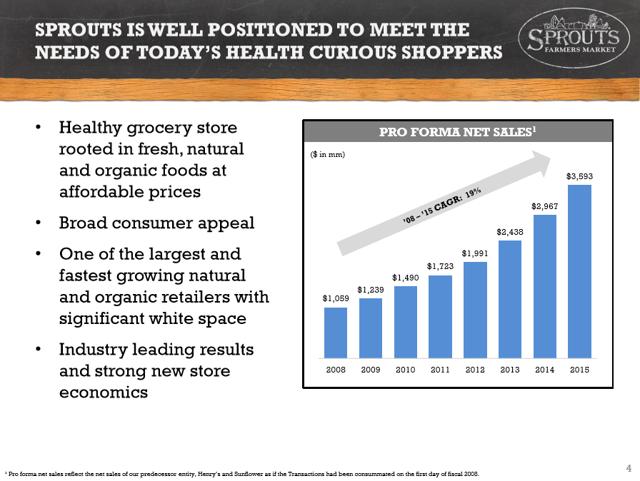 In addition to strong top-line growth, the company has maintained its operating and profit margins and witnessed substantial growth in profitability, since going public.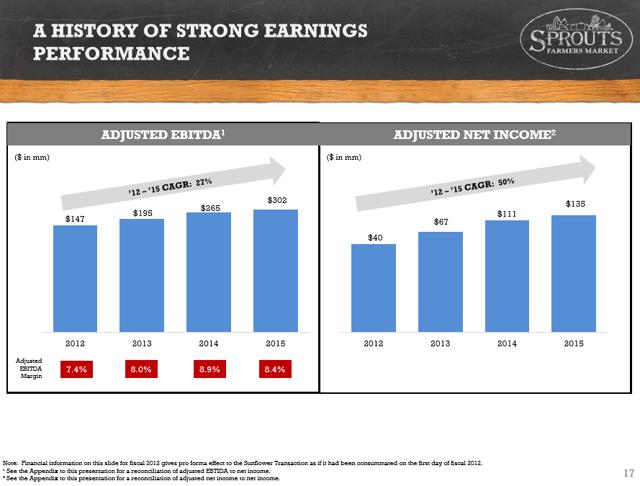 Current estimates are for Sprouts Farmers Market to grow its top-line by an average 17 percent per year through 2017. Adjusted diluted EPS are estimated to grow by 16 percent per year on average through 2017, giving the company a P/E ratio near 28 and 24 times earnings over the next couple of years, based on today's price.
It is rare for investors to be able to invest in a company with strong product offerings targeting healthy and organic foods and beverages, as its core driver. Many traditional companies ranging from Pepsico Inc. (NYSE:PEP) to Campbell Soup (NYSE:CPB) The Kroger Co. (NYSE:KR) are all acquiring smaller companies to build revenue segments offering these type of consumer preferences; which will most likely be a long-term transition for the future. Additionally, companies like Whole Foods Market (NASDAQ:WFM) are attempting to compete and grow similarly.
But most of these much larger companies are stuck with their traditional brands (many of which are flat or in decline), so they do not have the ability to focus a substantial amount of their resources towards these consumer shifts.
Despite this, many of these comparable companies are trading at levels which will place them only slightly at lower P/E multiples when compared to Sprouts Farmers Market over the next couple of years. With the company's growth trends and projections, the opportunity for investors to gain double-digit returns is a not out of the question.
The Sprouts Farmers Market model is working as the company continues to expand its operating stores throughout the country.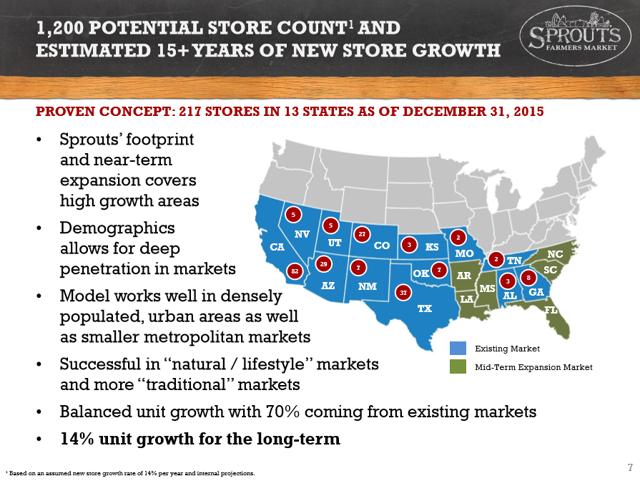 The majority of this market share growth is coming at the expense of traditional grocery chains. This market is the largest penetrable area for which the company will have a long-term opportunity to continue its growth objectives.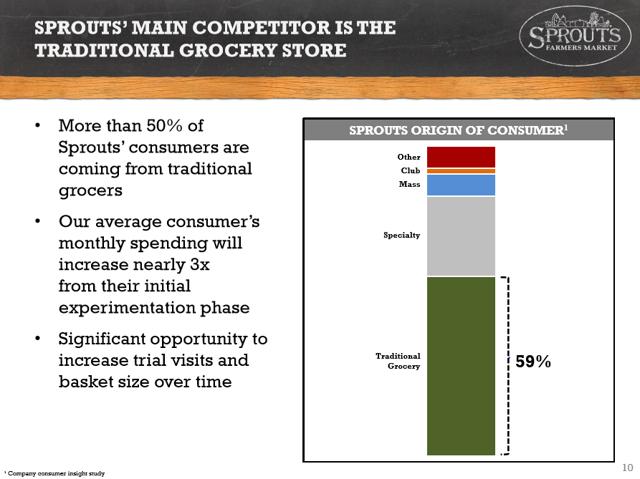 A primary component driving the company's success is its private brand label. The company's private brand label has exceeded its long-term revenue growth rate of 20 percent per year, growing from 800 items in 2011 to 1,800 items as of 2015.
This is a big reason and driver of why Sprouts Farmers Market has been able to maintain its operating and profit margins as the company has continued to invest in its growth strategies. As the company's private brand label grows and drives increases in grocery consumer basket spend, the company is equaling improving its recognition in the grocery store market.
During a time when most consumer stable food and beverage industry companies are priced at a premium, higher growth companies like Sprouts Farmers Market offer long-term investors an opportunity to own a stock that will grow into its valuation at a much faster rate.
For these reasons among others, the Lean Long-Term Growth Portfolio or LLGP will look to initiate a position in Sprouts Farmers Market this week.
Disclosure: I/we have no positions in any stocks mentioned, but may initiate a long position in SFM over the next 72 hours.
I wrote this article myself, and it expresses my own opinions. I am not receiving compensation for it (other than from Seeking Alpha). I have no business relationship with any company whose stock is mentioned in this article.