NQ Mobile (NYSE:NQ) recently filed their annual report (20-F) on April 6, 2016. The entire document is over 400 pages and contains some interesting disclosures. A few of them are related to the FL Mobile divestment which according to the company is still ongoing and progressing forward. The 20-F also shows that NQ Mobile spent around $96 million in cash to make new acquisitions and investments with in 2015.
And another separate matter is that just recently the Chinese government announced new regulations and a crack down on the online broadcasting industry in China. Given that NQ Mobile's online broadcasting website and app called Showself is now their main business focus, this could be a serious issue for the company going forward.
Majority of Redemption Right of FL Mobile Stake Sold in 2014 Utilized
First though let's go over the 20-F disclosures related to FL Mobile. Back in 2014 NQ Mobile sold a small 5% stake of FL Mobile to Bison Capital and others giving it a "post-money valuation of $425 million." This stake sale however comes with a redemption right. If "FL Mobile Inc. does not complete a qualified listing within 12 months after the share purchase is completed" then the buyers can make NQ Mobile repurchase the stake and get their cash back.
NQ Mobile's 2015 20-F disclosed that this is in fact what happened to most of the FL Mobile stake they sold back in 2014. It stated that Bison Mobile Limited and Treasure Getter Limited used the redemption right and was paid $17.8 million back in exchange for the FL Mobile stake they bought in 2014. Based on the decline in mezzanine equity on NQ Mobile's balance sheet, this occurred during Q4 of 2015.

As most following NQ Mobile knows, back in August 2015 they announced a "binding framework agreement" to sell FL Mobile for "approximately no less than US $626 million." This is still ongoing according to the company.
Therefore it seems mighty strange for Bison and the other parties to utilize the redemption right sometime between one to four months after the framework agreement to sell FL Mobile was announced. This is because if FL Mobile really did end up being sold for no less than $626 million, Bison and the others could have made a gain of around 45% or more on their investment if they hadn't exercise their redemption right.
FL Mobile "Binding Framework Agreement" Has Automatic Termination Date
Another matter related to the FL Mobile divestment disclosed in the 20-F is that the "binding framework agreement" has an automatic termination date of one year if there is no final binding agreement by then. This detail was not included in the initial press release back in August 2015.

Since this framework agreement was entered into on August 26, 2015, this would make the termination date August 26, 2016. This is just only around four months away. If there is no announcement of a final agreement by then the whole deal which has been pending for around eight months now will be automatically terminated.
FL Mobile Framework Agreement Termination Likely Sets Off Chain Reaction
If the FL Mobile framework agreement is terminated it also will likely set off a cancellation of other recent deals announced by NQ Mobile as well. One of them is the stock purchase agreement from NQ Mobile management announced on March 29, 2016. The press release for this deal says management may purchase up to US$101 million worth of new NQ Mobile ADRs at $5.25 each.
However the closing of the stock purchase is subject to the satisfaction of certain conditions which are mostly undisclosed in the press release. One condition that is disclosed though is the "consummation of the FL Mobile Divestment pursuant to the binding framework agreement announced on August 26, 2015 between the Company and Beijing Jinxin Rongda Investment Management Co. Ltd."

Therefore the FL Mobile framework agreement is terminated then this stock purchase agreement from NQ Mobile management would likely be terminated as a result.
The termination of the FL Mobile framework agreement also will likely affect another recently announced deal by NQ Mobile. In this other deal NQ's chairman and COO Vincent Shi agrees to buy 22% of FL Mobile from the company for "RMB880 million."
Under the deal Vincent Shi is suppose to pay RMB440 million within 60 business days. The final RMB440 million "will be received by the Company upon satisfaction of certain conditions contained in the Agreement and the FL Mobile Divestment." So a termination of the FL Mobile framework agreement will likely lead to some sort of termination of this deal as well.

The 20-F provides slightly more details regarding this deal not found in the press release. It states that if the "conditions are not met, both parties have the option to request the reversal of this investment." So there are some sort of termination clauses involved in the deal.

In summary this means a cancellation of the FL Mobile framework agreement, due to the one-year expiration date or for whatever other reason, will likely lead to the termination of these two recently announced deals that involves company management also.
NQ Mobile Spent Around $96 Million in Cash Making New Investments And Acquisitions in 2015
From the 20-F net cash used in investing activities by NQ in 2015 was $19.1 million USD after including a $77.2 million USD gain from disposal of subsidiaries (mainly NationSky). With simple math this means they spent around $96 million in 2015 to make brand new investments and acquisitions with.

In a previous article I had written about how NQ Mobile spent around $13 million in cash and issued around 137 million common shares for acquisitions in 2014. Now with this available information we can see that the acquisitions by NQ Mobile still continued in 2015. In 2015 they just switched over from mostly issuing new shares for acquisitions to now using mostly just cash.
This is a pretty significant use of cash and more curious is the fact that NQ Mobile barely mentioned making any new investments or acquisitions during any of their 2015 earnings conference calls. And there has been no press releases from the company announcing any new acquisitions in 2015.
Furthermore the company's acquisition trend also is continuing into 2016. This can be seen from the subsequent events section in 20-F which discloses some investments made by NQ Mobile in 2016.

So far in the first three months of 2016 NQ Mobile has spent at least $18.7 million in cash for investments and acquisitions.
New Government Crackdown in China on Online Broadcasting Business
More recently NQ Mobile switched their business model over to mobile entertainment with Showself being their main focus. On April 14, 2016, the Chinese government just announced a new crack down and new regulations on these types of online broadcasting websites and apps like Showself.
Here's a quick summary on how NQ Mobile's Showself and the dozens and dozens of other similar websites and apps in China work for those not familiar with it. These apps or websites feature mostly young women who host live web cam sessions. They chat with their audience or put on some type of performance for them, such as singing and dancing. The viewers are mostly male and they can use real money to buy online virtual gifts for the hosts and performers.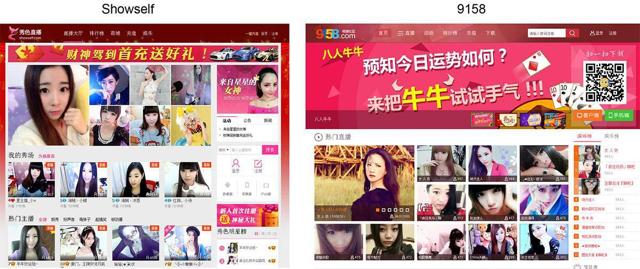 Men buying virtual gifts for females hosts on these sites are how they generate the majority of their revenue. These websites shares part of the revenue from the virtual gift purchases with the performers and hosts. This encourages the hosts to broadcast themselves on these websites and to ask their viewers to buy them virtual gifts.
Now the Chinese government is starting to crack down on the industry. From the article they are targeting live broadcasting sites which promote obscenity, pornography or other crimes against public morality. It denounces anchors on these sites which use verbal sexual advances or other sexually suggestive actions to get the attention of the audience and to encourage the audience to buy virtual gifts for them.
However this seems to be pretty much how most websites and apps like Showself generate a good portion (if not the majority) of their revenue. Even the Showself app on iTunes warns users they have to be over 17 years old to download the app since it has "Frequent/Intense Sexual Content or Nudity" and "Frequent/Intense Mature/Suggestive Themes."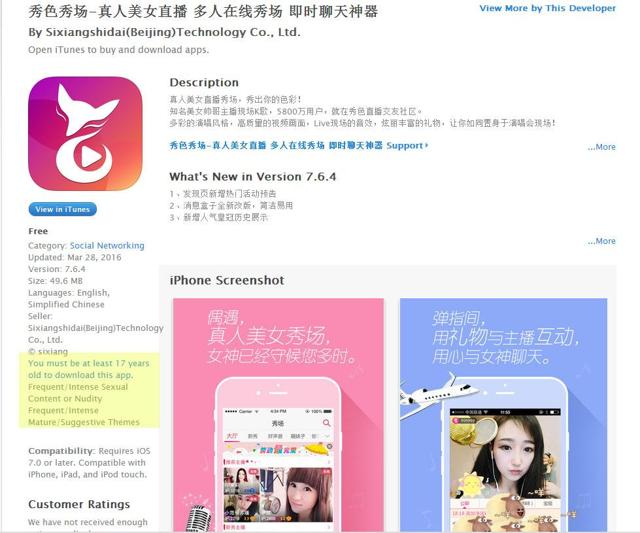 In addition to the announcement by the government there was also a news broadcast on CCTV, the TV station owned and operated by the Chinese government, condemning these types of sites like Showself.

Therefore the Chinese government seems serious about this crack down. This makes it a serious enough concern and risk to NQ Mobile's new main Showself business focus going forward and is definitely worth paying attention to what the government does in China.
Will they ban these type of websites outright? Will they ban or restrict paid virtual gifts to remove the profit incentive from these type of sites? Or they will they severely fine or punish specific sites who they deem are in violation?
Conclusion
As always NQ Mobile's annual report has some interesting or concerning disclosures not previously disclosed anyway else, either in a press release or during their earnings conference calls. With the FL Mobile framework agreement set to terminate in around four months and the redemption right from the 2014 FL Mobile stake sale mostly exercised, the whole deal is starting to look even more questionable than before. Furthermore a new crackdown on online broadcasting websites and apps in China can have a significant impact on NQ Mobile's new main business.
Disclosure: I/we have no positions in any stocks mentioned, and no plans to initiate any positions within the next 72 hours.
I wrote this article myself, and it expresses my own opinions. I am not receiving compensation for it. I have no business relationship with any company whose stock is mentioned in this article.