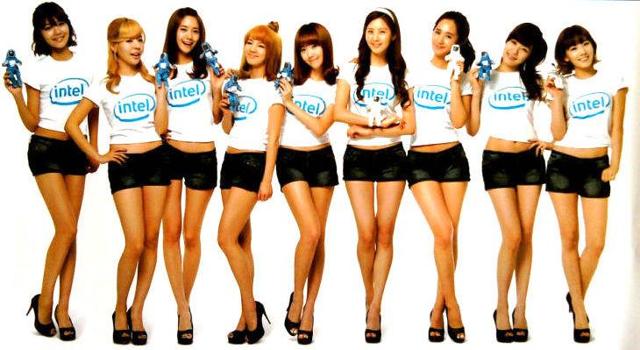 Girls' Generation does Intel Inside
A long time ago, I wrote an article on how Intel (NASDAQ:INTC) and others were exposed to the "Good Enough" effect. This article, When Good Enough Is Good Enough, postulated that this effect would lead to ever longer replacement cycles. Obviously, longer replacement cycles lead to less units being sold per year - other things being equal.
"Good Enough" thus referred to the fact that even an old PC could stay usable because its original specifications were enough to run most of the jobs the user requires. Jobs like web browsing, e-mail, watching video, listening to music, light use of spreadsheets, word processing, etc.
This effect was even made a bit worse by Microsoft's (NASDAQ:MSFT) improvement of the underlying OS. This improvement came with Windows 7, 8 and now Windows 10 - all of which didn't increase and might even have reduced the necessary specifications to run them. Put another way, a PC that was able to run Windows Vista (launched in January 2007) is still able to run Windows 10 today.
For Intel, this also meant, more or less, that any CPU launched since the Core 2 Duo from 2007 onward was able to stay running consumer workloads up until today.
This effect has been raging in the PC market for years, and is certainly one culprit* for the declining unit shipments that have been plaguing the PC market, both in desktops and laptops: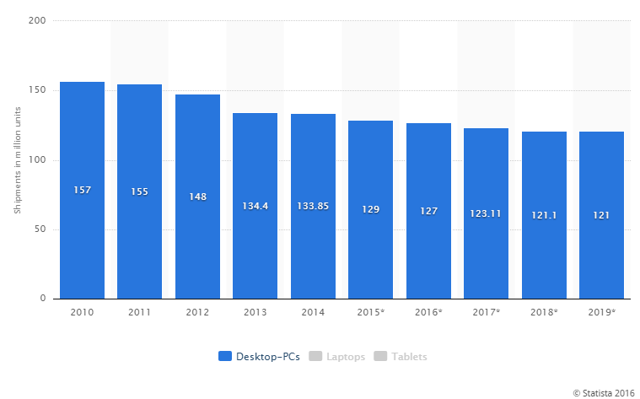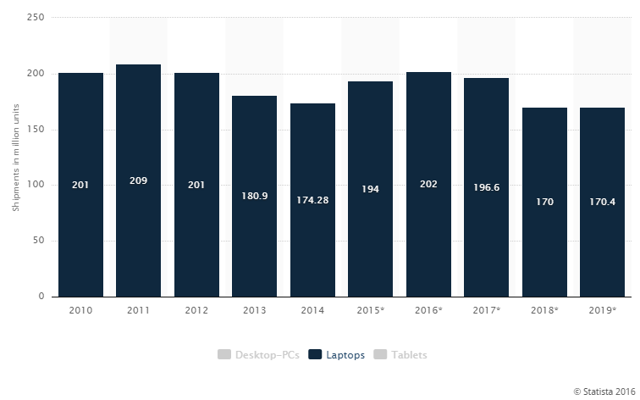 Source: Statista.com
* There were obviously also other culprits, like the mobile revolution itself, tablets, larger mobile displays, faster mobile speeds, etc.
Laptop sales were more resilient, certainly on account of many factors, including:
Better, lighter and more performant designs (more portability).
The laptop battery losing capacity over time and needing replacement (inducing the replacement of the whole machine).
The increase in power efficiency, which led both to lighter machines and longer durations on battery power.
However, and this is the gist of this article, yet another "Good Enough" effect is about to hit demand for CPUs and, especially, laptop CPU replacements.
The Other Problem
This other problem is the reason I say Intel will be its own worst enemy. There was already an inkling of the problem in the way Chromebooks were enjoying some success. Starting out, these were mostly powered by ARM-derived CPUs, but Intel managed to take that market back with low-end CPUs of its own.
Of course, Chromebooks don't run Windows 10, which somewhat limits their appeal at times. A whole different article could also be written on how they have their own specific attractions, but I'll leave that for another day.
But here's the thing. There is a new class of laptops coming that do, indeed, run Windows 10. And these laptops are comparable to Chromebooks in the sense that they are as cheap or cheaper. These coming laptops run full Windows 10, on account of using Intel chips.
What are those chips? I am talking about chips which Intel designed mostly for tablets, namely the Intel Atom X5 and X7 lines, comprised of the Z8300, Z8500 and Z8700 CPUs. These launched without great fanfare during early 2015, but only now are they getting timid traction somewhat outside of their originally-intended target market. The problem, however, is that this traction will probably increase greatly, and will certainly be more reinforced still when these CPUs see their successors.
The better-known use of this Intel CPU line would be in the Microsoft Surface 3, originally priced at $499 and carrying a X7 Z8700 CPU. If these new laptops I am talking about were being placed in the market at such prices, though, they wouldn't make much difference.
However, something is brewing out of China. One after the other, unknown brands are putting together tablets and "Tablet PCs" using these Intel CPUs and running full Windows 10. These tablets can easily be found for as low as $80-$90, and Tablet PCs based on the same type of specs can be ~$170 and below. As examples: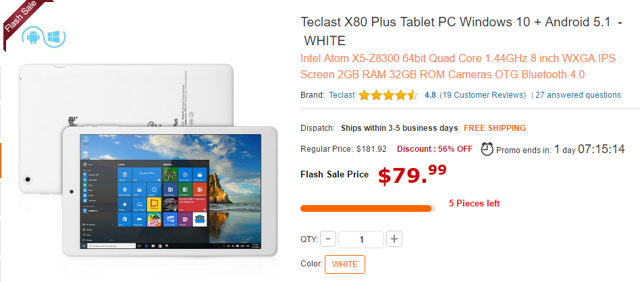 Source: GearBest.com, Teclast tablet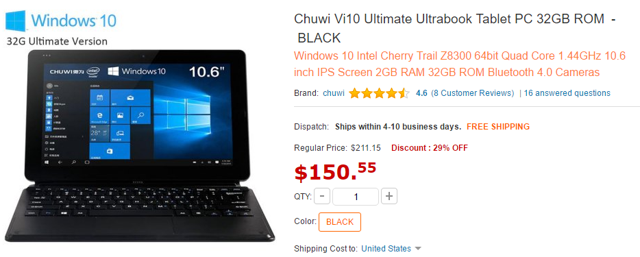 Source: GearBest.com, Chuwi Ultrabook. Keyboard is actually a $23 extra.
These are prices akin to what you find in low-end Android tablets or Chromebooks. Yet they run Windows 10, and in some cases instances have (mostly display) specs which rival laptops costing up to 4x as much. Plus, with these being based around a mobile logic, they have their expandable storage based on microSD cards up to 128Gb, which can be found for as low as $40.
Why am I writing about these forsaken brands nobody knows? Because the overall specs of these machines are likely to be copied by better-known brands. And then, these machines are getting "Good Enough" themselves - this can for instance be seen if you compare an old Intel Core 2 Due P8400 from Q3 2008, with these CPUs. The P8400 is entirely able to run Windows 10 at a respectable pace - I know, I had an oldie Toshiba laptop running it:
The Core 2 Duo P8400 will have faster single core performance, but only had 2 cores. For instance CPUBenchmark puts its single-thread rating at 905, and its average CPU Mark at 1472. The P8400 did not have an integrated GPU.
The X5 Z8300, cheapest among those CPUs I listed and common in the products above, has 4 cores. CPUBenchmark puts its single-thread rating at just 380, but then has its average CPU Mark at 1214, not far from the P8400. It also comes with integrated Intel HD Graphics (GPU).
The X7 Z8700, used in the Surface 3, also has 4 cores. CPUBenchmark puts its single-thread rating at 554 - still lower than the P8400, but then it has an average CPU Mark of 1955, which is already significantly higher than the P8400. It also comes with a slightly faster (than the X5 Z8300) integrated Intel HD Graphics GPU. These performance figures explain why it can be used in the Surface 3 without consumers puking on the device.
So what's the problem here? Well, these Intel mobile CPUs prove themselves to be able to run full Windows 10 at "Good Enough" levels. Levels which could be sought by many consumers whose old laptops gave up the ghost (or battery). And the problem is, as Intel lists in its website, that these CPUs carry recommended customer prices (1000 quantity, tray) of $21 (X5 Z8300) - $37 (X7 Z8700).
Now compare this to other alternatives Intel also offers, which would still be "low-end" though with some more performance:
The Celeron 3765U. It carries a recommended customer price of $107.
The Pentium 4405U. It carries a recommended customer price of $161.
We're not even talking about a low-end mobile i3 like the i3 5005U. That has a recommended customer price of $275.
(These prices change over time and are merely exemplifications. True prices will be lower for all cases, but there's no reason to believe the relative relationships don't hold)
See the problem? Not only is the regular "Good Enough" a problem because PCs get replaced less often, with laptops being saved some of it, but this new type of "Good Enough" will:
Also affect laptops.
And lead to diverting (some? many?) replacement sales which will carry CPUs costing 1/5th or less to 1/3rd of the alternative lower-end Intel offerings (like the Celerons).
This hasn't hit yet because these machines which could be considered alternatives to other low-end laptops are only being offered by unknown brands.
However, the proposition for a customer wanting to replace his 7-8 year old machine for something with the same level of functionality (since it's "Good Enough") is clear. With the proposition being clear, it's just a matter of time before similar machines are (again) offered by more mainstream (better known) brands. I say again because there were previous attempts to launch such machines, like the HP Pavilion X2, but these were based on the previous Atom generation which was still too weak to fulfill the role.
Indeed, it's already starting. Here's an ASUS with specs very similar to those of the machines I listed above and at a price ($200) that's not much higher for a much better-looking machine: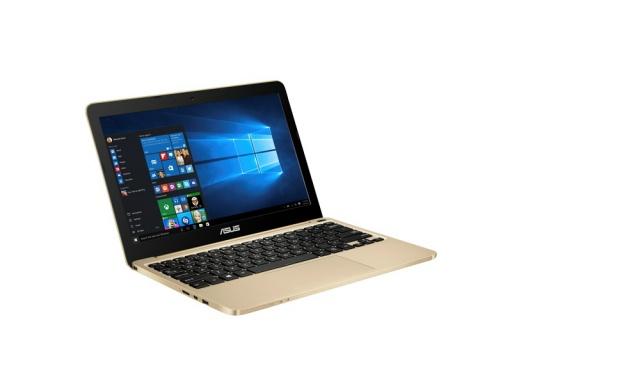 Source: DigitalTrends.com
One Wonders If Intel Saw The Problem
A recent article by Ashraf Eassa, Intel Corp.'s Next Atom Sees Significant Delay, covered precisely the delay the next Atom generation (code-named Broxton) was seeing. Eassa puts it down to Intel kind of giving up on the mobile (phone) market.
However, one wonders if Intel actually saw the damage an even faster Atom could start doing to its own large-core, higher-priced, much higher-margin bread and butter CPUs instead. Seeing this, it could have seen it fit to delay the reckoning.
Conclusion
Compounding the existing problem of "Good Enough" PCs lengthening replacement cycles and leading to lower unit sales, now comes the problem of Intel's mobile CPUs getting "Good Enough" to serve as alternatives to Intel's traditional CPU line.
Obviously, this problem mostly applies to consumer PCs, which make up part of Intel's Client Computing Group segment, which represented ~58% of Intel's 2015 revenues: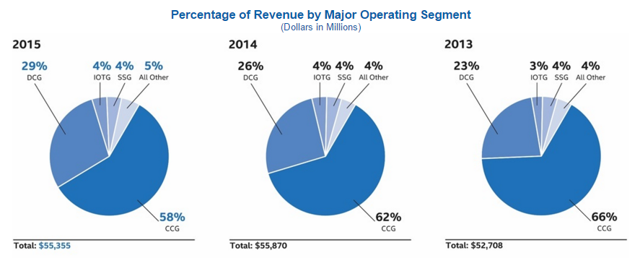 Source: Intel 2015 10-K
Still, this problem might itself ultimately have as large or larger impact than the original "Good Enough" problem. This is so because while replacement sales would still have an Intel CPU in them, this CPU would be so much cheaper and lower margin that the ultimate outcome might exceed the impact from just selling fewer units on account of longer replacement cycles.
Disclosure: I/we have no positions in any stocks mentioned, and no plans to initiate any positions within the next 72 hours.
I wrote this article myself, and it expresses my own opinions. I am not receiving compensation for it (other than from Seeking Alpha). I have no business relationship with any company whose stock is mentioned in this article.